UPDATED 3/2 with a new Virginia map, given the moves by Sen. Amy Klobuchar and Mayor Pete Buttigieg to leave the race and endorse Joe Biden.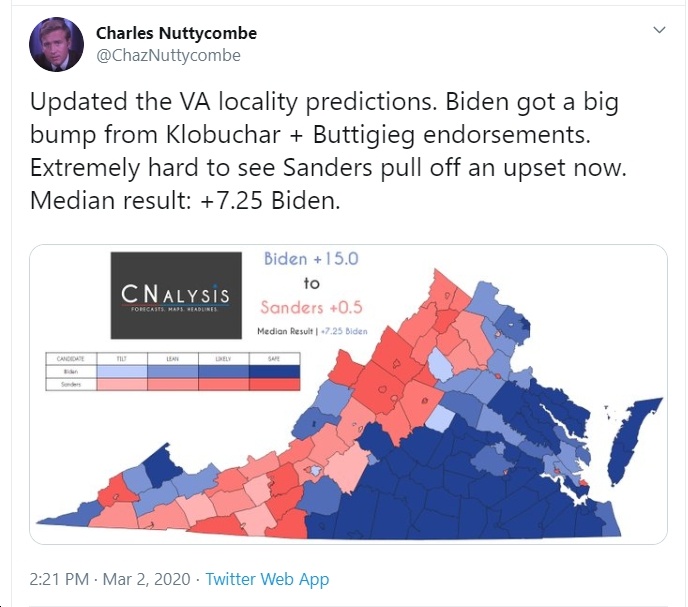 Congratulations to up-and-coming political analyst – and frequent contributor at Blue Virginia the past year or so – Chaz (or as he's going by now, Charles) Nuttycombe, who earlier today launched CNalysis. As Nuttycombe tweeted:
"A few weeks ago I decided to take on a gamble of an endeavor: starting up a small business. I am going professionally independent in my political analysis coverage of elections in state politics, starting up an LLC. Introducing: CNalysis."
Nuttycombe's site is already chock full of great information, including his initial state legislative forecast – "5,048 ratings for single-member state legislative districts across the country." Honestly, it hurts my brain to even *imagine* doing 5,048 ratings, but I'm glad someone else enjoys it and is good at it – impressive! Also, with Virginia's presidential primary just over 30 hours away, Nuttycombe gives us his predictions: a likely Joe Biden win, with a ceiling of 10 points. Nuttycombe adds that Biden is likely to win much of Northern Virginia, Hampton Roads, the Richmond area, Southside and the Eastern Shore; with Sanders strong in western and southwestern Virginia.
Anyway, we'll see what happens on Tuesday, and how accurate Nuttycombe's predictions are. Check out his website and Twitter feed for analysis, forecasts and the latest developments!