Advertisement

Even in a Democratic-controlled Virginia General Assembly, clearly we're not going to get everything we want. Part of that is because Democrats only hold a narrow, 21-19 margin in the State Senate. And part of it is that there are plenty of old, more conservative, corporate-friendly Democrats in the legislature, particularly the State Senate. Still, even with those caveats, you'd think that certain bills wouldn't have any problem passing the General Assembly. One of those is Del. Lee Carter's HB66, which:
"Prohibits health insurance companies and other carriers from setting an amount exceeding $30 per 30-day supply that a covered person is required to pay at the point of sale in order to receive a covered prescription insulin drug."

Note that this bill passed the House of Delegates nearly unanimously (98-1), so clearly there was no problem in that chamber. Yet, for some reason, the bill found tougher going in the State Senate, where it was reported yesterday from the Commerce & Labor Committee by a relatively narrow, 9-6 vote (with three Rs and three Ds – Spruill, Deeds, Mason – voting no). See below for video, as well as a good explanation by VAPLAN, of how that went down. In short:
"Yesterday in Senate C&L, @senatornewman  tried to kill @carterforva  $30 insulin copay bill, after industry said THEY were trying to help by lowering prices. @DickSaslaw  saved it w/ substitute motion (against @SenLSpruillSr's complaints) to amend to $50 & ask Hlth Dept for review…And here's the thing. Spruill couldn't move fast enough to kill this thing, and voted against the compromise. Here's a map of diabetes prevalence in Virginia, and a map showing his district."
So, in the end, the bill made it through, but why would a bill that passed the House of Delegates nearly unanimously almost fail in State Senate committee? For some thoughts on that, see this post about our "Senate problem." Any other theories?
P.S. For why this bill matters so much – in fact, could be life and death for some diabetics – see this New Republic article, which reports:
"In the decade preceding Alec's death, prices of the most common insulin had risen threefold. Studies have found that around one in four diabetics ration their insulin intake, skipping doses or taking less than prescribed to make supplies last. Still others resort to desperate measures to make sure they can afford their life-sustaining drugs, including selling their houses or cars, moving in with family, or staying in unhappy marriages or jobs for the insurance. Most of the dozens of patients and family members I spoke with said their lives increasingly revolved around the ever-rising cost of insulin."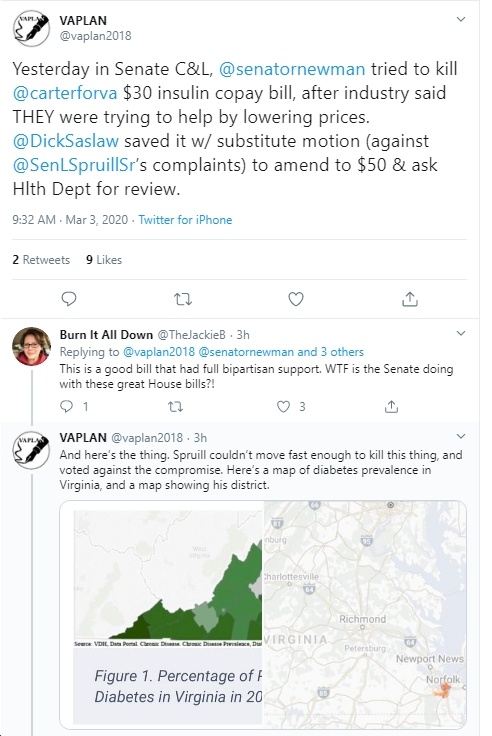 There's no paywall on Blue Virginia, and we definitely want to keep it that way! If you want to help support our work, you can donate here - thanks!
Also, you can
sign up for our weekly email list here
.