See below for the latest campaign finance numbers, courtesy of the ProPublica FEC database and the godawful FEC website (needs *major* upgrades), for the U.S. Senate race in Virginia and also several likely competitive U.S. House races (VA02, VA05, VA07) in Virginia this cycle. As you can see, Democrats in key races are looking good, money-wise! Now, let's just make sure we all make sure we vote, and get every single person we know to vote, Democratic up and down the ticket this November. The country we save will definitely be our own!
U.S. Senate: Incumbent Mark Warner (D) raised a huge $1.8 million in the first quarter of 2020 and has a *really huge* $8.47 million cash on hand. Warner's potential Republican opponents were left far, far behind in the dust, with frontrunner Daniel Gade with just $66k cash on hand and Tom Speciale with just $22k. These people are simply not serious.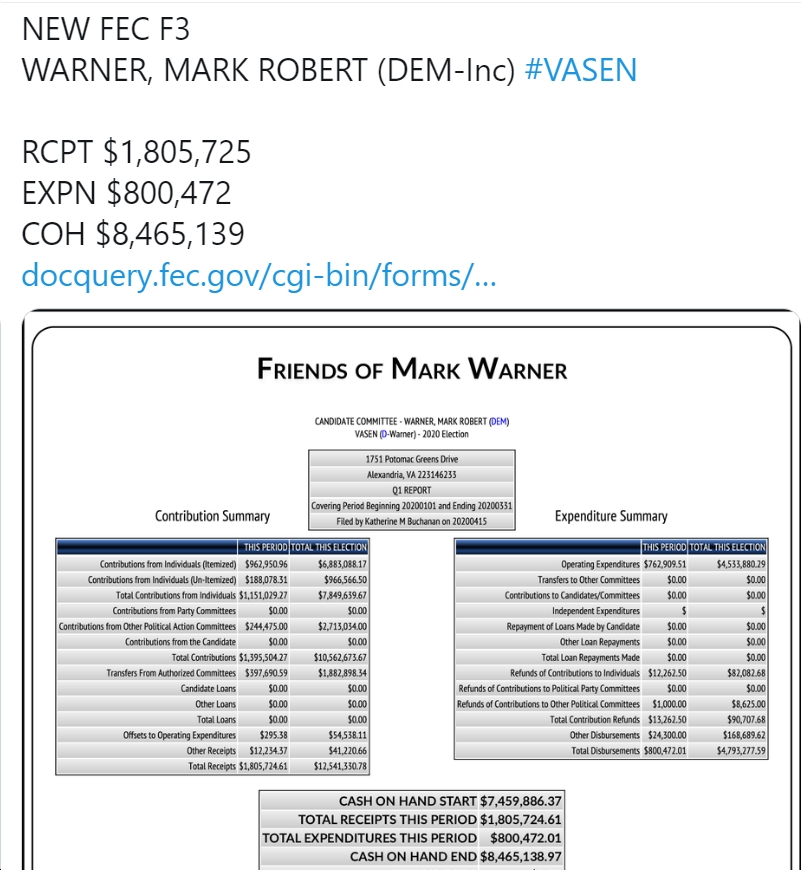 VA-02: Incumbent Rep. Elaine Luria (D) – Luria has $2.34 million cash on hand, compared to just $706 (!) cash on hand for Republican Scott Taylor [UPDATE: VPAP has Taylor with $370,581 cash on hand…must be another committee, maybe his former U.S. Senate committee? still, Luria WAY ahead] and $25,310 cash on hand for Republican Ben Loyola. This is a "purple" district, but just based on the money – including the utterly pathetic totals for Taylor and Loyola – Rep. Luria should be in great shape for reelection.



VA-05: Incumbent Rep. Denver Riggleman (R) – Riggleman has $264k cash on hand, compared to $273k cash on hand for Democratic challenger Claire Russo and $209k cash on hand for Democratic challenger Dr. Cameron Webb (D). I'm not seeing numbers through March 31 for Democrats RD Huffstetler or John Lesinski. I'll add them when they appear. But for now, Riggleman doesn't look like he's in great shape, with his potential Democratic opponents having far more cash on hand, combined, than he does. 


Riggleman's Republican opponent Bob Good got massively outraised – and has massively less Cash on Hand – than Riggleman.



R.D. Huffstetler – 1Q2020

John Lesinski – 1Q2020
VA-07: Incumbent Rep. Abigail Spanberger (D) – Spanberger had a huge fundraising quarter in January-March 2020, raising $1.1 million and with an enormous warchest of $3.1 million cash on hand. Impressive! As for Spanberger's potential Republican opponents, they didn't do nearly as well. For instance, Del. Nick Freitas has only $248k cash on hand after raising $627k; John McGuire has only $118k cash on hand after raising $318k; and Tina Ramirez has only $33k cash on hand after raising $311k. So…Spanberger's three potential Republican opponents have a *combined* $399k cash on hand, compared to her $3.1 MILLION.  Yes, this is a tough district, but so far, at least based on the money numbers, Spanberger's looking strong.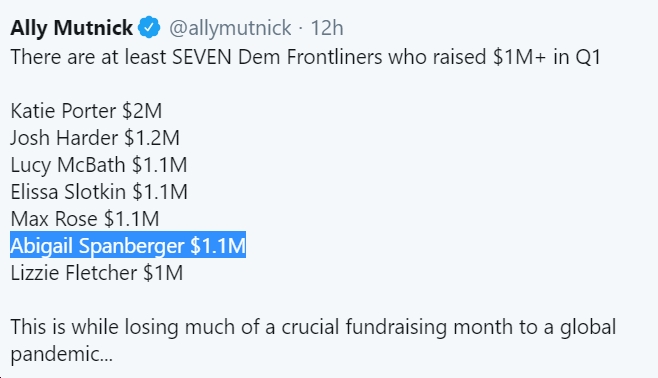 P.S. One more district – VA01 – is a really tough one, probably not competitive this cycle (although watch out after 2021 redistricting?), but…here are the numbers – Rep. Rob Wittman (R) with $596k cash on hand, compared to $140k cash on hand for Democrat Vangie Williams and $126k cash on hand for Democrat Qasim Rashid.



From VPAP: