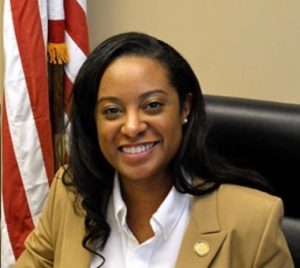 by Del. Jennifer Carroll Foy
This is an unprecedented time for all of us. The coronavirus pandemic has disrupted our everyday lives in ways that we can and cannot measure. At the very least, it has altered our ability to assemble, do our jobs as we did before, and protect our loved ones the way we want to. The magnitude of this novel pandemic evolves constantly, overwhelming our healthcare system, decimating our economy, potentially undermining our democratic procedures, and in many ways, paralyzing life as we knew it.
As a mother, public defender, Delegate, and public servant, I am deeply concerned about the well-being of the Commonwealth, and especially communities that are routinely left behind or underserved. My constituents, like many other Virginia residents, are facing difficult circumstances as a result of this pandemic, including unemployment, food insecurity, and health challenges, to name a few. As a result, public service takes on a new meaning, and now is the time to step up in ways that we have never dreamed of.
The Governor has taken a number of steps to promote public health and safety, and keep Virginia moving forward. But while the Governor's actions are important, we need to do more. Unemployment in Virginia has reached historic levels, and healthcare workers are scrambling for resources to keep themselves on the field to care for patients who are without the proper equipment themselves. These are unprecedented challenges that call for unprecedented support, and for elected officials to dig deeper than they thought possible to protect and defend the Commonwealth.
First, we must increase the cap on unemployment benefits from $378 to $800 per week. With the COVID-19 virus impacting the economy and causing businesses to layoff workers, many Virginians don't know when that next paycheck may come. If we increase the cap, we can better help Virginians get through the unexpected shock of losing work and help them care for their families, especially if they get sick.
Second, we must provide Virginia businesses with funds to produce more life-saving equipment. If Virginia businesses can create personal protective equipment (PPE) and other medical equipment such as ventilators, we can better protect the heroes on the front lines, save lives, and give workers a boost during this crisis. Additional funding could also incentivize even more manufacturers to do more to help during this time — a worthy goal in and of itself.
Finally, the Governor should call a special session or use his powers during the upcoming veto session so we can pass paid sick leave in Virginia. We had a responsibility to pass paid sick day legislation during the 2020 General Assembly session, but failed to act. Now, in the light of this pandemic, it is more important than ever.
These economic measures are critical and I urge the Governor to act on them as quickly as possible so Virginians can get the increased support that they need. We must do all that we can to help families during this time. It is our responsibility to ensure that their basic rights are protected, including civic duties, which is why I am also calling for a full vote-by-mail program for the November election. Virginia can't wait – it's time to step up and be bold.