See below for a comparison between the latest model run by the University of Washington's Institute for Health Metrics and Evaluation ("last updated at 11 p.m. Pacific, April 5, 2020″) for Virginia and what it looked like on March 27. Also, I agree with Charlottesville City Council member Lloyd Snook: "I think that they just put in the current data, and then projected from that reality, rather than projecting from data that was already outmoded. I don't defend the numbers, because I can't explain them. I'm just throwing them up here."
Back on March 27, here's what IHME's peak respource use estimate for Virginia looked like: peak resource use estimate to occur on May 2, with total deaths of 1,543 Virginians by 8/4 and a shortage of 183 ICU beds. Also, on March 27, IHME was projecting 32 deaths per day in Virginia from April 29 to May 7.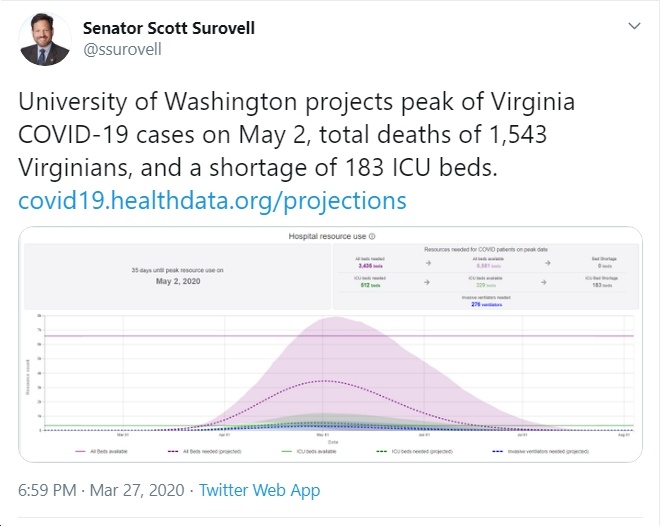 Now, here's what it looks like as of the model run late last night: peak resource use in Virginia estimated for April 20 (about two weeks earlier than the March 27 estimate), with total deaths of 1,401 Virginians by 8/4 (down 142 from the March 27 estimate) and a shortage of 231 ICU beds on April 20 (560 beds needed, 329 beds available – shortage up 48 from the March 27 estimate). Also, IHME is now projecting 59 deaths per day in Virginia on April 22.
P.S. Note that, according to this article, 'Virginia's hospitals have approximately 18,500 licensed beds. About 2,000 of those are [Intensive Care Unit] beds,' Northam said during his announcement." I'm not clear why there's a difference between Northam's 2,000 ICU bed figure and the "329 beds available" from IHME.