UPDATED 4:39 pm – Taylor gets his preccccioussss endorsement from Sauron…er, Palpatine…er, Voldemort…er, Trump.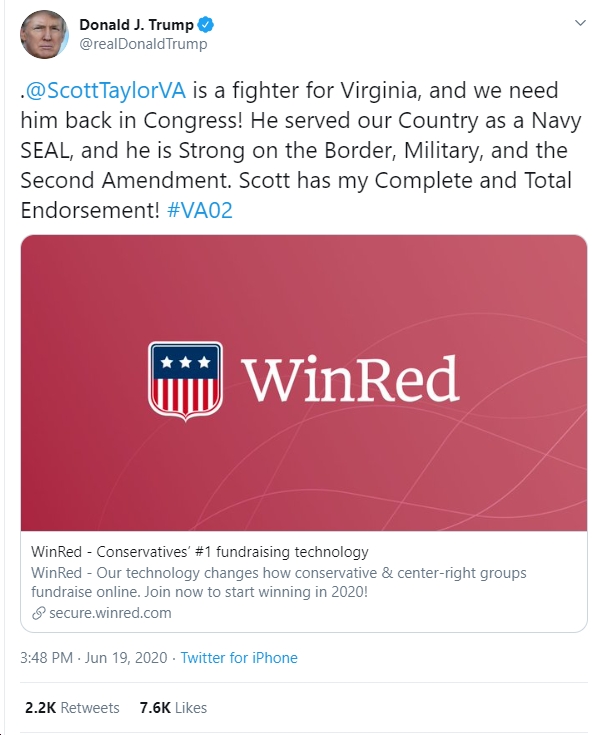 From the DCCC, about our old pal Scott "Petitiongate" Taylor (R-VA02)
Failed Congressman Turned Failed Senatorial Candidate Turned Retread Congressional Candidate Tries to Claim Trump Endorsement, Still Waiting for Call Back…
Scott Taylor Claims to Have Trump Support But Still No Tweet Days Before Primary
Well this is something…
In a candidate forum in May, rejected former Congressman and failed Senatorial candidate Scott Taylor hinted that he has the President's endorsement and that we should watch Twitter to see to see who he supports.
Now, days ahead of the GOP primary, Scott Taylor—who just last year wasn't even interested in running in VA-02—has still received no such endorsement from Trump.
What's the hold up?
Perhaps the President doesn't want to support someone with as much baggage as Taylor. Or maybe the President is not pleased by what Taylor's said about him in the past. We know how Trump feels about losers, but the wait must be stressing Scott out.
"Scott Taylor is looking pretty desperate to lock up his primary. With indictments in the election fraud case looming, Republicans challengers who just won't quit, and so far no endorsement from Trump, this primary is more up in the air than Scott Taylor would like," said DCCC Spokesperson Christine Bennett.