Advertisement

This morning, Virginia Secretary of Public Safety and Homeland Security Brian Moran went on WRVA to talk about the Inspector General's Parole Board report.  You can read that, below, given that Republicans released it, even though it clearly says that the report should NOT be further disseminated "to preserve the integrity of the investigation." Clearly, Republicans care a LOT more about scoring political points than about "minor details" like following proper procedures (which, ironically, is what they're complaining about!) and not screwing up the investigation. But hey, they're Republicans, they only follow the rules they feel like following, whether we're talking this case, COVID-19 social distancing and mask-wearing restrictions, whatever.
Anyway, so Brian Moran went (for whatever reason) on this right-wing radio show this morning to explain what happened regarding this case:

The Virginia Parole Board and its former chairperson violated state law and parole board policies in its decision to grant parole to Vincent Martin, who was sentenced to life in prison in 1980 for killing a Richmond police officer, according to an investigative report by the Office of the Inspector General that initially was kept secret.
Three senior state Republican leaders on Thursday released an unredacted version of the six-page report from Virginia's government watchdog agency that found allegations against the parole board and former Chair Adrianne Bennett were substantiated. Among other things, the report says the board failed to give proper notification to Richmond's top prosecutor before granting Martin parole, did not earnestly contact the victim's family beforehand, and denied one of Martin's alleged victims in a separate case a chance to address the board.
According to Moran, "we certainly don't want to hide anything." Moran added that "I'm still trying to reconcile the OSIG [Office of the State Inspector General] report…I'm having a difficult time reconciling their report and the Virginia Parole Board's response." According to Moran, it's a "bit ironic" that Republican legislators released the OSIG report "despite being told not to…it took all of about 5 minutes to release it and have a press conference, which is a bit ironic, since they're screaming for the Parole Board's resignation for violating procedures and then they go ahead and take about 5 minutes to violate procedures." 
Moran added that "we have an OSIG report that says there are violations, and we take this very seriously, as we have since the beginning…back in March." According to Moran, "he didn't get out until June 10th, not early April, so the 21 days was remedied, that's not in the [OSIG report]…so it makes it look like he was released in April…he wasn't…whatever the local Commonwealth's Attorney wanted to do…she had well over two months, not just 21 days…none of that is in the report…[the new Parole Board chair] has been instructed that the 21-day rule is extremely important to us and should be followed strictly." On the Parole Board Chair meeting with the family, Moran said he prefers meetings in person…"personal, the emotions of it are better expressed…than over some other medium." But "the context of [COVID-19 in late March, when there was a stay-at-home order, nobody was meeting in person] is not in the report."
Was there a reluctance to engage with the family? According to Moran, "I think it is an allegation which we need to get to the bottom of…if you read the report, certainly you're left with that impression, but is it fair? I mean…there's also some comments in the report that are attributed to [former Parole Board chair] Adrianne Bennett with no attribution. Who is claiming she said that? They put in quotes, there's no transcript, pure hearsay…wait a minute, what was the demeanor in which she said these quotes? I suspect anybody talking to a victim's family, it is difficult to do, particularly in a case of this magnitude and tragedy…there's no transcript, but they include quotes from her…that's troubling to me…it's really unfair…[Bennett] is now on the bench, she's a judge, and she can't comment to dispute those quotes that are attributed to her…I find that unfair too."
As for the merits of the decision to grant Martin parole, Moran said "we could debate [it] philosophically, whether or not somebody who serves 40 years and has no infractions should ever be released…But this has nothing to do with the actual merits…Now we have all these administration issues and procedural issues that we need to get to the bottom of, because we don't want this to repeat itself…But they don't believe they violated [the rules] in the first place…There are some things in that report I really want to get to the bottom of…This OSIG report obviously is troubling, and we're taking it very seriously. I will try to reconcile the two stories, because they're diametrically different."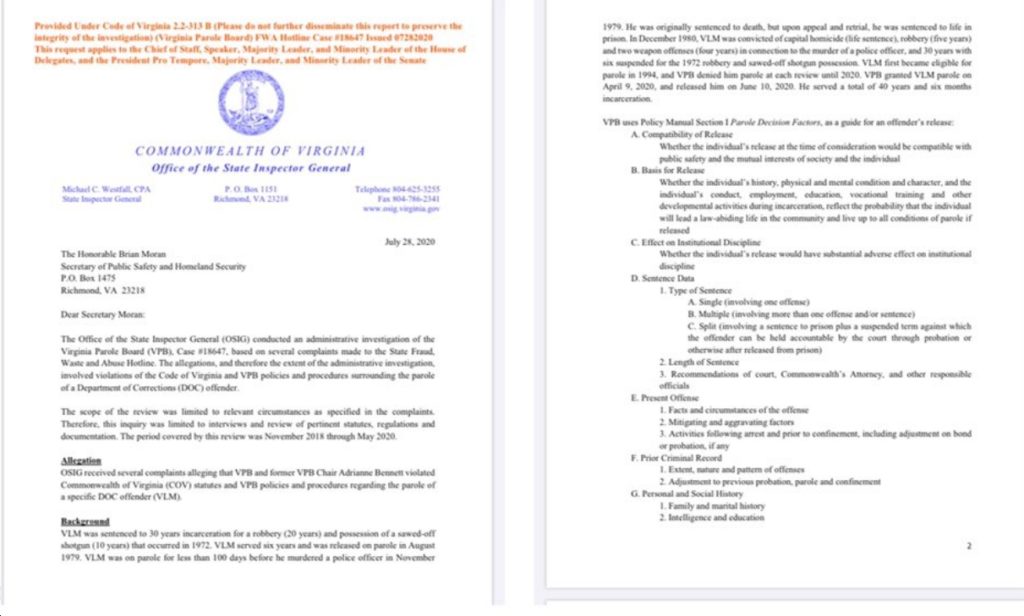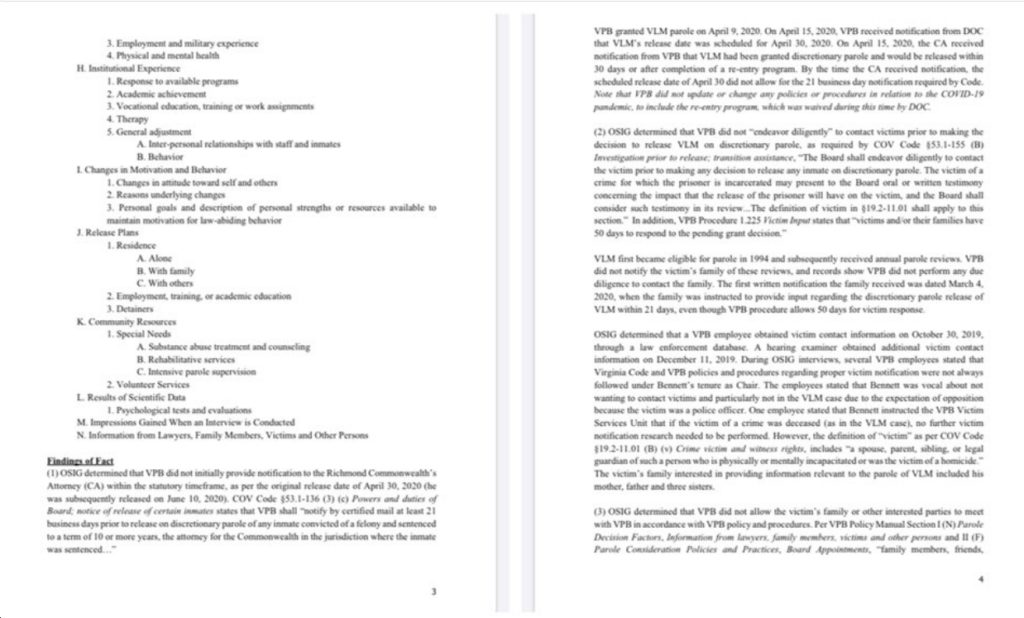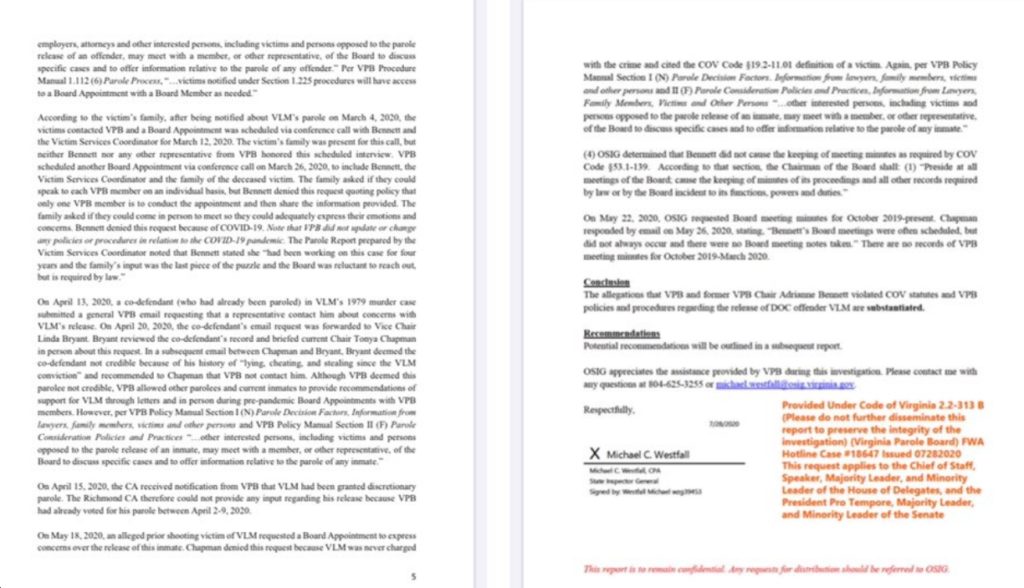 There's no paywall on Blue Virginia, and we definitely want to keep it that way! If you want to help support our work, you can donate here - thanks!
Also, you can
sign up for our weekly email list here
.