Advertisement

What a difference a day – and some changes to the bill, plus presumably some intense discussions over the past 24 hours – can make! In this case, Del. Jeff Bourne (D)'s bill on "qualified immunity" bill (HB5013) just passed out of the House Appropriations Committee, on a 12-8 vote, after failing to report yesterday on an 11-11 vote. Notably, Del. David Reid (D) switched his vote from "nay" yesterday to "yea" today.  See below for some video of today's debate (note: as of 11:36 am, some of the video's still uploading; I'll add it as soon as it's ready!), including some great speeches by Del. Delores McQuinn and Del. Jay Jones, plus some…well, NOT great speeches by several Republican members, including Del. Kirk Cox, Del. Matt Fariss, etc.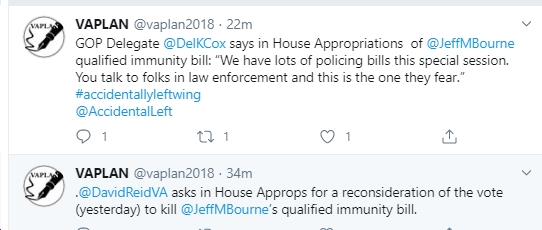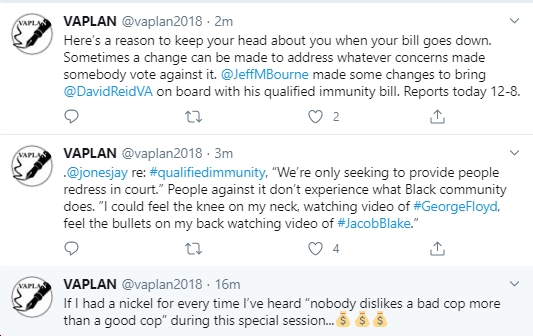 Del. David Reid – who had voted no yesterday – asks to reconsider the bill, thanks Del. Jeff Bourne for working through one item related to potential liability for law enforcement when the personnel are off duty. Del. Bourne talks about the changes to his bill.
Del. Jay Jones said: "This does not mean that if a police officer is sued…that they automatically lose…let's not forget that…you're innocent until proven guilty." Jones also said we need to consider that, right now, there are people walking around who are "basically above the law," and that "we are only seeking to provide people redress in court." Del. Jones added: "You know what, I will take a whole bunch of frivolous lawsuits if it means that someone who is shot and killed or is shot 7 times in the back gets a day in court – that means more to me, and I say that not from a position as an attorney but from a position as a human…Rodney King was beaten in front of a camera 30 years ago and those guys walked out scot-free. And over the last 400 years, there's a system that has been built that is not working for people of color in this country and in Virginia, and this is a signal to us that you don't necessarily care about us if you don't care about our rights and our livelihood. Now I watched the George Floyd video; I could feel that officer's knee on my neck as I watched it, I could feel the bullets in my back as I watched the video of Jacob Blake. This is a chance for Virginia to do the right thing and to do right by people. I promise you this will not have the financial impact or the chilling effect that folks are saying… those are red herrings. This is an opportunity for our citizens to have their constitutional rights protected. So my friends on the right, if you talk about protecting liberty, you should vote for this bill…"
Del. McQuinn: "We don't want police officers second-guessing themselves?!? YES WE DO! We want…for 8 1/2 minutes, someone was on George Floyd's neck; there SHOULD have been a second guessing at that time! And I just encourage you all to understand where we are, to walk in our shoes just for a moment. Because long before there was a camera, a video, we were dealing with these things in the Black community…and we must be holding people accountable…nobody is more supportive of police officers than I am. And it is only the bad apples that we are trying to address. I believe the majority, 99% of the police officers are great officers in our community, doing what they're supposed to, respecting everyone and looking at each person in a humane way. But for those who are not, we must do something…so that those who have decided they are above the law, we've got to stop it. If you have a better way to address it, then bring that to the table…please walk in our shoes. My husband, my son, and even I was approached by a bad police officer while walking my dog…And so I just ask you, again, to look at what is going on. We are not trying to attack or address those who are doing it right, getting it right, only those who refuse to look at every man and woman, boy and girl as a part of humanity and treat them that way."
Del. Bourne: Thanks Del. Jones and Del. McQuinn. Says the bill has had a "full vetting" and has "gotten narrower" since it left the Courts of Justice Committee. Regarding retention and recruitment of police officers, and there being a "shortage of law enforcement officers," Bourne responded, "let me submit to this committee…we are undergoing a shortage of Black men at the hands of police officers, and they are not being held accountable either criminally – many of them don't get charged – or civilly. And so this bill will help that. This does not prevent a local prosecutor from prosecuting one of these cases criminally; this is the civil side. #2, I hope everyone on this committee has listened to the type of language that has been used…to talk about why we should oppose this bill is exactly the types of systemic and institutionalized racism we are trying to dismantle…Once again, we as African-Americans have had to work twice as hard  to get to where we might be able to see a little light at the end of the tunnel."
UPDATE: Here's some video on today's debate over Del. Bourne's bill. Del. Kirk Cox (R) tried to pass the bill by for the day, because he claimed it needed more vetting by the Courts of Justice Committee. That motion was defeated. According to Cox, this bill will cause law enforcement to lose "a tremendous amount [sic – should be "number"] of folks" if it becomes law, that law enforcement officers be "second guessing themselves all the time" because of "liability issues." Del. Jones emphasized that "we all respect and revere law enforcement in ways that I think gets distorted…none of us wants to undermine their ability to do their job…but no entity should be able to go above the law…if they feel that they are acting as a reasonable and prudent officer, they have nothing to worry about…If you have folks who are worried about using too much force, I'm really not sure that those are the folks we want to have on our police force…" Del. Knight (R) complained that there's a shortage of law enforcement officers, and that this bill will make "the hiring so much worse." Del. Austin (R) called the bill "very disturbing" and "devastating," adding he's been contacted by law enforcement officers who said this bill would "end their career." Del. Brewer (R) said this legislation "borderlines on one of the most dangerous pieces of legislation that will affect people working in law enforcement for a generation."
There's no paywall on Blue Virginia, and we definitely want to keep it that way! If you want to help support our work, you can donate here - thanks!
Also, you can
sign up for our weekly email list here
.