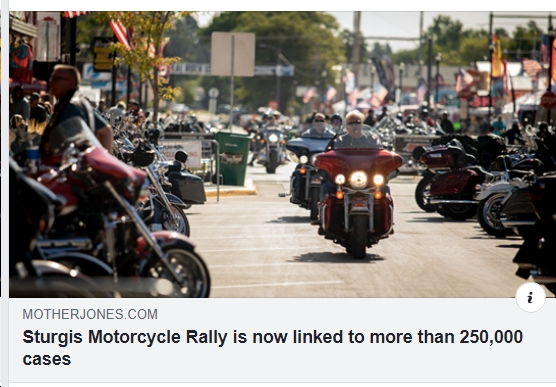 Could what happened in South Dakota be Virginia's future, if – god forbid – extremist Amanda Chase (R) ever were to become governor?
The inevitable fallout from last month's Sturgis Motorcycle Rally, an annual event that packed nearly 500,000 people into a small town in South Dakota, is becoming clear, and the emerging picture is grim. 
According to a new study, which tracked anonymized cellphone data from the rally, over 250,000 coronavirus cases have now been tied to the 10-day event, one of the largest to be held since the start of the pandemic. It drew motorcycle enthusiasts from around the country, many of whom were seen without face coverings inside crowded bars, restaurants, and other indoor establishments. 
Recall that Chase – who is currently the only announced Republican candidate for governor in 2021 – compared herself to South Dakota Gov. Kristi Noem (R), who said she was *proud* to host the Sturgis Motorcycle Rally...which has turned into a predictable, and predicted, disaster. Chase, of course, declared that she doesn't "do COVID anymore," nor will she wear a mask or practice social distancing, and is running all over Virginia trying as hard as she can to be a "super spreader."
Also, see below for former Lt. Gov. Bill Bolling (R) calling Chase out for plagiarizing Noem's absurd, false, error-laden graphic about state COVID-19 infection rates, "no contact tracing," "no mask mandates," "no lockdowns," "public events," etc. In short, if Virginians want a state governed like South Dakota under Republican Kristi Noem, then by all means vote for her. But presumably, nobody in their right mind would want that…