See below for some information on fundraising, cash on hand, etc. as of 9/30/20 (note: the deadline to file third quarter 2020 reports with the FEC and Virginia Department of Elections is today). I'll add more information as I see it.
********************************
Mark Warner Ends 3rd Quarter in Strong Position for Victory
Raised Over $2.6 Million, Has $6.4 Million Cash on Hand
Senator Mark Warner's senatorial campaign raised a combined $2.6 million for his campaign and the Virginia Coordinated Campaign in the third quarter of 2020, and Warner's campaign has over $6.4 million cash on hand as he enters the final stretch before election day. The majority of Warner's contributions have come from Virginia, with an average online contribution of under $50.
Warner has raised a combined total of over $17 million for his campaign and the Virginia Coordinated Campaign over the course of the election cycle.
***********************
Elaine for Congress Raises $1.8M in Third Quarter of 2020
VIRGINIA BEACH, VA –  Today the Elaine for Congress campaign reported raising over $1.8 million for the third quarter of 2020. 
"We are a people powered campaign that is laser focused on the issues that matter most to Coastal Virginians," said Congresswoman Elaine Luria. "I remain committed to expanding access to affordable, quality healthcare, ensuring benefits for our veterans, servicemembers, and their families, and providing resources for continued economic recovery from the unprecedented economic crisis caused by the COVID-19 pandemic."
Congresswoman Elaine Luria enters the final stretch of the campaign with over $1.4 million cash on hand. With 14,302 total donors and 77% of donors contributing $50 or less, her campaign is bolstered by grassroot supporters. 
Congresswoman Elaine Luria represents Virginia's Second Congressional District, which includes all of Accomack and Northampton Counties, the cities of Virginia Beach and Williamsburg, as well as portions of Norfolk City, Hampton, and York and James City Counties. Congresswoman Luria serves on the House Armed Services Committee where she is Vice-Chair of the Seapower and Projection Forces Subcommittee and on the House Veterans Affairs Committee where she is the Chair of the Disability and Memorial Assistance Subcommittee. In 2018, Elaine Luria flipped VA-02 from a Republican incumbent and is a current Frontline incumbent.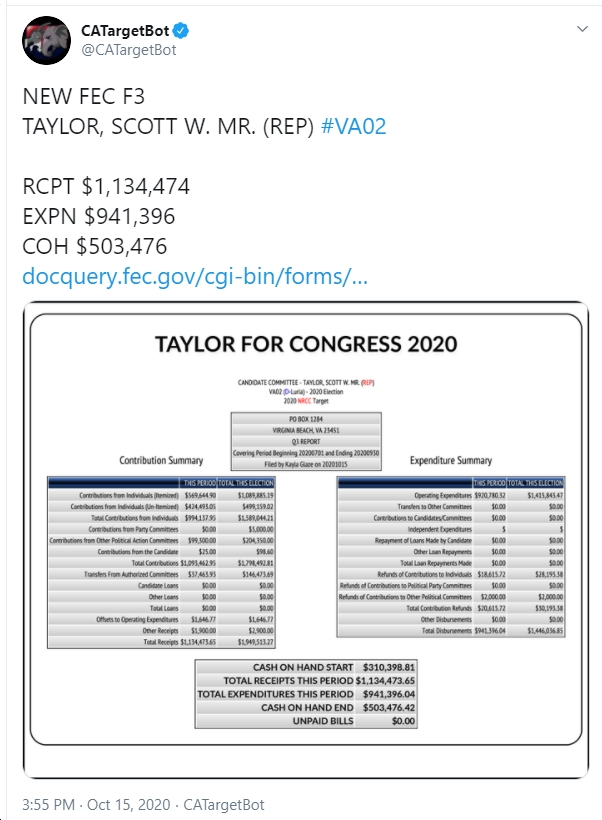 **********************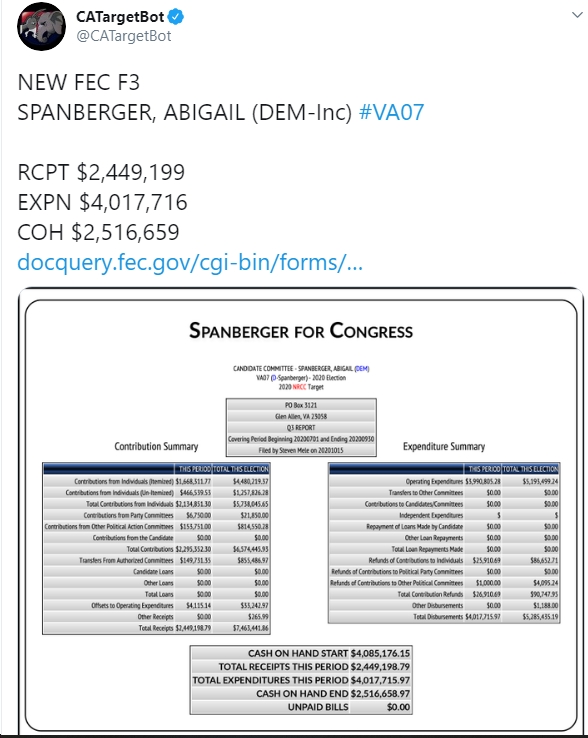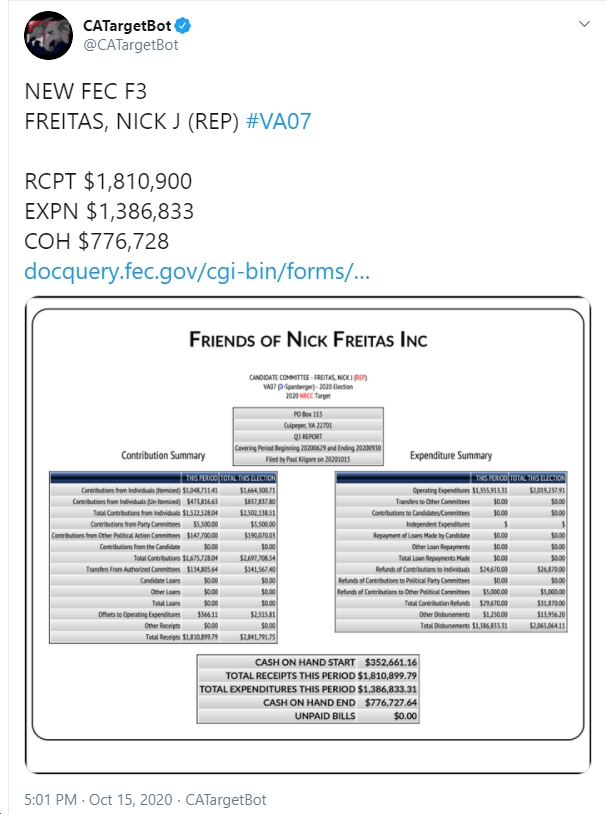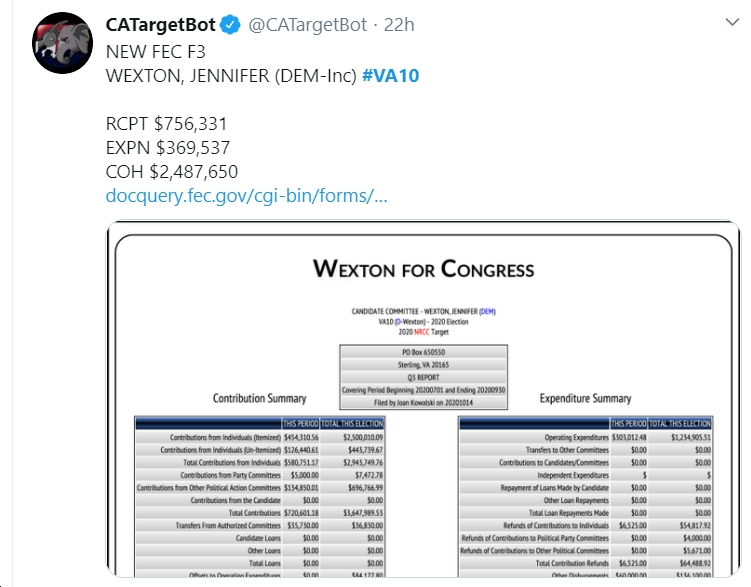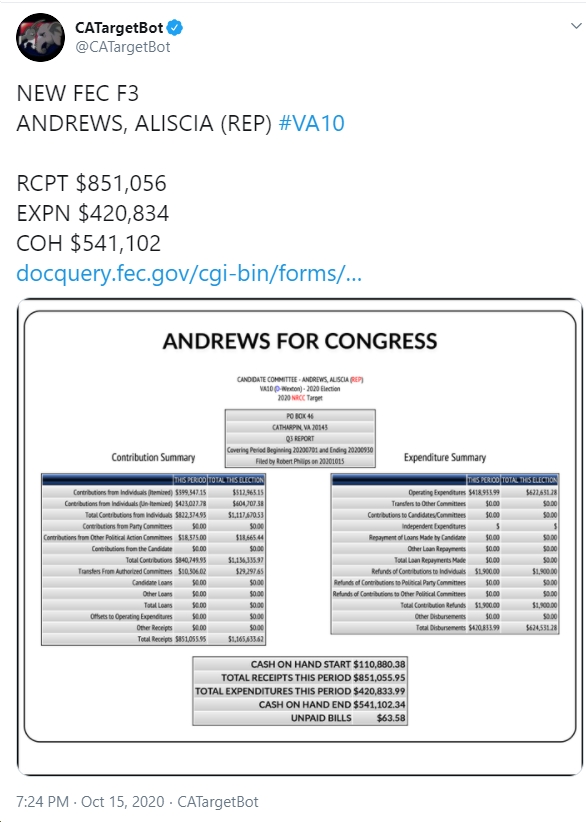 AG Mark Herring raised over $400k this quarter and has >$750k cash on hand.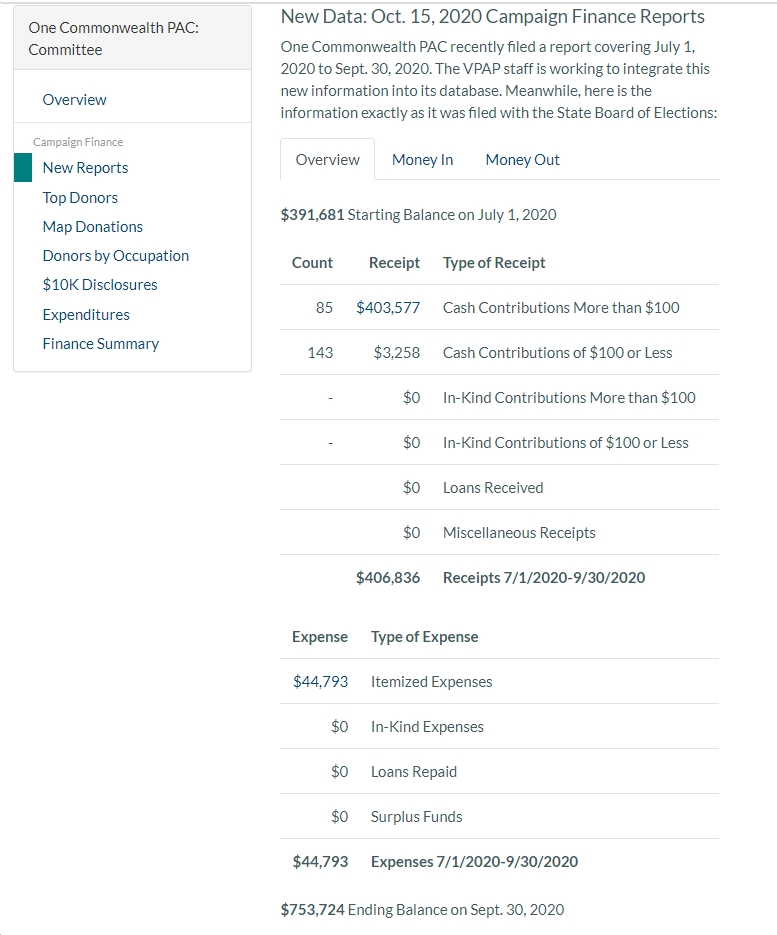 DPVA raised nearly $350k and has $322k cash on hand.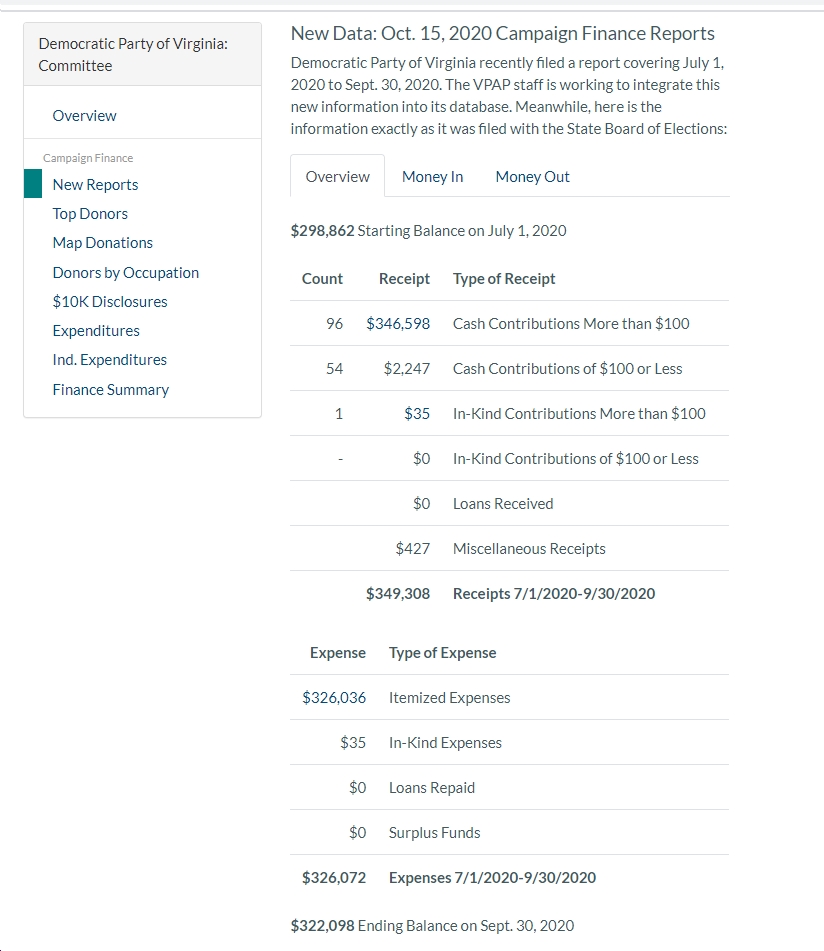 In contrast, the VA GOP raised just under $40k (including $10k "in kind") and has just $5k "cash on hand." Pathetic.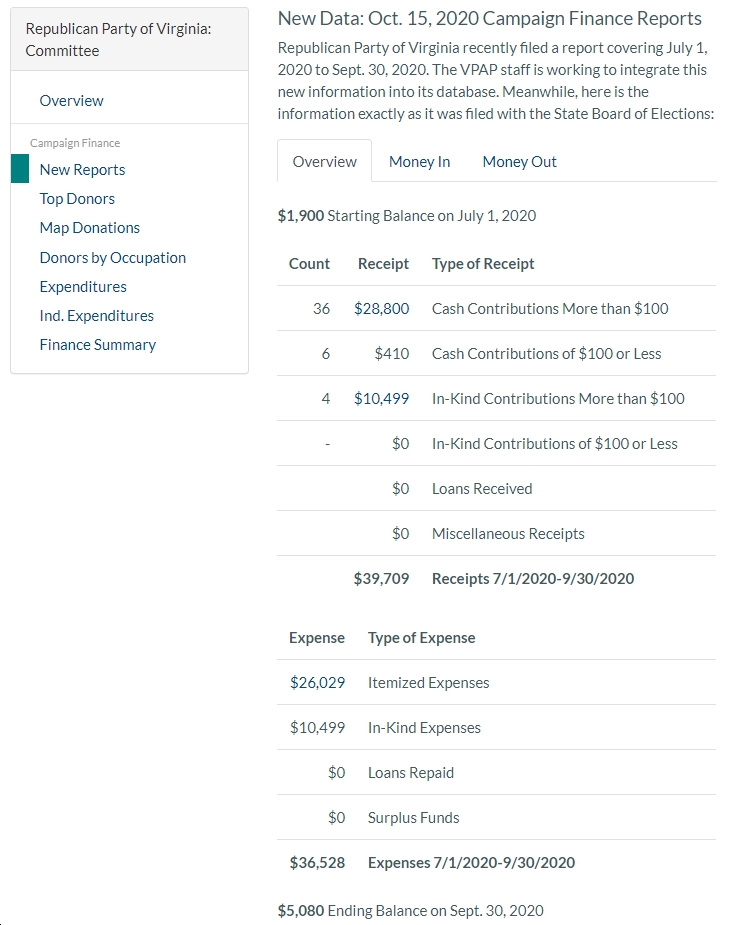 Dem LG candidate Andria McClellan raised $131k and has $104k cash on hand.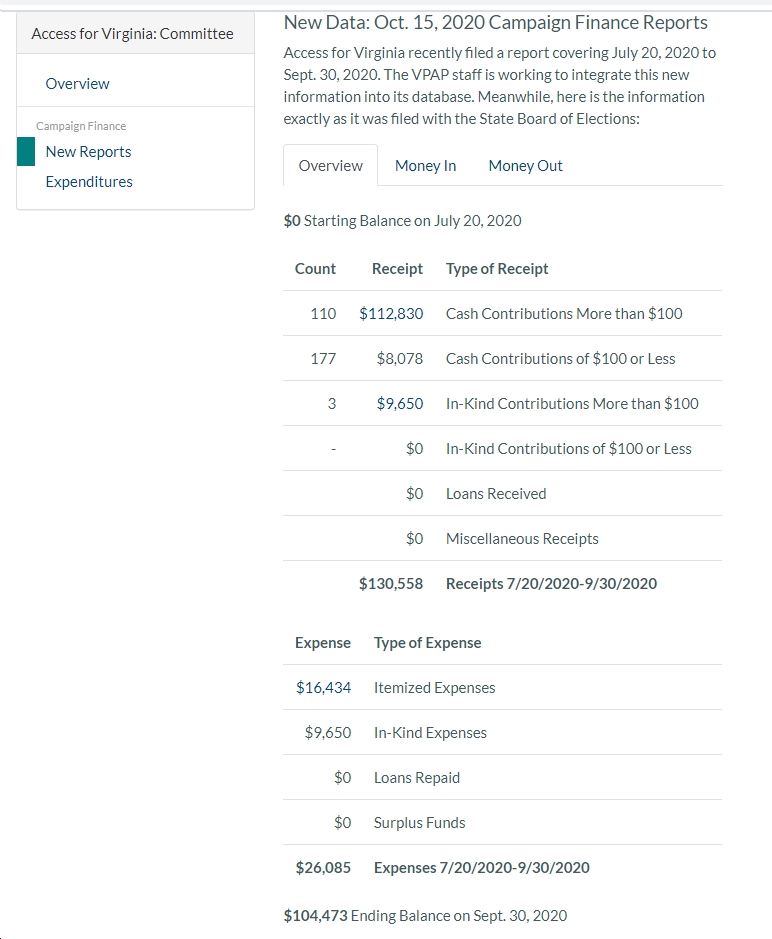 Speaker Eileen Filler-Corn raised $124k and has $437k cash-on-hand.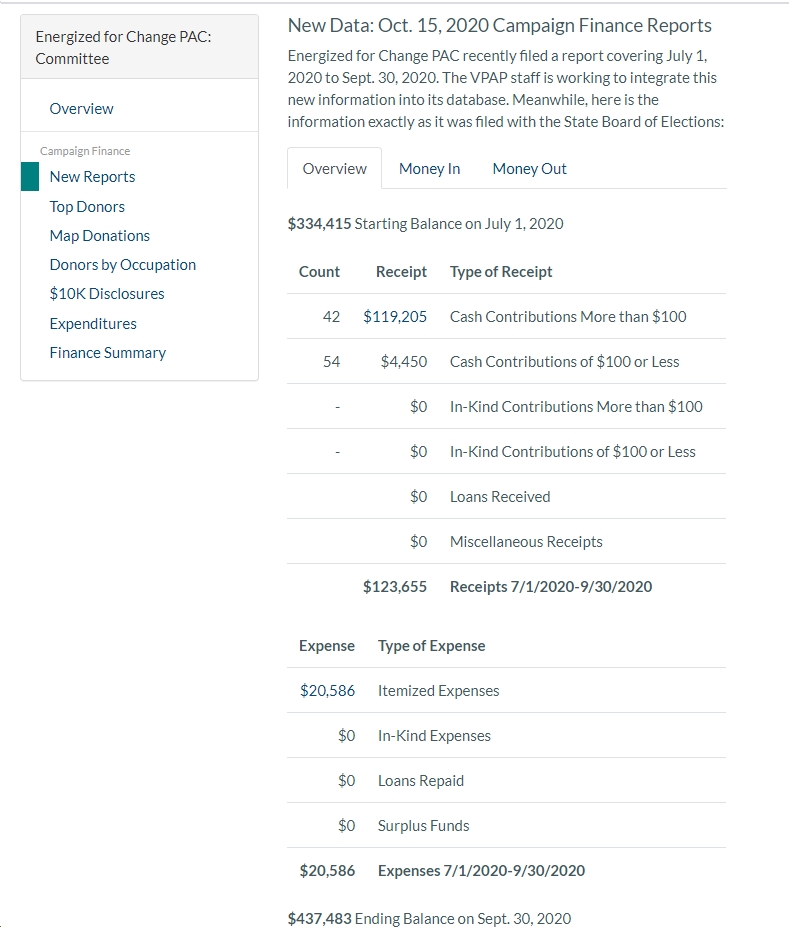 Richmond Mayoral Race (as of 9/30; funds raised during September)
Levar Stoney: $225k in receipts (+$4.5k in his "One Richmond" account), $212k cash on hand (+$7k in his "One Richmond" account)
Kim Gray: $92k in receipts, $141k cash on hand
Alexsis Rodgers: $98k in receipts, $117k cash on hand
Virginia Beach Mayoral Race (as of 9/30; funds raised during September)
Bobby Dyer: $72k in receipts, $94k cash on hand
Jody Wagner: $322k in receipts, $109k cash on hand
Rashid Campaign Outraises Republican Opponent in Q3 
The Rashid Campaign has outraised Rob Wittman for the third straight quarter
STAFFORD, VA – The Rashid Campaign has outraised 13 year incumbent Rob Wittman for the third straight quarter.  Since launching the campaign in January of this year, Team Rashid has outraised Rob Wittman without taking a single dime from corporate PACs. In the third quarter alone Rashid's campaign brought in 12,212 contributions. The campaign has received over 23,000 contributions this year, raising over $1.1 million since January 2020, the most ever raised by a Democrat in Virginia's First District. The official FEC third quarter numbers are available here. 
"I'm proud of the fact that our people-funded campaign has been able to continually out-raise our corporate-backed opponent," says Finance Director Tino Garcia. "People are excited about Qasim's candidacy and we're grateful for each and every contribution. These critical funds allow us to continue to share our issues focused message through television and digital ads, and through our field efforts—so that on November 3rd, we can get the folks of VA-01 the support and representation in Washington they deserve." 
Qasim Rashid is a human rights lawyer who has dedicated his life to supporting women who are survivors of domestic and sexual violence, and to serving children from vulnerable communities. Qasim is running to transform his advocacy into results for the working families of Virginia's 1st District. He believes in service, leadership, and compassion through action. To learn more, please visit RashidForVA.com.