Rep. Jennifer Wexton (D-VA10) was on WAMU's The Politics Hour this past Friday, and she had a few interesting things to say. See below for the transcripts, and a few takeaways.
On U.S. House races in Virginia this election, Rep. Wexton said she's "confident that Abigail [Spanberger in VA07], Elaine [Luria in VA02] and I will hang onto our seats come November." She specifically cited early turnout numbers being "incredibly encouraging,"
On the 5th Congressional district race, between Dr. Cameron Webb (D) and right-wing extremist Bob Good (R), Rep. Wexton said she's "feeling really good about Dr. Webb's chances," that he's "the perfect candidate…a physician…former White House Fellow…on the frontlines of fighting COVID, and he's got the policy chops to actually do something about it once he comes to Congress." Rep. Wexton adds that the 5th CD GOP ousted "a pretty well-liked incumbent, Denver Riggleman, and nominated somebody who is far outside the mainstream and is way too conservative for most of the folks in that district." Add in that people "are really engaged and excited on the ground," and Rep. Wexton rightfully says she "feel[s] very, very good about [Dr. Cameron Webb]'s chances."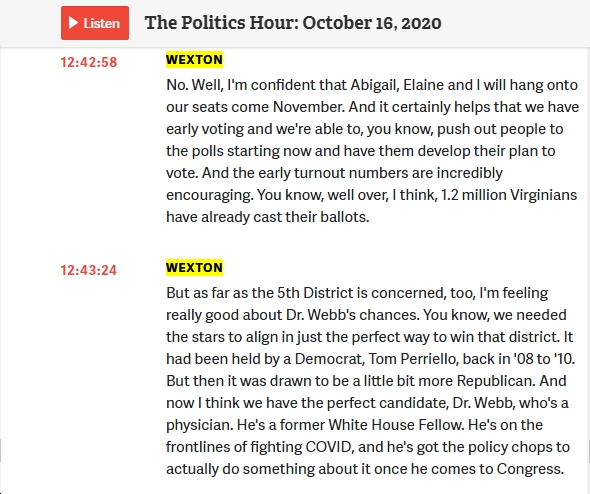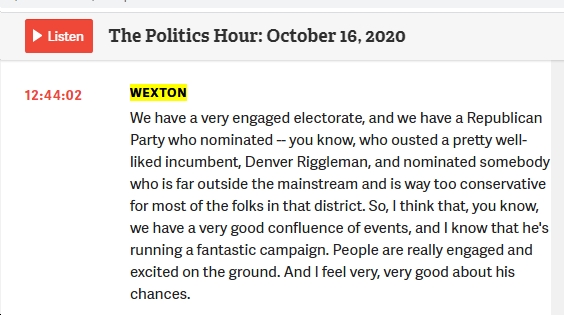 On a COVID-19 relief package, Rep. Wexton is exactly right that the U.S. House has been on top of this, passed a major bill – the HEROES Act – on May 15th, but we've "got nothing but crickets from the Senate." The result of Senate Republicans' and Trump's inaction is that "thousands of businesses have closed forever, millions of Americans are unemployed and have lost their enhanced unemployment benefits." The answer is to pass a real relief package, don't just "take any deal that's on the table that doesn't get the job done." I couldn't agree more.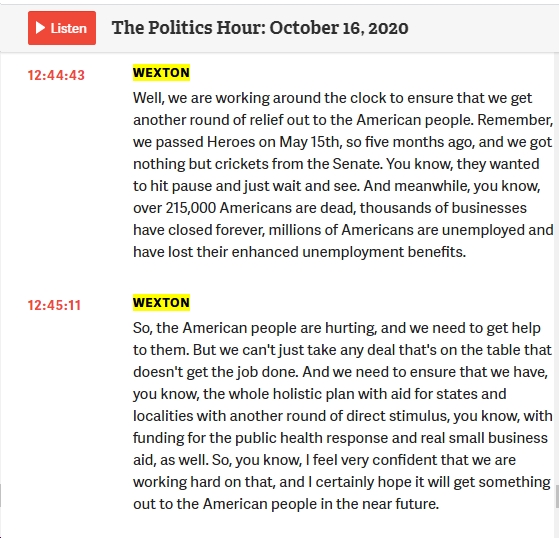 And finally, is Virginia a "purple state or a blue state?" Rep. Wexton again is correct that Virginia is "definitely trending bluer, but I would not say that we're 100 percent there yet," and that it really comes down to whether or not people "stay engaged" after Trump's gone, as we saw what happened after Barack Obama was elected in 2008, when "everybody [was] like, okay, well then, we're fine now, and then they stayed home." Warning: we must NEVER DO THAT AGAIN!