We've written a lot about Virginia's 5th Congressional District, in part because there's been a great deal of drama there (e.g., see BREAKING: After Performing Same-Sex Marriage, Trump-Endorsed Rep. Denver Riggleman (R-VA05) Defeated (!!!) by Far-Right-Wing Challenger Bob Good, and also because it appears to be VERY much in play (see New Poll Shows Dr. Cameron Webb Ahead in VA-05 Race, 47%-45%, New Poll Shows Dr. Cameron Webb Leading in VA-05 by 45%-42% Margin), despite being a "red" district which Trump won by 14 points in 2016 and even neo-Confederate Corey Stewart (R) won by 2 points in 2018. A few other points about this race are:
The Democratic nominee, Dr. Cameron Webb, has turned out to be an extremely impressive candidate, winning the nomination – against three other serious Democratic candidates – with an astounding 67% of the vote, then blowing Good away in terms of fundraising and running even with or slightly ahead of Good in the polls.
Good has turned out to be an atrociously bad candidate, running to the extreme right, including his endorsements by three of the most extreme and outlandish members of Congress –  Sen. Mike Lee, Sen. Tom Cotton and Rep. Louie Gohmert; plus of course his upcoming rally with a raging homophobe who also claimed that Beyoncé is an "anti-white racist whose 'lawlessness' could bring about the End Times reign of the Antichrist."
Following a bitter, vicious nomination process, which was not done by a primary but by a "corrupt," "pay-to-play" convention attended by a tiny % of the district's voters, the VA05 GOP is deeply divided. To date, Rep. Denver Riggleman (R-VA05), who Good ousted in that shady convention, has not endorsed anyone or had anything nice to say about Good. Clearly, there's no love lost there…to put it mildly. The question is, how might it impact VA05 Republican voters? Might some of them vote for Trump and either not vote in the U.S. House race or possibly even vote for Dr. Webb? It's going to be interesting, that's for sure…including how Rep. Riggleman himself ends up voting.
As you can see below, former Virginia Del. David Ramadan, a conservative Republican, thinks that VA05 is shaping up to be a "bloodbath" for Republicans, with Dr. Webb "a nice guy w very impressive life accomplishments" facing Good, who Ramadan rips as a "horrible candidate" with "one negative story and opinion after another" about those who have had interactions with Good. Yikes.
Finally, check out the audio from Good's recent WMAL "interview" (in air quotes, because the far-right-wing radio host didn't interview Good so much as campaign for him on the air), in which Good said all kinds of stupid, false and/or crazy things, such as that "we've already got unemployment down to less than 8%, which as you know like I do, 30 years ago that was considered almost perfect employment; under the Trump standards that's high, because he brought it down to 3%." My god, where to even start with this drivel? First of all, 8% unemployment as "perfect employment" (Good presumably means "full employment," but clearly economics is not his strong suit)??? The hell??? In fact, according to the Congressional Budget Office, full employment is around 4.6%, which is obviously FAR lower than 8%, which is about where we are now. As for Trump supposedly bringing the unemployment rate down to 3%, as this article shows, President Obama inherited a disastrous situation, with the unemployment rate soaring to near 10%, but through a lot of hard and skillful work, during his administration the unemployment rate fell to 4.7%. As for Trump? After he took office, he basically coasted for a while on the strong Obama economy he inherited, with the unemployment rate coming down about another percentage point, before…disaster, with the unemployment rate skyrocketing to 15% or higher this past spring, then coming down after Congress passed a major relief package, and as Americans started (fitfully) going back to work. Still, we're not in good shape at all right now, with tens of millions of Americans out of work, underemployed, hurting, etc. THIS is what Bob Good considers to be "almost perfect employment?" Yikes – do NOT elect this guy!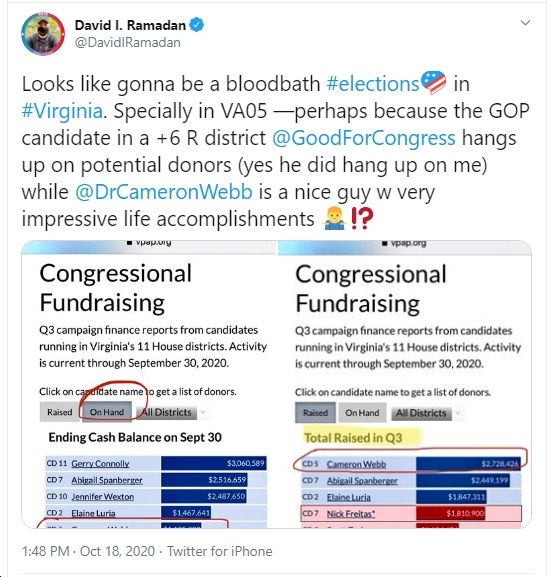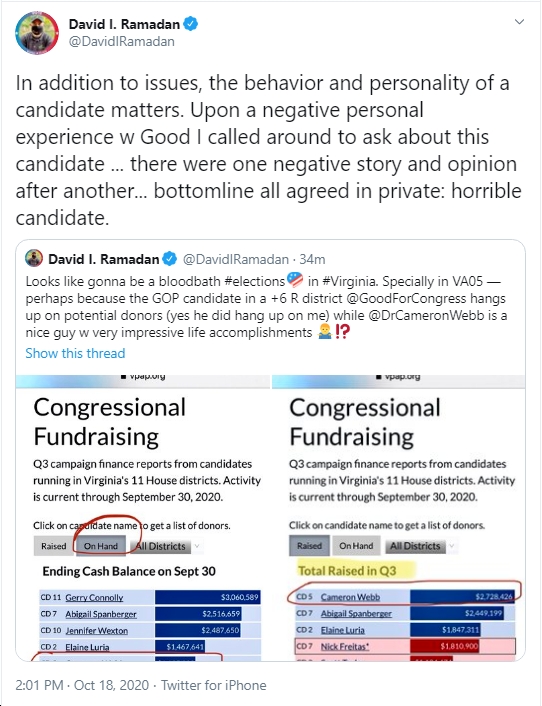 Also amusing, check this out: