Advertisement

See below for yet some more unhinged, over-the-top, demagogic, fearmongering, fallacious sludge – as usual, about criminal justice reform – from the Virginia House GOP (note: if you like it, you can get a lot more of it on the VA House GOP Twitter feed, as well as the VA GOP Twitter feed, which is also unhinged). More importantly, check out the demolition of that sludge, by Del. Danica Roem, Sen. Scott Surovell, VAPLAN, etc. A few highlights include:
First of all, the purpose of the legislation (SB5007) passed by the Virginia General Assembly last night is as follows: "Provides that in a criminal case the court shall ascertain the extent of the punishment unless the accused has requested that the jury ascertain punishment or was found guilty of capital murder. The bill also provides that if a jury cannot agree on a punishment, the court shall fix punishment. The bill provides that the attorney for the Commonwealth may not demand a jury trial when an order declaring a judicial emergency has suspended criminal jury trials."
As Cindy of VAPLAN notes (see her tweet, below), this "puts Virginia in line with 48 other states." VAPLAN also, correctly, calls out the VA House GOP's "ridiculous fearmongering" and lack of respect for "the Constitution and the rights enshrined therein."
Also, as Del. Danica Roem points out, prior to this becoming law, it's just Virginia and Kentucky out of the 50 states that operate this way. As Del. Roem notes, sarcastically, "I guess Mississippi is too liberal or something…" Haha.
Another interesting point by Del. Roem is that a member of the VA House GOP, Del. Carrie Coyner, was one of the delegates voting YES on this bill, and the VA House GOP immediately "[threw] one of their women members under the bus." I'd add the word "few" in there, as in "one of their FEW women members," as the VA House GOP is overwhelmingly male.
Responding to someone asking where on earth in the bill is anything remotely resembling what the VA House GOP claims is in it, Del. Roem nails it: "That's because whoever authorized that tweet is recklessly full of it."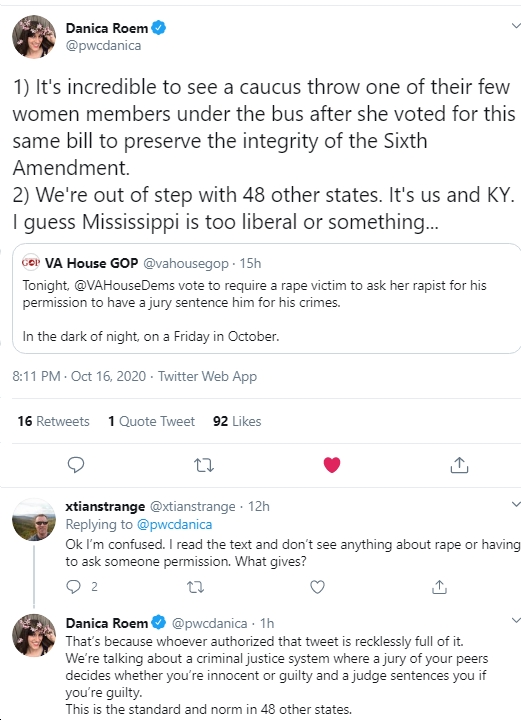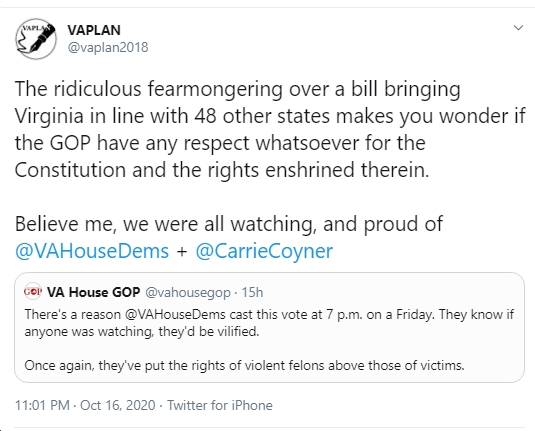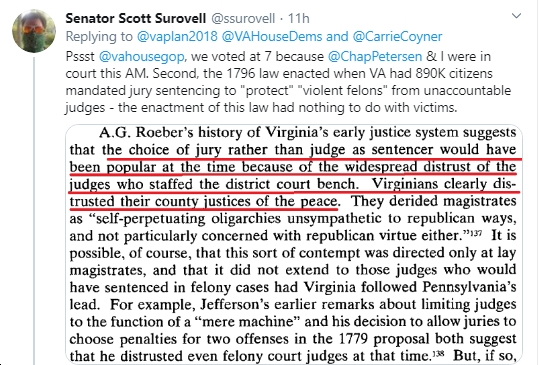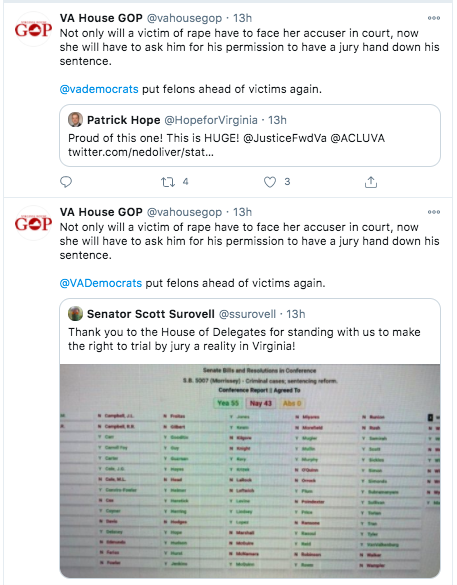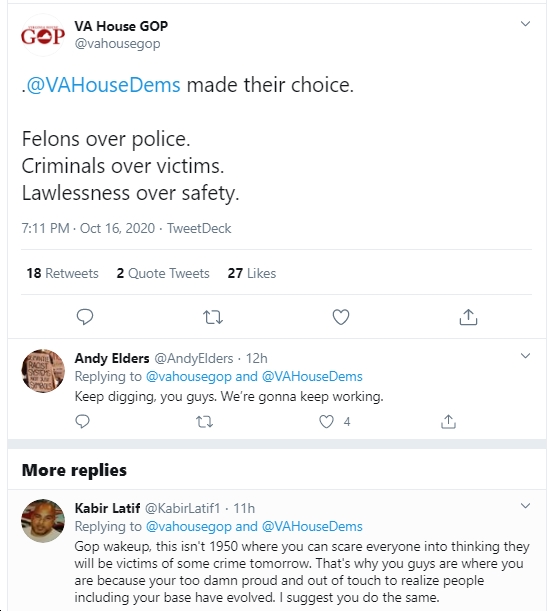 There's no paywall on Blue Virginia, and we definitely want to keep it that way! If you want to help support our work, you can donate here - thanks!
Also, you can
sign up for our weekly email list here
.