When it comes to clean energy, climate action, and fostering a stronger economy for generations to come, Virginia is in a far different place today than it was just a year ago. Democratic Party control of the Governorship and the Legislature as of January 2020 changed the Commonwealth's clean-energy landscape. With passage of the Virginia Clean Economy Act (VCEA) and the Commonwealth joining the Regional Green Greenhouse Gas Initiative (RGGI), the Commonwealth has embarked on a pathway to an 100% carbon free power sector by 2045, laid out significant energy efficiency requirements, and has mandates for significant investments to address environmental injustice. Even while there is much more than can (and will) be done, Virginia's leap forward from clean-energy/climate-action laggard to leader could well have lessons for 2021 as President Joe Biden and Vice President Kamala Harris work with Congress and Governors across the nation to Build Back Better.
Monday evening, as part of its national-wide efforts to help put rationality and science respect back into the Oval Office, Clean Energy For Biden (CE4B) is hosting a virtual panel Monday evening with many Virginia leaders for a clean energy future. The program's announcement:
Monday, October 5th, 7:00pm ET
As we work to build back better, how can America forge an equitable and clean energy future, addressing environmental injustices and creating new economic opportunities for disadvantaged communities while rapidly decarbonizing? Virginia can serve as a model for this clean and equitable transition. Between policies like the Clean Economy Act and the Clean Energy Advisory Board, the Commonwealth has already laid the foundation, but there's much that remains to be done.
This event will bring together clean energy elected leaders in the General Assembly, business pioneers, and champions of diversity, equity, and inclusion to discuss how we use policy, technology, workforce development, and more to accelerate the transition while empowering communities of color, low-income populations, and historically disadvantaged groups. Join us!
Speakers:
Senator Jennifer McClellan, Member of the Virginia Senate
Delegate Lashresce Aird, Member of the Virginia General Assembly
Nicole Steele, former Executive Director of Grid Alternatives and Co-Chair for Clean Energy for Biden
Patrice Lewis, Government Affairs Specialist at Gentry Locke & former staffer to Sen. Mark Warner
Tom Matzzie, President & CEO, CleanChoice Energy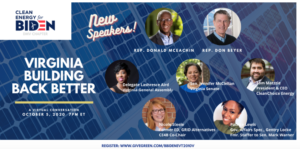 Since that page went up, Virginia's congressional Dons (both real leaders and voices for clean energy and equitable climate action) have agreed to join. Representatives Donald McEachin and Don Beyer will also be speaking Monday evening.
As Virginia clean energy advocate (and one of the event co-sponsors) Harry Godfrey put it to me,
Tackling climate change and air pollution is an opportunity to improve the health and economic well-being of all our communities. But it is, in particular, a chance to lift up low-income, minority and historically disadvantaged communities that have borne the brunt of respiratory illnesses from air pollution, high energy bills, and diminished economic opportunities. That's why this conversation – at the intersection of energy, climate, and equity – is so important.
Monday evening offers a chance to hear from Virginia clean energy leaders about how we can build back better — cleaner, with greater resiliency and security, and a more equitable society — while helping put sane, science respecting, and law-abiding leadership back in the Oval Office.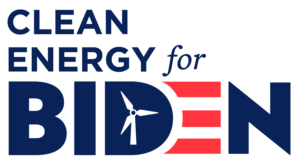 About CE4B
CE4B brings together over 7,000 energy industry leaders, grassroots organizations, and policy experts to help elect Joe Biden and ensure his administration can achieve its goals of a 100% clean energy economy and net-zero emissions no later than 2050. Core to the effort is a realization that:
Getting to a 100% clean energy economy is not only an obligation, it's an opportunity. We should fully adopt a clean energy future, not just for all of us today, but for our children and grandchildren, so their tomorrow is healthier, safer, and more just.
CE4B has been holding numerous fundraising events (over $3M raised), get-out-the-vote efforts (such as phone banking), and otherwise working to help restore understanding of the necessity for climate action and the real opportunity for all of us (all the U.S.) that serious climate action (including clean energy deployment) creates.