Advertisement

See below for video of Thomas Jefferson High School for Science and Technology ("TJ") alumni speaking in support of the TJ Merit Lottery Plan. For some background on this issue, see As People Across America Protest Racial Inequity, #1 Public High School in the Country ("TJ" in Fairfax, VA) Just Admitted ZERO African Americans [UPDATED]; Thomas Jefferson High School Alumni Action Group Endorses Merit Lottery System for "TJ" Admissions;Loudoun County School Board Sends Letter to Fairfax County School Board Expressing Concerns Over Changes to "TJ" Admissions Process; Audio: VA Secretary of Education Atif Qarni Argues for Changes in Admissions to Governor's Schools to Increase Diversity; Says "It will only make these schools better"; WaPo Allows Torrent of Racist Comments in Article on Blacks, Latinos Being Underrepresented at Thomas Jefferson HS; etc.
Basically, the argument is that admissions to "TJ" should be based not on the "singular skill…of test taking" or the "social capital" that can be used to "navigate bureaucratic hurdles," "pick a home in the middle schools that are the best feeders to 'TJ'," figure out which tests are important to take, when to take them, how to succeed on them (including being able to pay for enrichment activities, test preparation, tutoring, summer camps, etc., which can cost tens of thousands of dollars), etc. Now, clearly not every student at "TJ" got in as the result of these types of strategies, but some do.  So currently, "TJ" has "less than 2.5% low-income students," "even though the county has 31%," and "that's a problem." Also, Fairfax has 37% Black and Latinx students, but "TJ" has less than 10%…"and it's been that way for 30 years." Also: "The current admissions process…will continue to be more indicative of parental intention, support and resource allocation – that is why the test has to go...because of the edge that it gives them." And, as one alumnus puts it, this is the "biggest lottery of all…the lottery of who that child was born to."

Anyway, given all this, the argument by these "TJ" alumni is that admissions should, instead, be based on merit and a level playing field, with everyone having the same opportunities, regardless of family income, immigration status, race, ethnicity or other background. And "it's not about perfect representation, it's just an equal chance."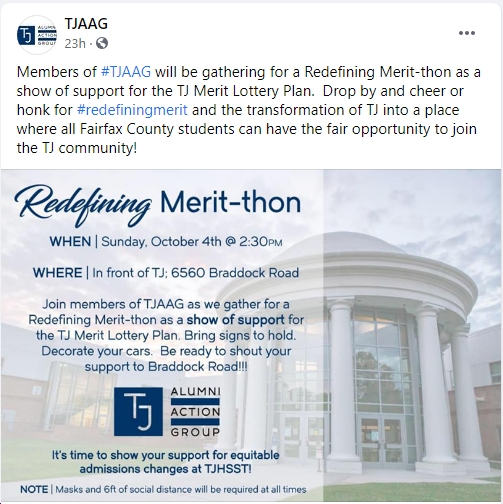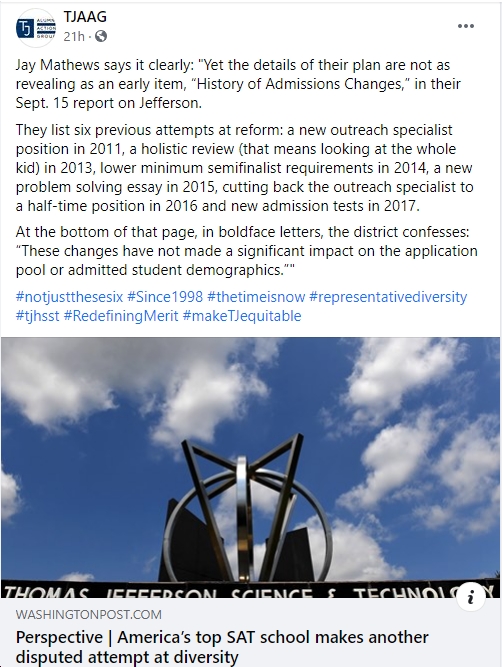 There's no paywall on Blue Virginia, and we definitely want to keep it that way! If you want to help support our work, you can donate here - thanks!
Also, you can
sign up for our weekly email list here
.