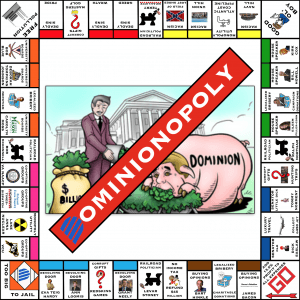 by Kindler
When you're a monopoly electricity company with profits guaranteed by a state controlled by politicians you've spent tens of millions of dollars to buy – well, it can be annoying having newspapers write mean things about you. Ah, but the ever-resourceful Dominion Energy has found a way around this problem.
Thanks to bombshell reporting by Ben Paviour at Virginia Public Media, we now know that a series of unsigned editorials in the Virginian-Pilot and Daily Press newspapers praising Dominion were written by Gordon "G.C." Morse – a columnist who, conveniently, has been a paid speechwriter for Dominion since 2006.
Not disclosing such a direct conflict of interest is a gross violation of journalistic ethics, but the papers in question refused to try to make up for this sin by even admitting which of the editorial Morse actually wrote. Still, VPM reports, his distinctive style seems obvious in editorials such as one from March 2020 deriding Delegates Jay Jones and Lee Ware's Fair Energy Bills Act, which aimed to return authority to the State Corporation Commission (SCC) to regulate Dominion after the utility had been allowed to get away with overcharging Virginians by billions of dollars.
The Virginian-Pilot editorial belittles these legislators with such patronizing advice as:
Avoid glibness. It's all well and good to beat the drum for the consumer, but let's get a grip on what we're trying to do here. The transformation of the electricity generation industry is not going to be free.
And
Do facts. From now on and forever, when the subject of energy and regulation gets discussed, insist on having engineers in the room. Meaning people with calculators who are ready to tackle the fantasists. Regulation must rest on reality.
What such "advice" boils down to is this: bring the Dominion lobbyists into the room and let them write the bills because they know more than you do.
This is a story about how corporate power warps our politics in more ways than one.  Because it's also a story about how our local media outlets are being strip mined and demolished by corporate takeover artists. In 2018, Tribune Publishing (then named Tronc) bought The Virginian-Pilot Media Companies, including the two papers in question, and has proceeded to bleed them dry, slashing staff through buyouts, closing their offices and shutting down printing presses.
That left the editorial staff cutting corners and relying on corporate shills to write editorials about the companies that they're getting paid by.
It's an ugly situation all around. But there are a few things you can do to make our political environment a little cleaner:
Demand that your elected officials take the Pledge to Refuse Dominion & Appalachian Power Contributions, and reward those who do with your active support.
Subscribe to and support the most independent and aggressive local media you can find. (And hey, good blogs too…)
Lobby your representatives for bills to restrict Dominion's influence and increase the power of the SCC to regulate it.
We deserve better politics, media and government than this, but you know what? We won't get that unless and until we fight to remake them ourselves.