Advertisement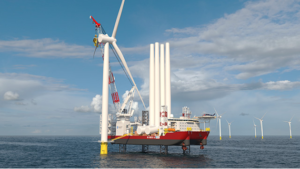 by A Siegel
Offshore wind is a complex and enormous capital construction domain.  Among other requirements, specific ships — jack ships that extends legs to the sea floor and jacks up above the sea for a stable construction platform — are required for the actual putting together of the massive wind turbines at sea. To date, there is no U.S. flagged jack ship that can support construction. The limited projects to date, such as Dominion's two-turbine project that begin operations earlier this year, have used leased European ships. Due to U.S. law, specifically the Jones Act, using non-U.S.-constructed and crewed ships greatly complicates and constrains U.S. offshore wind construction.  Dominion, with its accelerating path toward a massive 2.6-gigawatt wind farm off the Virginia coast, announced today that it is investing $600 million to address this bottleneck.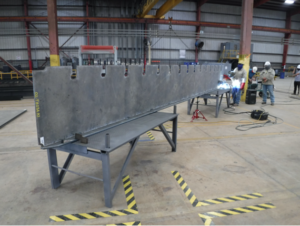 In a press conference earlier today that featured Governor Ralph Northam, Senator Mark Warner, and Dominion's CEO Robert Blue, Dominion Energy announced the keel laying of the first Jones Act-compliant offshore wind turbine installation vessel. Being built by shipbuilding firm Keppel AmFELS shipbuilders in Brownsville, Texas, this ship should enter service in 2023.
"Today marks a critical step forward in the development of the offshore wind industry in Virginia and across the East Coast." Senator Warner continued,  "The construction of the first Jones Act compliant offshore wind turbine installation vessel serves as another vital link in the growing domestic manufacturing supply chain to support offshore wind energy development here in the U.S. This vessel will enable the timely construction of planned offshore wind development projects throughout the East Coast, including the Coastal Virginia Offshore Wind commercial project."
The ship will be based in the Hampton Roads area, potentially with other to be constructed offshore wind support ships and vessels, and serve offshore wind projects along the Atlantic seaboard. Dominion Energy will own and operate the ship to lease it out for offshore wind projects — including to Dominion Energy Virginia.
While serious issues and questions exist about how Virginia is moving forward on offshore wind (pricing, contracting, otherwise) and the overall Dominion Energy power portfolio (including continued efforts to build hard-or-impossible-to-justify gas power generation facilities), this announcement is another milestone event showing an ever-more-serious Dominion's attention to renewable energy as a path to boost its profitability.
Dominion Energy clearly sees the wide-ranging business opportunities that offshore wind represents and, with this announcement, is making serious moves not just towards construction of a Virginia offshore wind project, but towards grabbing a leading position in providing the services to build and maintain U.S. offshore wind projects.  If based in the Hampton Roads area, this could well expand the economic and jobs creation benefits that Virginia and Virginians in the coming decade(s) of the just beginning offshore wind project boom.
"Offshore wind is bringing clean energy and new jobs to America, and Virginia is leading the way," said Governor Ralph Northam. "This new vessel will help propel the offshore wind supply chain, drive economic development in Hampton Roads, and grow the offshore wind workforce in our Commonwealth. We are thrilled to celebrate great news like this in what has been a challenging year."
There's no paywall on Blue Virginia, and we definitely want to keep it that way! If you want to help support our work, you can donate here - thanks!
Also, you can
sign up for our weekly email list here
.