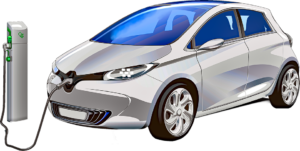 by Kindler
Averting climate catastrophe is going to require a momentous transformation of our transportation system, particularly in the transition from gas-powered vehicles to electric ones. America needs to divorce itself from the archaic internal combustion engine and run off with the hot new electric cars that provide so many benefits – ASAP.
Virginia, as the 12th largest state in population and 13th in GDP, will be no small player in this transition. Happily, we have some excellent Democratic Delegates and Senators putting forward solid legislation to make this rapid transition a success.  So, as the current General Assembly session nears its halfway point, I wanted to point to some of the bills promising the highest impact, let you know where they stand – and plead for your help contacting your elected representatives to help ensure these bills get passed.
My top priority is Delegate Bagby's Clean Car Standard bill (HB1965), which would require auto dealers to keep more electric vehicles in stock so that Virginians can get their hands on them. While this bill has not yet come up for a vote, there are two pieces of good news to share on it:
What made the auto dealers flip? Well, they – quite reasonably – wanted to see the Commonwealth invest in auto electrification infrastructure as part of the deal. In fact, as a new owner of a plug-in hybrid, I have learned how hard it is to find decent EV charging stations in Northern Virginia.
The happy news is the recent advancement of two bills to try to fix this problem:
Senator Boysko's SB1223, which would add an analysis of EV infrastructural needs to the Virginia Energy Plan in support of Virginia's new 2045 net-zero carbon target, recently passed the Senate.
Delegate Sullivan's HB2282, which directs the State Corporation Commission (SCC) to develop a report on policy proposals to accelerate transportation electrification, recently passed the House.
In other words, these bills each have cleared one third of the triathlon needed for final passage, so they just need your lobbying help to get through the other House – and then get signed by Governor Northam.
To keep things simple, I'll mention just one more important piece of legislation – Delegate Reid's Electric Vehicle Rebate program (HB1979) which would create a rebate for both new and used electric vehicles to make EV purchases an even sweeter deal.
Guided by previously passed legislation from Del. Reid, several state agencies working together have already completed a feasibility study discussing exactly how such a rebate program would work. You can read all about it here. The current bill has 13 co-sponsors but still needs your help to improve its chances for passage.
So in summary, please help ASAP to:
Contact your Delegate to vote for the Clean Car Standard bill (HB 1965), for the Electric Vehicle Rebate program (HB1979) and for the House version of the bill to add EV infrastructure to Virginia's Energy Plan (SB1223).
Contact your Senator to support the Senate versions of the bill for the SCC to study EV policy options (HB2282) and – assuming they pass the House – the Clean Car Standard bill (HB 1965) and Electric Vehicle Rebate program (HB1979)
You can find your representatives' contact information by entering your full address here. And for lots more information on environmental bills in play this session, check out the Virginia Conservation Network's Bill Tracker and Ivy Main's recent post here on Blue Virginia.
Without too much heavy lifting on your part, we can be on our way to a future free of cars spewing harmful exhausts across our roads and highways. Please help!