Advertisement

See below for some reactions from Virginia leaders on the 57-43 U.S. Senate vote a few minutes ago – not the two thirds required to convict Trump, ergo he's acquitted, even though he's blatantly, overwhelmingly guilty. How the hell does this guy get away with everything? For starters, he's got accomplices, those who aid and abet him…in this case, 43 treasonous Republicans. As Rep. Don Beyer (D-VA08) put it so well, "Today Trump's enablers again shielded him from consequences, in a despicable act of cynicism and cowardice." Disgusting.
STATEMENT OF U.S. SEN. MARK R. WARNER

~ On his vote to convict former President Trump ~
WASHINGTON – U.S. Sen. Mark R. Warner (D-VA) released the following statement after voting to convict in the impeachment trial of former President Donald J. Trump:
"The evidence presented by the managers in this case was overwhelming: Donald Trump used the platform of the presidency to incite a violent insurrection against the seat of our democracy that led to multiple deaths. These are the most serious charges ever levied against a U.S. president, and with good reason. 
"While the Senate failed to achieve the two-thirds majority needed to convict Trump and bar him from future office, a bipartisan majority of Senators voted today to send a clear message to future presidents that conduct of this nature is impeachable, intolerable and disqualifying. When the history books on this moment are written, I believe that judgment will be clear."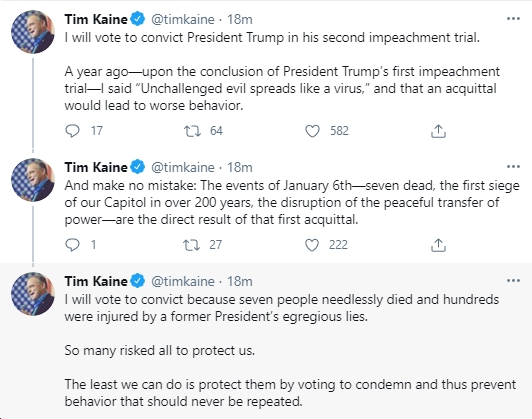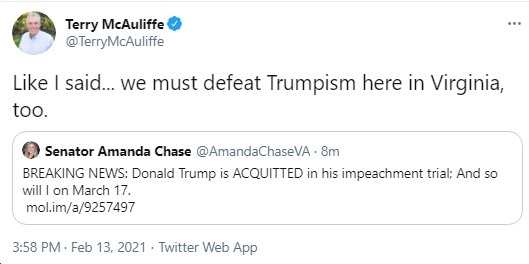 My headline: A solid bipartisan majority of 57 Senators has found Trump guilty on the impeachment charge. 43 Senators, all Republicans, found Trump not guilty. Only President ever impeached twice. Nothing for Trump to brag about. #TrumpImpeachmentTrial

— Larry Sabato (@LarrySabato) February 13, 2021
The 57 guilty votes represent over 2/3 of the American people.

— Tom Perriello (@tomperriello) February 13, 2021
Seven —only 7 out of 50 Republican US Senators had the courage to stand up for America against Trumpism. The @GOP is dead. #TrumpImpeachmentTrial #GOP https://t.co/tD5l0BkXMu

— David I. Ramadan (@DavidIRamadan) February 13, 2021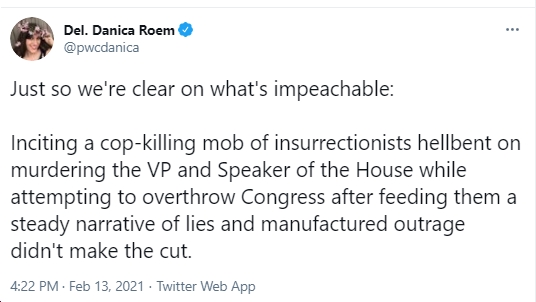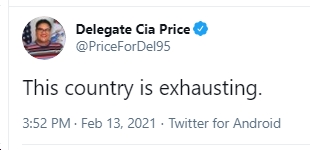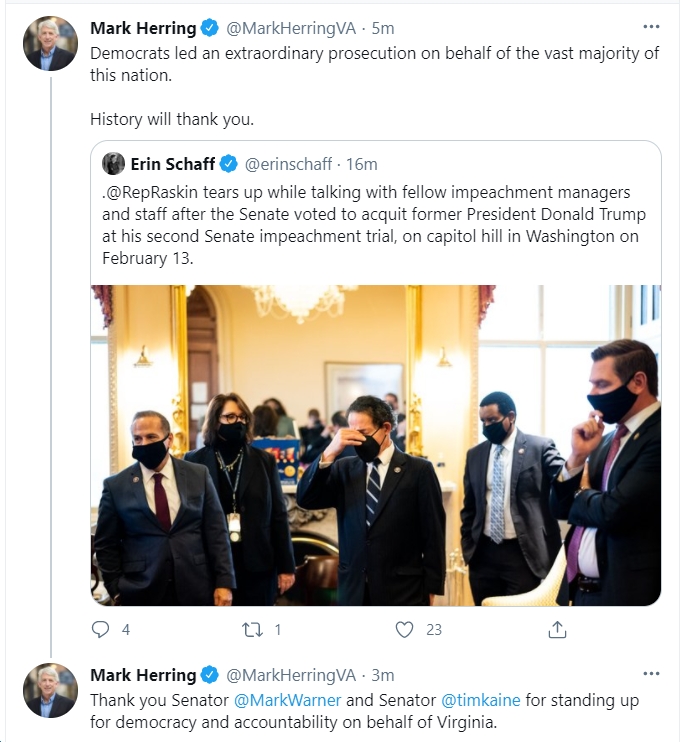 There's no paywall on Blue Virginia, and we definitely want to keep it that way! If you want to help support our work, you can donate here - thanks!
Also, you can
sign up for our weekly email list here
.