By Ailurophile
Virginia Del. John McGuire (R, HD56) is up for re-election this year.  First elected in 2017, the fitness trainer is a former Navy Seal — something he trades on at every opportunity in both his business and political careers.  He is also a Trump-loving, Big Lie-spreading, Bible-thumping, hard-right, NRA acolyte who ran an unsuccessful campaign last year in the Republican primary for Congressional District 7 (Democrat Abigail Spanberger retained the seat).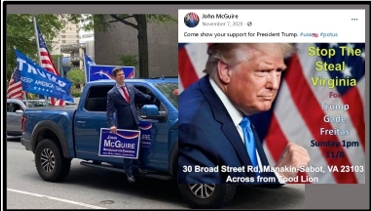 At a GOP forum, the congressional primary candidates were asked to comment on foreign policy.  McGuire rattled on, extolling Trump for showing strength against China, and making America "respected" in the world again (no mention of Putin in all this, natch).  When it came to the Middle East, McGuire departed from talking policy and instead dealt a low blow to Middle Easterners themselves, evoking racist stereotypes of them as brutes incapable of rational thought or human emotion ("in the Middle East, the only thing they understand is a punch.").
Well, McGuire lost his primary bid and didn't make it into an office where he could affect Middle East policy, but he still can affect individual people.  He's a delegate with many constituents from the Middle East, or of Middle Eastern heritage or sympathies.  But whatever their background, no residents in the district, or in Virginia, for that matter, deserves to have a member of the legislature speak of other human beings in such an awful way.  And at this moment, when feelings about Israeli-Palestinian relations are running so hot, it is especially troubling to think of someone with McGuire's sledgehammer tendencies in any position of power whatsoever.
As one can imagine, there are other low points in McGuire's short legislative career, including opposition to:
Medicaid Expansion;
the ERA — McGuire had been asked by a fellow Republican to co-sponsor a bill in favor, and he said "Yep!" without reading it.  He subsequently voted against the ERA every chance he had;
a $15/hour minimum wage;
women's reproductive rights;
repealing a law against fornication (!!) – McGuire was one of five to vote to retain a law that allows for the arrest, trial, and conviction of everyone who has sex outside of marriage.
BLAKELY LOCKHART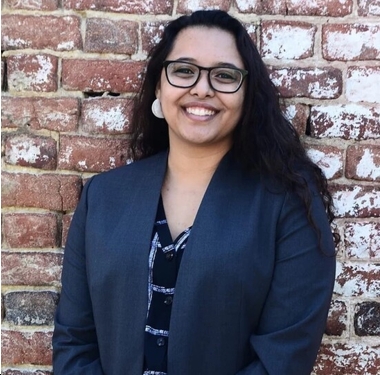 Fortunately, a FANTASTIC candidate — and the youngest ever to run for office in Virginia's long history — has stepped up to take on John McGuire.  I've had the chance to meet with Blakely Lockhart and was impressed by her insight, intelligence, and passion.  Is she young?  Yes.  But how well have the older folks done?  Blakely, for example, doesn't believe Middle Easterners understand nothing but violence.
Blakely grew up in the district, where she attended public schools.  She graduated from nearby Christopher Newport University, with a major in Neuroscience and minors in Biology and Leadership. She's a strong supporter of public education and of affordable and accessible healthcare.  She was moved, in fact, to enter the political fray when she saw her opponent spend all his time campaigning for higher office rather than help his constituents survive the COVID-19 crisis.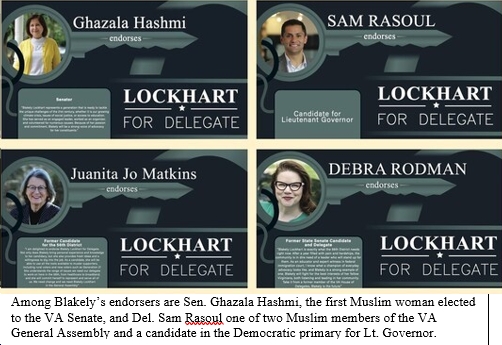 Blakely is keenly aware of social justice issues, not least from seeing her own parents' struggles as an interracial couple. While in college, she resurrected her campus's NAACP chapter and organized voter registration drives. You can learn more about Blakely's views on the issues and see the diverse team she's assembled HERE.
Blakely has already received endorsements that demonstrate her ability to appeal to and communicate with people from a broad array of backgrounds — and she's picking up steam with donations.  At the moment, she's got nearly half the cash on hand of her opponent which, while a great showing for a newcomer against an incumbent — is where VA 7th for Progress PAC and you, dear reader, come in.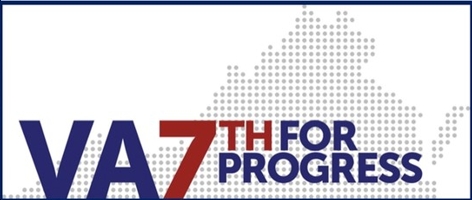 Help Us Help Blakely 
VA 7th for Progress PAC is holding a matching fund drive for Blakely of up to $500 (anything beyond will also go to Blakely's campaign).
Double your impact and DONATE HERE.
If you prefer, you can donate directly to Blakely's campaign here.
Want to help out in other ways?  Follow Blakely and amplify her voice: