UPDATE 8 pm – Received the full poll; added "crosstabs" at the bottom of this post. As for the polling firm, it's called "co/efficient" – see here for more about them. This poll seems pretty strongly biased towards Republicans, given that Joe Biden is +7.1 points nationally according to FiveThirtyEight.com, yet is only +1 point in this poll. So keep that in mind as you consider the results.
****************************
For now, there's really no detail on this new poll, including cross-tabs or even who exactly conducted it, but I'm posting it because there's been SO little polling on this race – only four polls, most of which are by Republicans, the last one July 10 – that at least it's a new data point (take with a grain/pillar of salt). As for the group, "Conservatives for Clean Energy," it's run by the former District Director for Republican Congressman Patrick McHenry from North Carolina, and basically seems like it's promoting clean energy from a business/economic perspective.
Anyway, I'll add more details if and when I see any, but for now…here's the polling, thanks to Brandon Jarvis of Virginia Scope, showing Terry McAuliffe up by 5 points over Glenn Youngkin, which is the same margin as in the right-wing "Spry Strategies" poll back in early July, but a larger margin than the right-wing "Trafalgar" poll also in early July, which had McAuliffe up by just 2 points. Now, can we *please* get a high-quality public poll of this race by a neutral pollster, NOT by a partisan group, for a change? Note that at this point in the 2017 gubernatorial race, there had already been a dozen polls in 2017 alone, plus six in 2016 and two in 2015. This time around, the polling's been minimal…and not particularly high-quality. Frustrating.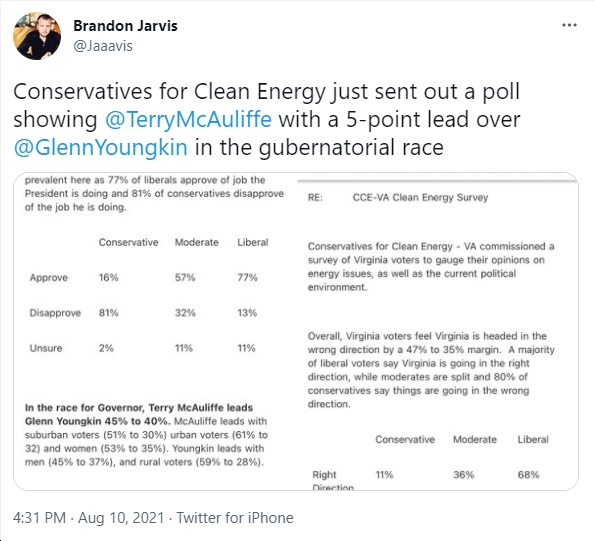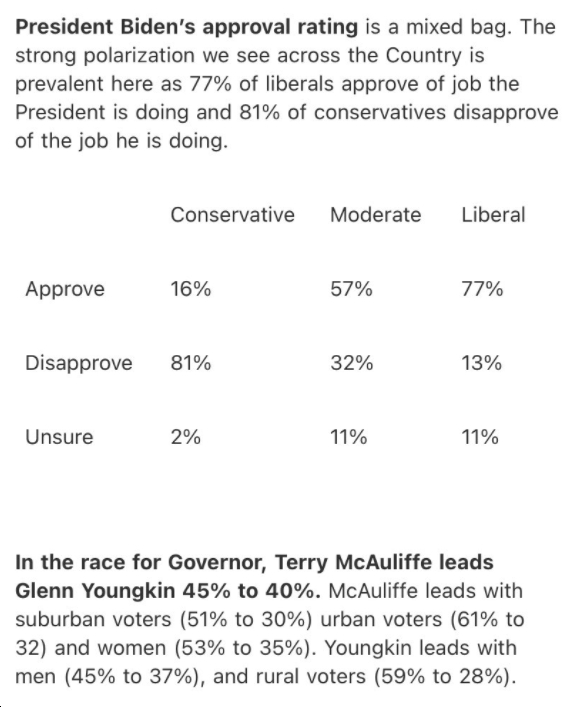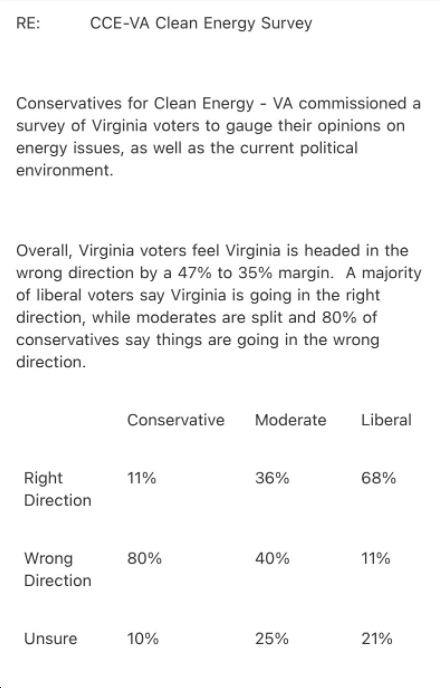 ****************