by Ailurophile
Del. Rodney Willett (D-HD73) is up for re-election this year, and VA 7th for Progress is proud to support him with a matching fund drive (go here to take part).
Rod has been a fantastic legislator.  An attorney and small business owner, he's a reliable member of the House Democratic caucus who has advanced our cause in healthcare, education, the environment, worker and consumer protections, gun control, civil and voting rights, and criminal justice reform.  Rod runs his company, Impact Makers, on an "all profits to charity model," and has contributed nearly $3 million to nonprofits that help struggling families.
Rod's campaign is one of the 13 that the Republican State Leadership Committee has targeted for flipping and we need to strike back!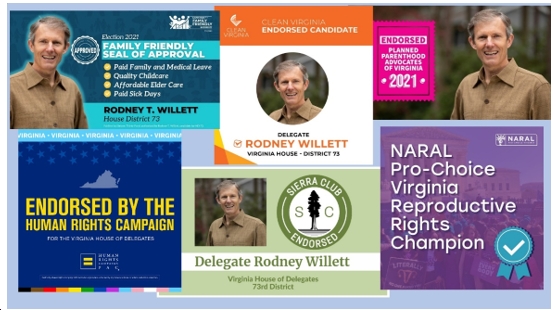 We need not only Rod's vote, but also his thoughtful and well-reasoned voice as we debate the direction the Commonwealth will take.  With his sound values and calm and steady approach, Rod was able to get passed all seven pieces of legislation he introduced in the 2021 session (2021 legislation; 2020 legislation).  In a time of such great turmoil on so many fronts, Rodney Willett offers the competent leadership that can help us advance our goals.
Please help VA 7th for Progress help Rod get his message out, and we will match your contribution:  CONTRIBUTE HERE
If you prefer, you can contribute directly to Rod's campaign HERE.
Want to help out in other ways?  Follow Rod and amplify his voice: