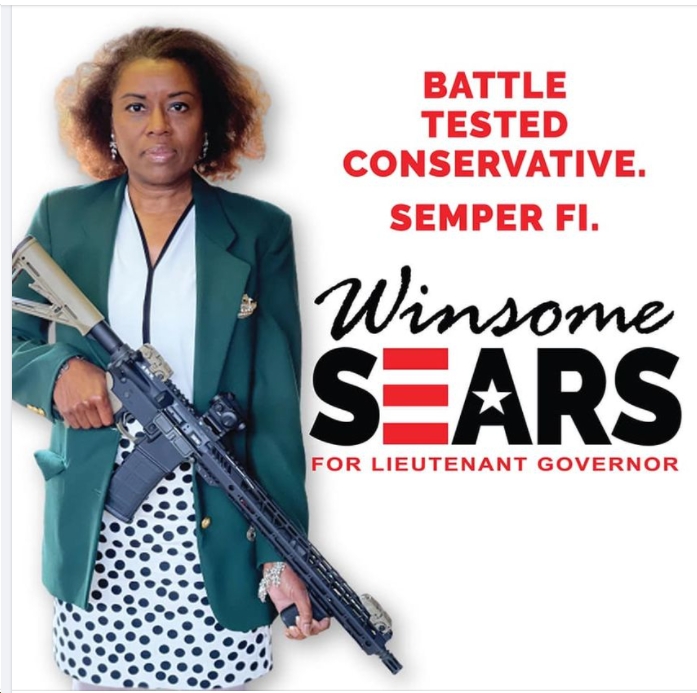 Yesterday, the news broke that "@winsomesears wants to ban abortion — even in cases of rape and incest — and she would bring Texas' extreme heartbeat bill right here to Virginia." Not that that was a surprise, given how extreme the Youngkin/Sears/Miyares ticket is, on women's reproductive freedom and every other issue, pretty much. Of course, just because these folks are out of the mainstream doesn't mean that they're completely stupid politically. That's why Glenn Youngkin admitted, in a rare moment of frankness, that although he's as hard-right as anyone on abortion, he's absolutely NOT going to talk about it publicly, because he knows that, "as a campaign topic, sadly, that in fact won't win my independent votes that I have to get." So there you have it: utter, calculated cynicism and dishonesty about his actual views, as admitted on camera by Glenn Youngkin.
Now, we have a similar case with VA GOP Lt. Governor nominee Winsome Sears, who told batsh*t-crazy "Newsmax" that she absolutely WOULD support a Texas-style "heartbeat bill" here in Virginia. But then…wait, what happened? The second she was called out on her stance, suddenly she was like…this. So now her position is apparently that while she PERSONALLY supports a Texas-style, draconian anti-abortion bill in Virginia, it would neeeeever happen here because we're "very different from Texas."
Except, of course, that if Republicans take back the House of Delegates on 11/2, they would almost CERTAINLY vote for that legislation, and given that the State Senate is basically 20-20 on abortion (with Democrat Joe Morrissey a potential vote for a Texas-style bill), it absolutely COULD reach the governor's desk. Which means…nope, we absolutely can NOT assume that Virginia's "very different from Texas" on this, and act accordingly…by making sure we vote IN DROVES for Democrats, up and down the ballot, starting on 9/17, when early voting begins! Unless, of course, you want Virginia to look like the Republic of Gilead…er, the state (formerly Republic) of Texas.