A new poll of the Virginia governor's race by CBS News really shows the importance of voter enthusiasm – or lack thereof – and turnout.
"Democrat Terry McAuliffe, the former governor, leads Republican Glenn Youngkin by a narrow three points [50%-47%] in the preferences of likely voters." But, in a "hypothetical electorate, and using voters' current preferences by demographic group, we would estimate that McAuliffe's margin would grow to a more decisive 8 points [53%-45%]."
"…the GOP base looks more excited to vote in this off-year election. Among registered voters who haven't voted yet, 2020 Trump voters are 12 points more likely than Biden voters to say they'll definitely vote this year (88% vs. 76%). And Youngkin supporters express slightly more enthusiasm about voting than McAuliffe supporters do. In fact, a third of McAuliffe's voters, and a quarter of Democratic voters, wish their party had nominated someone else to run for governor this year, and these voters are markedly less enthusiastic about voting."
"Democrats have banked an early lead from nearly 300,000 ballots already cast. Republicans, who tend to vote later and on Election Day, are poised to cut into it in the coming weeks. Voters who have already voted prefer McAuliffe by 24 points, but this early-vote margin is set to drop significantly, as Youngkin is neck-and-neck with McAuliffe among likely voters who have not cast their ballots. Many Republicans tell us they will vote in person at early vote centers over the next few weeks, with the bulk of Youngkin's voters planning to come out on Election Day…The current trend suggests voters are switching back to Election Day — Virginia's predominant form of voting before 2020 — or that we're headed for a low overall turnout."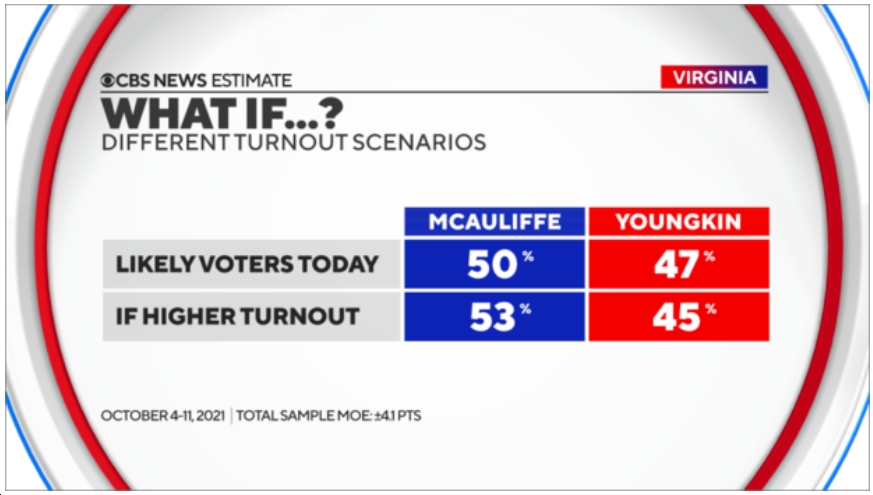 A few other interesting findings from this poll include:
By a 54%-46% margin, likely voters believe that Virginia businesses should require COVID vaccines for employees.
57% of likely voters think things are going "very" or "somewhat" well in Virginia right now, while 42% are in the "somewhat" or "very" badly categories.
Top motivating issues in this race are vaccine mandates (58% say that's "very motivating"), "feelings about the candidates" (54%), "feelings about Donald Trump" (51%), "coronavirus outbreak" (49%), abortion (48%), taxes (48%), "feelings about Joe Biden" (48%)…
55% say they plan to vote on election day, with 29% saying "in person early" and 16% saying "by mail or absentee ballot"
46% say Terry McAuliffe is "more liberal than you would like him to be," while 42% say Glenn Youngkin is "more conservative than you would like him to be."
President Joe Biden's approval/disapproval rating is at 48%-52%.
Gov. Ralph Northam's approval/disapproval rating is at 53%-47%.
Only 12% of Virginia likely voters say they haven't gotten the COVID vaccine and will not get one.
By a 55%-41% margin, likely voters think wearing masks for students should be mandatory.
On abortion, 58% say it should be legal in all (27%) or most (31%) cases, while 42% say it should be illegal in most (32%) or all (10%) cases.