by A Siegel
Virginia Governor Glenn Youngkin has chosen not to follow Republican leader Donald Trump (who endorsed Youngkin multiple times, and who Youngkin said was "so much of why I'm running") into praising Vladimir Putin's brilliantly "savvy" move in invading Ukraine.  Instead, Youngkin has followed other governors in ordering the Commonwealth to take actions in response to Putin's unprovoked, inexcusable invasion of its peaceful neighbor.
In announcing these moves, however, Youngkin has chosen to sanction the Soviet Union which, in perhaps a "divisive concept" to teach, went into the history books in 1991.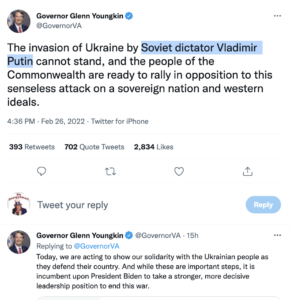 The Twitter-ridicule in response to Youngkin's tweet has been fast and furious.
This isn't just an errant tweet, by the way – in the official statement, the introduction correctly opens with "Russian President Vladimir Putin" but explicitly quotes Youngkin as to how "The invasion of Ukraine by Soviet dictator Vladimir Putin cannot stand." Clear?
On one level, of course, Youngkin might simply be showing his age with a slip of the tongue and a tweet using "Soviet" rather than "Russian." In another way, though, this incident also demonstrates how Youngkin is transitioning Virginia from serious Southern leader toward a better future – which is where Governors Mark Warner, Tim Kaine, Terry McAuliffe and Ralph Northam were leading us – to a buffoonish laughingstock on a dangerous path of turning back to anti-science ignorance, white-supremacist rewriting of history, book banning, etc.  Now THOSE are a few things that "cannot stand!"
Moving Beyond "Soviet" Reference
The Governor's press release and actions are regrettable not just for the Soviet reference (which might even have been purposeful). Two things stand out:
Youngkin's quote ends with (focuses on) critiquing President Biden as needing to take "a stronger, more decisive leadership position to end this war" rather than making some statement about how he (and the Commonwealth of Virginia) stand behind the President in taking forceful measures to punish Putin and support Ukraine — even if and as they impose costs on Virginians.
In contrast to the calls for President Biden to take "stronger, more decisive leadership", Youngkin's declared measures are rather pusillaminous (ordering a review Virginia government acquisitions; calling on end of Virginia sister city relationships with Russian cities and calling on the Virginia retirement fund and university endowments to "divest in a prudent and orderly fashion" from Russia investments).  While the press release says Youngkin calls for "decisive action", there is nothing decisive to see here.  As an example, Youngkin couldn't even order Russian booze out of Virginia's ABC stores like multiple other governors have ordered in their states.  Perhaps like "Soviet" history, Glenn Youngkin needs some classroom time studying the definition of "decisive".
A sight that should not be seen:#Russian Vodkas on @VirginiaABC shelves & website.

Just Say NYET to Russian booze!

#StandWithUkraineNOW @GovernorVA @GlennYoungkin
. https://t.co/BARrHGAOkR pic.twitter.com/PNRpKfFQmt

— A Siegel (@A_Siegel) February 27, 2022
Update: After this post was written, Virginia ABC acted in spirit with Youngkin's "calling on …" others to act and announced that they will take (some) Russian alcohol off the shelves:
In the spirit of Gov. Youngkin's call for decisive action in support of Ukraine, Virginia ABC is removing 7 Russian-sourced vodka brands from our store shelves. Russian-themed brands not produced in Russia like Stolichnaya and Smirnoff will not be removed.

— Virginia ABC (@VirginiaABC) February 27, 2022
Note that, for example, Stolichnaya might not be "produced" in Russia but uses Russian ingredients and is owned by a Russian oligarch (Yuri Shefler).
In any event, sanctioning Russian vodka is not meaningfully in direct financial terms even as it is a nice symbolic measure within larger, more impactful moves.  The next step: replacing Russian products with Ukrainian ones.