Check out the latest lunacy by far-right-extremist/insurrectionist Rep. Bob Good (R-VA05). As explained by VA05 Democratic nominee, Josh Throneburg:
"Last night, Bob Good called into a school board meeting to say that cameras should be installed in your kids' classrooms and their classes should be live-streamed on the internet. He claims this will allow anyone to monitor their lessons for 'leftist indoctrination.' I have a couple of reactions to this: first, Bob probably doesn't realize that many of our schools struggle to even access broadband because he's consistently voted against expanded infrastructure funding. Schools can't afford crayons, let alone high-tech streaming technology. Second, and I'm not sure why I have to say this: this is a HUGE privacy and safety violation. Parents might not want their children's faces broadcast to the whole world, and the lax gun laws that Good supports mean we also must worry about potential shooters monitoring classrooms. Third: I come from a family of Republican farmers who value limited government. The idea of 24/7 classroom monitoring to allow people to report evidence of ideological crimes to the state sounds like Soviet Russia to them; it is absolutely unrecognizable as a Republican value.
Good isn't hiding this audio, by the way: he is proud of it. It's at the top of his campaign Twitter. You can hear for yourself, and I've also transcribed some of the relevant passages below. It's worth hearing firsthand what your elected officials will fight for in Congress.
"I've been an advocate for the last two years since the 'China virus' first hit our shores two and a half years ago for cameras in the classroom. We'll have cameras in the classrooms so that parents and community members…and family guardians can dial in any time and see what's happening in the classroom…[But often what happens in the schools does not necessarily reflect the conservative values that make up the majority of our communities.] School boards have to know …that voters are watching, and they will hold us accountable that we reflect what they want from us, when we serve and represent them. We want to make sure that we don't have indoctrination going on in our schools [that's happening all across the country…And while no school in Virginia probably has a class that says, hey, 'Critical Race Theory', it's that indoctrination or that ideology that permeates what is taught or the narrative or the framing of an issue, it's a dishonest racial narrative, it's an anti-American narrative, it's dishonest about our history…" 
Dangerous, crazy, extreme stuff from Bob Good, yet again. For more on this lunatic, see VA05 Overwhelmingly Republicans Re-Nominate Extremist, Insurrectionist, Science Denier, Bigot, etc. Rep. Bob Good; Far-Right Extremist Rep. Bob Good (R-VA05) Has Been Endorsed by a Rogue's Gallery of Extremists and Insurrectionists; Virginia GOP Rep. Bob Good Makes Blatantly Racist, Revolting Comments About Afghan Refugees; Audio: Far-Right Rep. Bob Good (R-VA05) Says "I am thankful to have Marjorie Greene in the Congress, I think she stands for a lot of great things."; Charlottesville Dems Call For Rep. Bob Good (R-VA05) to Resign, Saying He "Emboldened" "White Supremacists" Who Attacked the US Capitol; etc. And make sure you vote for Josh Throneburg this fall in VA05!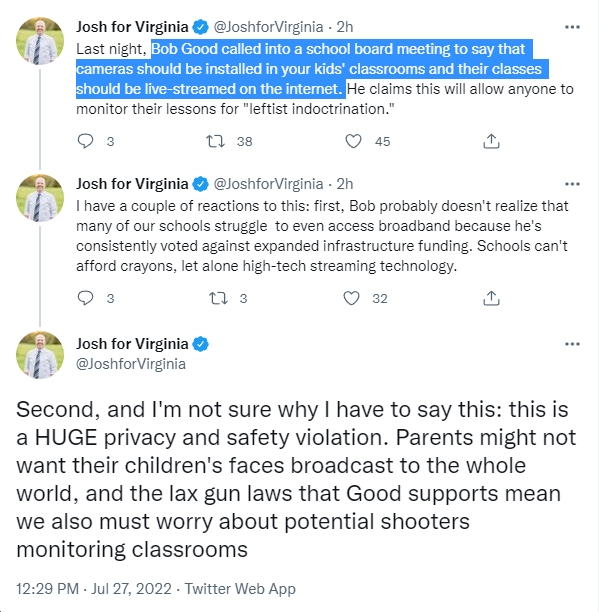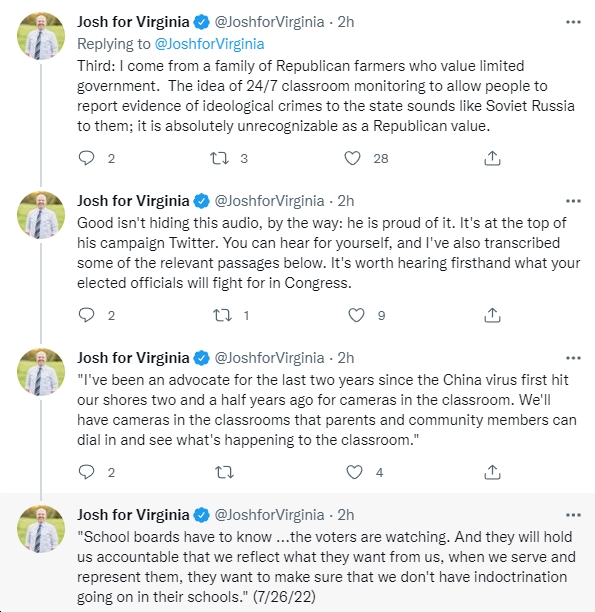 I had the privilege of attending a Campbell County School Board meeting to encourage parents and community members to actively engage in our government school systems, and hold accountable those whose focus is on radical leftist indoctrination rather than academic excellence. pic.twitter.com/HLk5odnXOh

— Congressman Bob Good (@RepBobGood) July 27, 2022