In a Twitter thread this morning, following Rep. Liz Cheney's loss in the Wyoming Republican primary yesterday, right-wing propagandist Ben Shapiro asserted that "winning simply would have required [Cheney] not to act as a front person for a Democratic committee dedicated to lumping together all Republicans and conservatives with January 6 rioters, and suggesting that anyone who would consider voting Trump 2024 is an incipient fascist." Shapiro then asked, rhetorically:
"Did Glenn Youngkin go along with the idea that Trump won the 2020 election? Did he "go along with ongoing efforts" to undermine the republic? How about Dan Crenshaw in Texas? What they didn't do is act as enthusiastic participants in a broader Democratic and media agenda."
In fact, the answer to Shapiro's question regarding Youngkin "go[ing] along with the idea that Trump won the 2020 election" is…yes, actually. As former Rep. Denver Riggleman (R-VA05) puts it:
"Your lack of knowledge on Virginia politics is astounding. Youngkin damn well flirted with stop the steal and then embraced auditing voting machines."
Evidence of what former Rep. Riggleman says? Here you go!
So obviously, Youngkin at the bare minimum flirted with 2020 election conspiracy theories, the "Big Lie," "Stop the Steal," "election integrity," Dominion voting machines," etc. Just as former Rep. Riggleman (R-VA05) said. And Youngkin only appears to have (grudgingly) acknowledged – after being pushed and prodded by reporters – that Joe Biden IS the president and, sure, he (grudgingly) would have voted to certify the 2020 election.  Bottom line: the answer to Ben Shapiro's rhetorical question, "Did Glenn Youngkin go along with the idea that Trump won the 2020 election?" is *absolutely YES*, for many months, both directly and indirectly, before eventually backing off, grudgingly, from the most outlandish of his claims (although he's still a big "election integrity" guy).  Of course, Youngkin is someone who lies like most people breathe, and clearly will say ANYTHING to advance his political prospects (including a possible run for president in 2024), so keep that in mind as well as you consider anything Youngkin says…on any topic.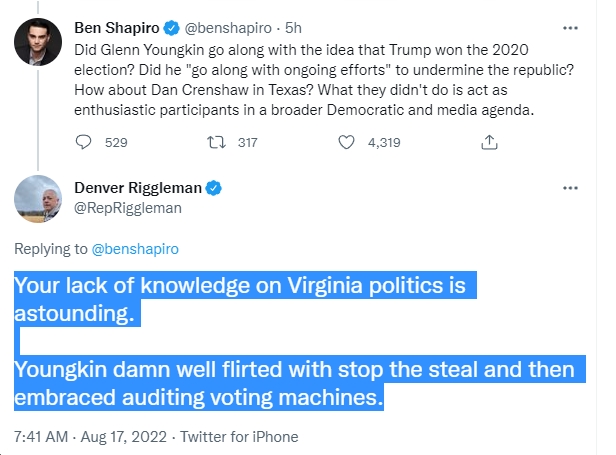 Note that Youngkin talked constantly in his campaign about "election integrity" and even claimed, absurdly/laughably, that "Dominion voting machines" are "the most important issue we're going to talk about" https://t.co/dIFBxdJImL h/t @RTDSchapiro pic.twitter.com/2B5m8v6JG3

— Blue Virginia (@bluevirginia) November 11, 2021