From the Josh Throneburg for VA05 campaign:
BOB GOOD HAS BEEN ADVOCATING FOR SURVEILLANCE CAMERAS IN CLASSROOMS SINCE JUNE OF 2021
CHARLOTTESVILLE – In July of 2022, Bob Good appeared before the Campbell County School Board and advocated for cameras to be placed in public school classrooms; he proposed that interested parties could watch a livestream and report any signs of "indoctrination."  The Good campaign was criticized for the proposal and has largely eliminated it from their public discussion of education (though their social media post remains live here). However, it has become clear that Good's proposal was not a passing whim: the Throneburg campaign has come into possession of a video from 6/25/21 where Good is already proposing the idea of installing in cameras in classrooms. This video was taken only a few months after Good took office and suggests that the idea of surveillance cameras in classrooms has been part of Good's policy goals from the beginning. This proposal has been very unpopular in the district for a variety of reasons (from student privacy to the cost of this unfunded mandate, laid out by Cardinal News here). However, Good has demonstrated that he is not above pushing through unpopular policies that suit his partisan agenda.
The video was filmed at a private fundraiser in Stanardsville, VA on 6/25/21 and was filmed by an attendee at the fundraiser…[here are screen shots, with captions, of the relevant parts].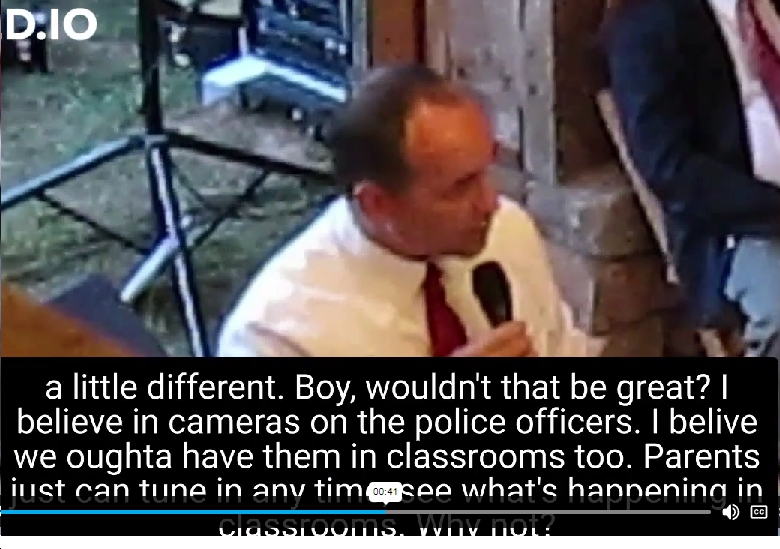 In July of 2022, Josh released the following statement on Good's original proposal to put cameras in classrooms:
"On Monday, Bob Good appeared before a school board meeting to say that cameras should be installed in your kids' classrooms and their classes should be live-streamed on the internet. He claims this will allow anyone to monitor their lessons for "indoctrination".
I have a couple of reactions to this: first, Bob probably doesn't realize that many of our schools struggle to even access broadband because he's consistently voted against expanded infrastructure funding. Schools can't afford crayons, let alone high-end streaming technology. Second, this is a massive privacy and safety violation. Parents might not want their children's faces broadcast to the whole world, and the lax gun laws that Good supports mean that we also have to worry about potential shooters monitoring classrooms and paying attention to kids and teachers as they go in and out.
Third: I was born into a family of pragmatic Republican farmers who value low taxes and limited government. The idea of 24/7 classroom monitoring to allow people to report evidence of ideological crimes to the state sounds like Soviet Russia to them; it is absolutely unrecognizable to the Republicans I grew up with as a Republican value.
Good isn't hiding this audio, by the way: he is proud of it. It's at the top of his official House Twitter and Facebook. It's worth hearing firsthand what your elected officials will push for in Congress, and precisely what they mean when they say they're fighting for your rights and freedoms."
—-
Rev. Josh Throneburg is the Democratic Nominee for Virginia's Fifth District. He's running against Rep. Bob Good, a first-term congressman who unseated former Rep. Denver Riggleman in a 2020 convention. Josh and his wife Minhee reside in Charlottesville with their two daughters Lucy (13) and Agnes (7). The Fifth District previously was a DCCC-targeted race in 2020 when Dr. Cameron Webb ran against Bob Good. The Fifth District has the third-highest number of early votes cast in Virginia at 64,210, led only by the Second District (69,906) and the First District (79,804). Bob Good has been rated the third-most vulnerable Republican in Virginia. Aside from a small $25,000 radio buy, he is totally dark in Week 1 paid comms. Josh is up on TV and radio in all four of the district's media markets.