The correct response to Donald Trump's indictment, of course, SHOULD be a combination of:
a) no one in America is above (or below) the law;
b) let's wait for the facts to come out before leaping to judgement;
c) everyone is innocent until proven guilty in a court of law;
d) everyone has a right to a fair trial;
e) there's of course no excuse for violence or threats to the District Attorney or anyone else involved in this case;
f) there's also no excuse for racist or anti-Semitic comments about the prosecutor or anyone else, including anti-Semitic code language like "Soros-funded."
So what we saw from Virginia Democrats was basically a combination of "a" through "d" of the above list. In stark contrast, what we saw from Virginia Republicans was a bunch of…well, see for yourself, below.
From Governor Glenn Youngkin, we got this irresponsible, confused blather. Also, check out the responses to Youngkin's comments, below.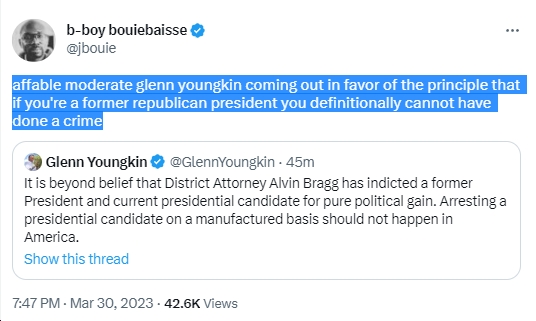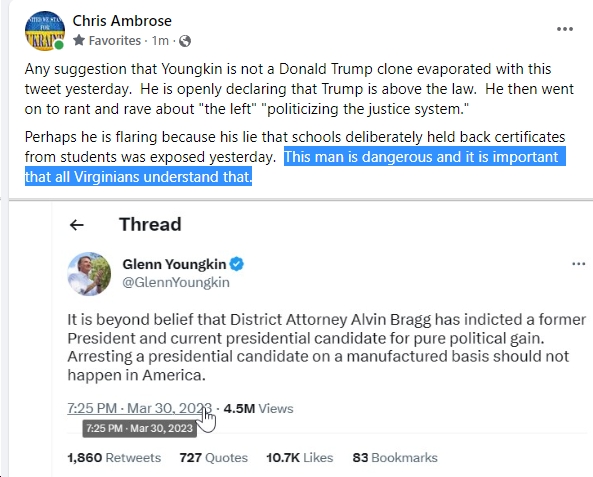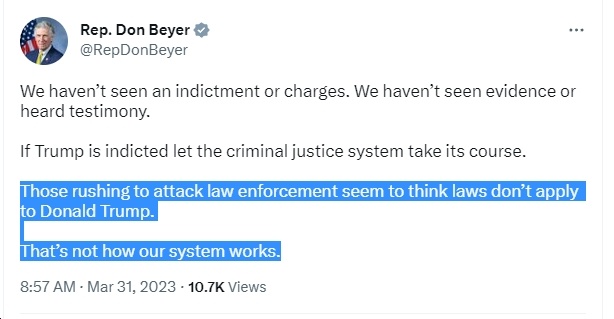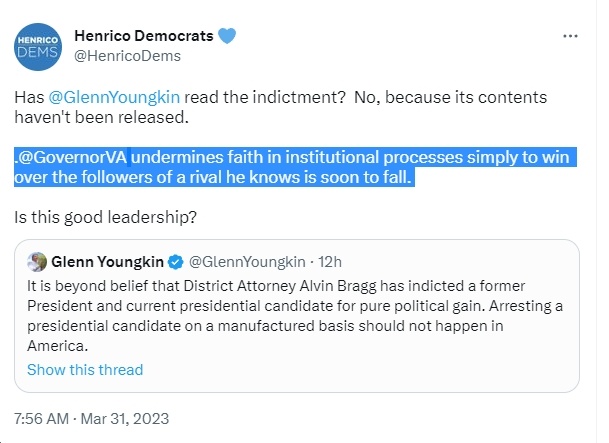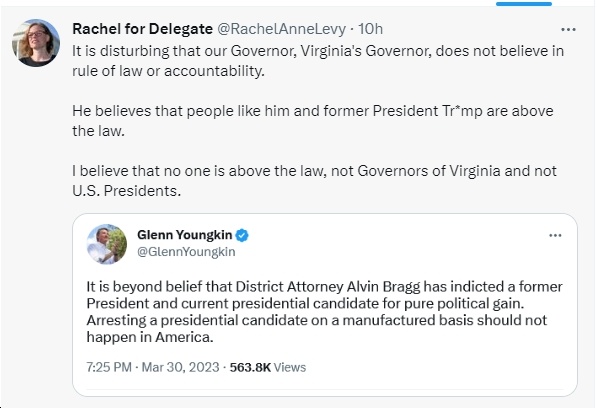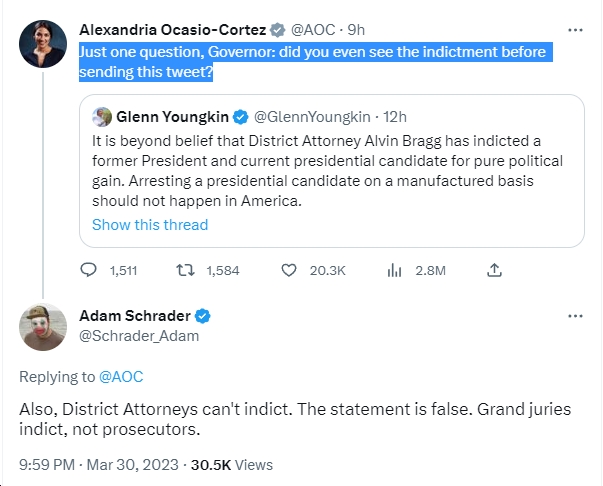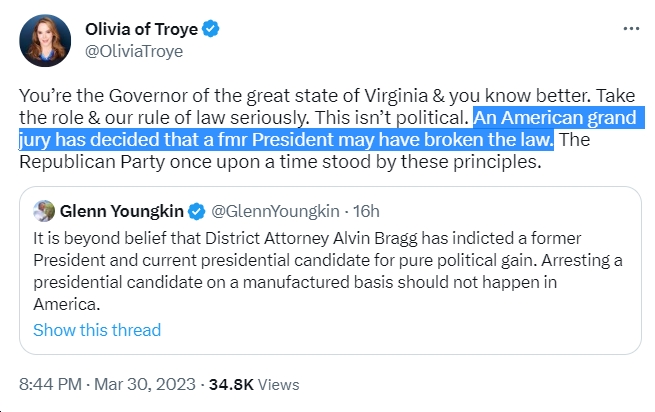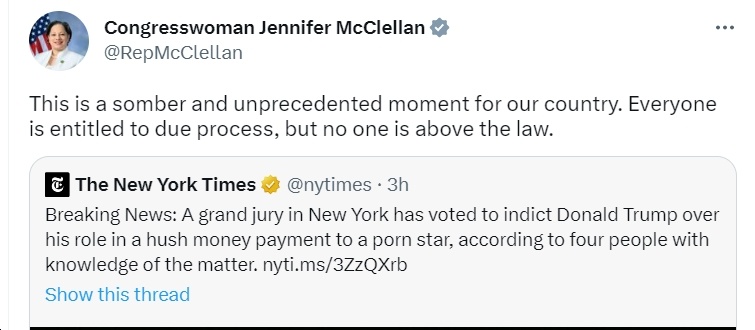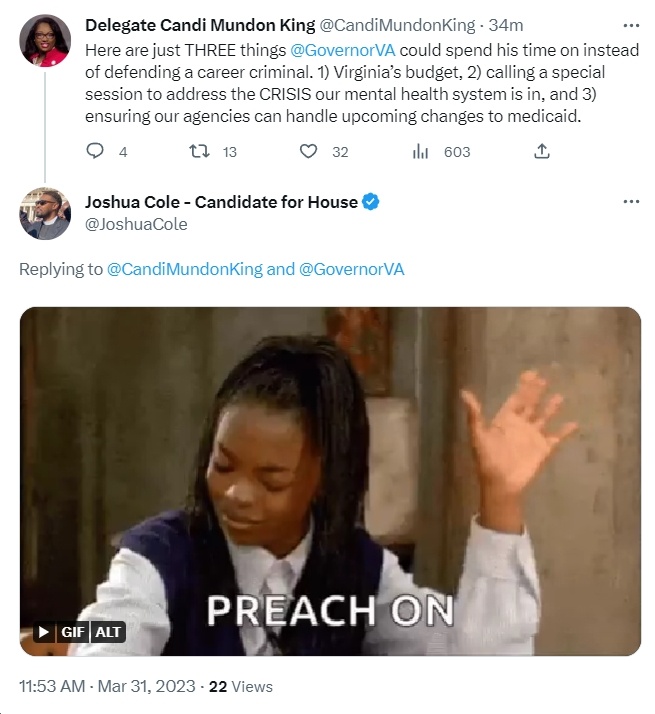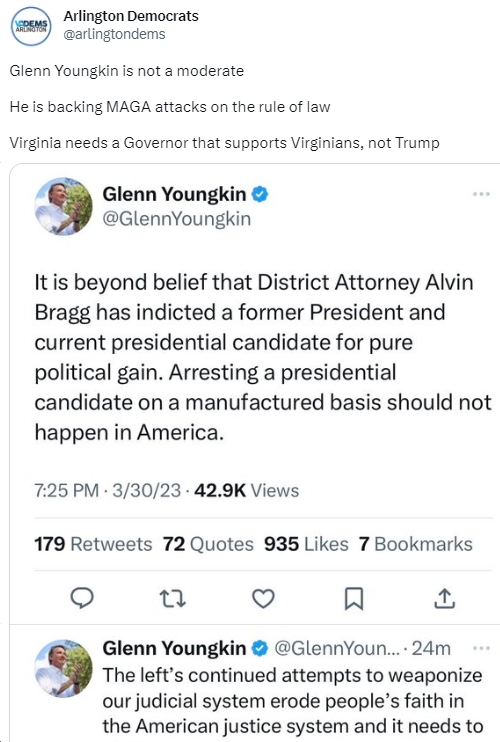 Next, check out Virginia Attorney General Jason Miyares's word salad, proving that he has NO BUSINESS being in this important position regarding the rule of law. So in this statement, Miyares basically just rants about supposed "far-left prosecutors" with an "ideological and political agenda." He also does some  classic, look-over-there! "whataboutism" by claiming that District Attorney Alvin Bragg hasn't responded properly to "New York's unprecedented crime wave" (in air quotes because there HAS NOT BEEN A CRIME WAVE IN NEW YORK CITY – see here for the statistics, which show that "For the month of February 2023, overall index crime compared to February 2022 declined by 5.6%"; also see here for a story about how "There were about 34,000 reported felonies boroughwide in 2022. That figure was almost 150,000 in 1990, or nearly five times higher than today's level."). And nowhere in his tirade does he talk about the fact that Donald Trump was indicted, by a Grand Jury, for what are likely multiple crimes, in this case alone…not even counting the MANY other serious crimes – insurrection, attempting to overturn the 2020 election, mishandling of classified documents, etc. – that he's quite likely to be indicted for in coming months. Disgusting – but not surprising – by Miyares.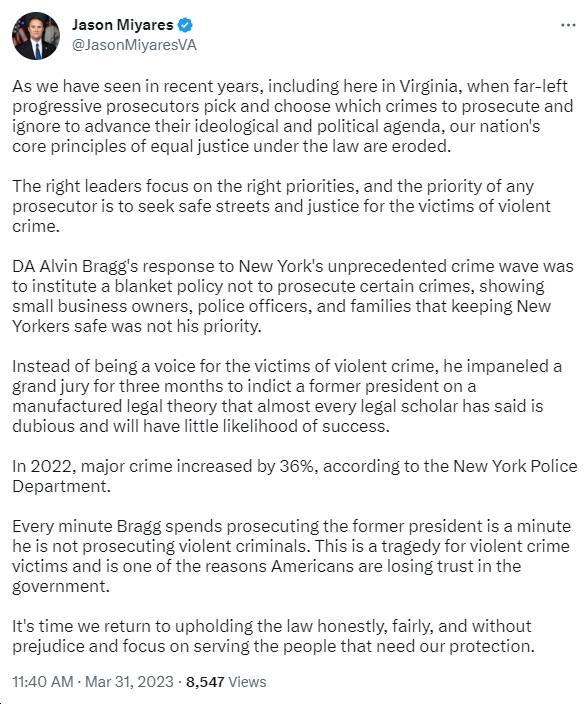 Now, here are insurrectionist/extremist Republican Congressmen Ben Cline (R-VA06) and Bob Good (R-VA05), responding exactly as you'd expect them to – and exactly how they should NOT be responding!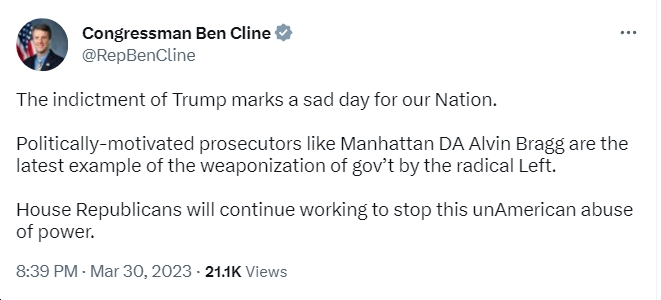 There's also this idiocy from the always-wrong Virginia GOP(Q) – see the response by Rep. Don Beyer's Deputy Chief of Staff Aaron Fritschner: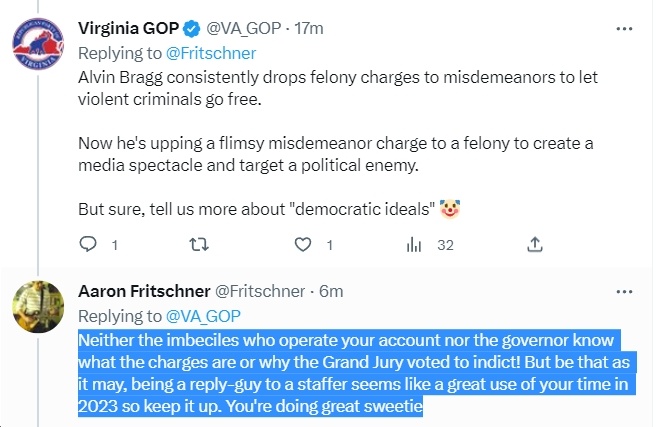 Oh, and check out totally irresponsible statement from the Speaker of the Virginia House of Delegates, Todd Gilbert. In this November's House of Delegates elections, let's make sure Dems win the majority and that Gilbert will NO LONGER BE SPEAKER as of January 2024!

Finally, there's this extremist, Yesli Vega (yes, the person who doubted that rape leads to pregnancy!), claiming that enforcing the rule of law in America makes us a "banana republic." Sick.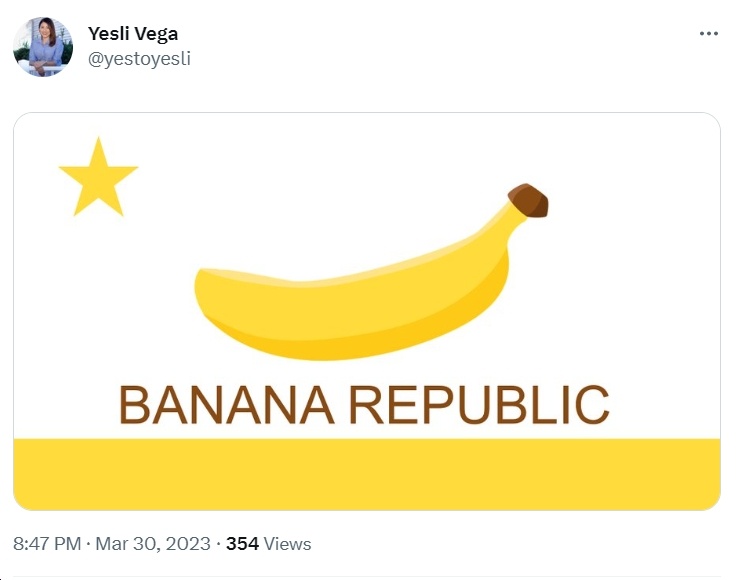 Bottom line: these people either don't understand the first thing about our democracy and/or the rule of law OR even worse they have utter contempt and hostility for those things. Either way, they have demonstrated over the past day why they should NEVER be put in charge of Virginia, or elected to high office, ever again.
P.S. Here's ONE Virginia Republican – or at least a former Republican elected official (former Lt. Gov. Bill Bolling) responding at least somewhat appropriately (although his shot at the prosecutor is irresponsible and wrong).