As we transition into the general election cycle, the team at Rural GroundGame would like to extend our gratitude to our friends at Red2Blue and their wonderful team of volunteers and volunteer leadership who became the backbone of our candidate research and recruitment project this year.
Many hundreds of volunteer hours resulted in a new database of well over 700 prospective candidates in every corner of Virginia. Layers of vetting and assessment have resulted in successful outreach and recruitment of a diverse group of candidates for General Assembly and local races this year and a new, ever-growing bench of engaged and interested candidates for the future. Through this entire process, we have continued to connect the dots with people on the ground, including local Democratic Committees and activists, to ensure that we work with the community, not around it.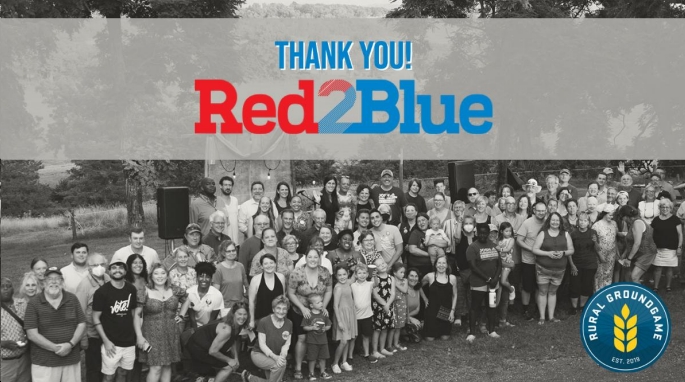 The hope required to nurture Democratic participation must be grounded in realistic,
measurable progress over time and through empowering local Democrats with resources to carry out a shared vision of increased community engagement in places that are far too often left behind. Our small, scrappy organization exists to offer as much support as possible to as many rural Democrats as possible and it has always been the case that the successes we've had over the years belong to the many volunteers who dedicate themselves to showing up.
We learned a lot from this project. Some key takeaways:
● There is an abundance of hope and help out here. We just need to connect with it.
● There are a huge number of engaged volunteers and friends in this space that are ready to get to work and support one another in this effort.
● Providing potential candidates with clear-eyed, correct information about their district and the process to become the candidate is crucial. Starting off with an inaccurate picture of the process can lead to confusion and mistrust.
● Clear guidance for how to identify potential candidates with local community and often
non-traditional experience resulted in a wealth of names to move through research and
vetting.
● It's really fun, if a little awkward, to reach out to folks who have been serving their communities and surprise them with an ask that they consider seeing themselves as a candidate. While many prospective candidates weren't ready to commit just yet, the vast majority of prospective candidates we reached out to were very receptive to our outreach. We made new friends and found more volunteers along the way.
● Partnership with volunteers beyond Virginia that respect, listen to, and make space for local knowledge and expertise can lift our capacity to a level that we cannot achieve ourselves.
● This work can be incredibly empowering and positive, especially if we pause along the way to acknowledge and point at success (looking at you, Doctor Deb!).
What's next?
No matter what happens on November 7, every candidate who steps up to carry the banner of our party and our shared values and demonstrates an understanding of the work ahead deserves both our thanks and our support. Rural GroundGame is ready to do this work, and beyond grateful to do it alongside y'all.
We've already developed new projects to directly support Democratic nominees and local
candidates this year with our partners at Red2Blue and some new partnerships that we're pretty excited about.
If you're able, please support our work to reach as many rural voters as possible this year, next year, and beyond.