See below for a statement by Rep. Don Beyer (D-VA08), and others as I get them, on U.S. House passage of a Continuing Resolution to fund the government and prevent a shutdown.
Beyer Statement On Continuing Resolution
September 30, 2023 (Washington, D.C.) – Rep. Don Beyer (D-VA), who represents a Northern Virginia district containing one of the largest concentrations of federal employees in the U.S. House, issued the following statement today on legislation to fund the government until November 17, 2023:
"I am relieved that Speaker McCarthy folded and finally allowed a bipartisan vote at the eleventh hour on legislation to stop Republicans' rush to a disastrous shutdown. Had he taken this step sooner it would have spared millions of Americans, including many of my constituents, a great deal of unnecessary fear and uncertainty.
"I want to be clear to our Ukrainian allies: we are unwavering in our support for your defense against the Russian invasion, and we will deliver on that commitment. There are those in Congress who would deny Ukraine the assistance required to win this war, but those of us who stand with our Ukrainian allies vastly outnumber them. We have defeated them before and we will again, to deliver the aid Ukraine needs and deserves.
"The bill we passed today is not a permanent solution on government funding. Assuming it passes the Senate, it will be a short reprieve that ensures the threat of a shutdown will hang over Congress and the nation in the weeks ahead. Speaker McCarthy should stop wasting time appeasing the far right, put the country first, and honor the terms of his bipartisan agreement with the President." 
###
"The ball is now in the Senate's court to avoid a government shutdown as reason returns to the House thanks to the hard work of @HouseDemocrats." – Rep. Jennifer McClellan (D-VA04)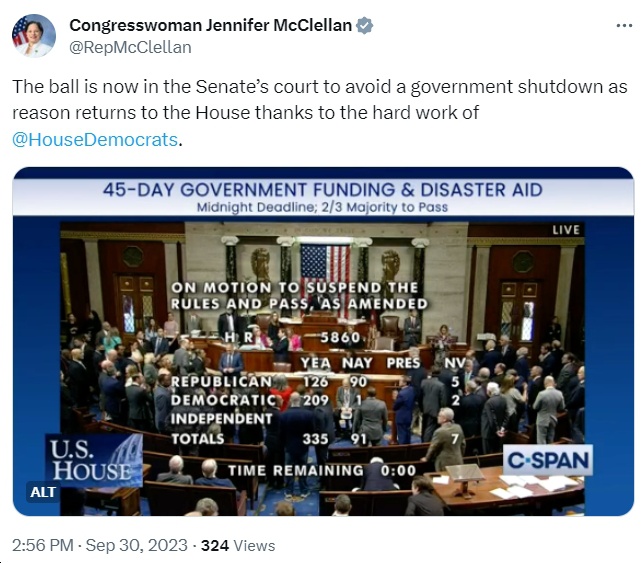 Rep. Gerry Connolly (D-VA11): "Today, House Democrats stepped up and provided the votes to do what House Republicans have been unable to do: keep the federal government open. Again."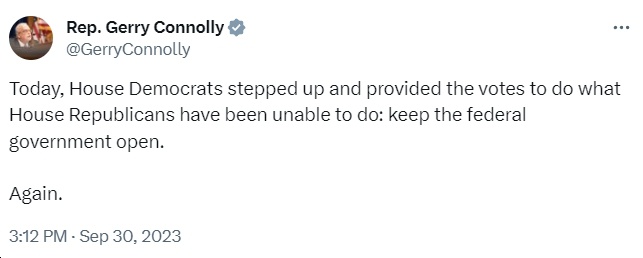 ***********************
Spanberger Statement on Vote to Keep Government Open, Protect Virginia's Economy
WASHINGTON, D.C. — U.S. Representative Abigail Spanberger today released the following statement after voting with a bipartisan majority of the U.S. House to keep the federal government open and to protect Virginia's economy.
"We should never have come this close to a government shutdown. For days, thousands of Virginians I represent feared a situation where they would be forced to work without pay, become furloughed, or struggle to make ends meet. And for months, Virginia's businesses were sounding the alarm about the devastating effects of shutdowns on Virginia's economy.
"Many of my colleagues in the House GOP refused to listen to these voices. They were determined to bring down the very functioning of America's government for the sake of raising money, grabbing headlines, and getting the attention they so desperately crave. Speaker McCarthy rewarded this behavior for far too long — even though a bipartisan solution was clearly on the table to keep America's government open.
"We need to move away — sharply — from the idea that being an elected official means a blank checkbook to grandstand. As a country, we need to get back to the basics of governing — recognizing our shared challenges, hammering out differences, and finding a responsible compromise that averts disaster.
"Going forward, Congress has a long to-do list — including passing the 2023 Farm Bill, supporting our allies in Ukraine, and once again avoiding a government shutdown. We need to work in a bipartisan way to get these priorities across the finish line, and as the Representative of thousands of federal employees, servicemembers, and contractors, we need to take steps to avoid these Groundhog Day funding crises in the future."
****************
Wexton Votes to Keep Government Open
Washington, DC — Today, Congresswoman Jennifer Wexton (D-VA) issued the following statement after voting to pass a continuing resolution to extend government funding at Fiscal Year 2023 levels and avoid a disastrous government shutdown.
"As the representative to more than forty thousand federal employees and thousands of federal contractors, keeping the government open and preventing Virginia families from going through financial hardship without a paycheck is a top priority.
"After weeks of House Republicans recklessly wasting time pushing their extreme agenda, I'm glad we're taking the necessary steps to keep the government open, but we must continue with bipartisan appropriations work rather than partisan cuts that hurt Virginia families."
*************
VIRGINIA HOUSE DEMOCRATS RELEASE STATEMENT ON TEMPORARILY AVERTED GOP GOVERNMENT SHUTDOWN
RICHMOND, VA – Following the passage of a continuing resolution, temporarily suspending the Republican shutdown of the government, Virginia House Democratic Caucus Leaders released the following statement:
"Instead of doing what they could have done weeks ago, the MAGA GOP threatened the lives and livelihoods of Virginians with an incredibly reckless and completely unnecessary gridlock that led to a looming government shutdown. Virginians knew it, the American people knew it, and the MAGA Republicans in Congress knew it," said House Democratic Caucus Leader Don Scott. "By no means is this a win – it is simply a delay of the inevitable. They waited until the last possible moment to institute a temporary hold because they knew how the American people would react. Virginians know how crucial it is that we don't have a government shutdown because we know the impact that a shutdown would have on our families and our everyday lives. MAGA Republicans – whether it's in Washington or Richmond – are unfit to govern, and Virginians have to show up to the polls this November to stop them."
House Democratic Caucus Chair Charniele Herring said, "It is disappointing that the Republicans are prioritizing their own interests over Virginians and people all across the country. I am concerned about everyone, including our federal employees, who will spend the next six weeks wondering if they will be able to provide their families with basic necessities if this temporary solution does not hold."
"As a veteran who served tours in Iraq, Afghanistan, and Korea, I am thinking about the more than 100,000 active duty military in the Commonwealth who would have been affected by this shutdown. Hundreds of thousands of Virginians will now be spending the next 45 days, holding their breath and worried how they might not be getting paid heading into the holidays. We need leaders who have the best interest of the public in mind when governing — not personal politics," said Delegate Dan Helmer.