On Thursday, I posted about State Sen. Jennifer Boysko (D) announcing her candidacy for the VA10 seat being vacated by Rep. Jennifer Wexton (D), due to tragic health reasons.  As I pointed out, Wexton joined  former VA House of Delegates Speaker Eileen Filler-Corn (who was just endorsed by former State Senator and Attorney General Mark Herring, btw) in the race, with numerous others – Loudoun County Chair Phyllis Randall, State Senator Suhas Subramanyam, Del. David Reid, Del. Michelle Maldonado; former Del. Ibraheem Samirah, Del. Dan Helmer, and presumably others as well, expected to jump in. Also, several candidates I'm not familiar with –  Krystle Kaul, Brandon Garay and Michael Freedman – appear to be running as well.
This morning, the growing VA10 field is joined by former VA Secretary of Education Atif Qarni. See here for his campaign website, also below for his press release, as well as a transcript of my interview with him. Welcome to the race, and may the best Democrat win this thing!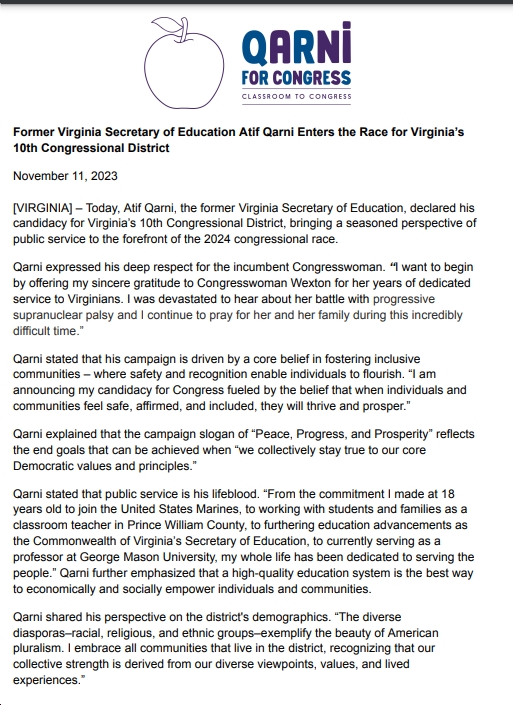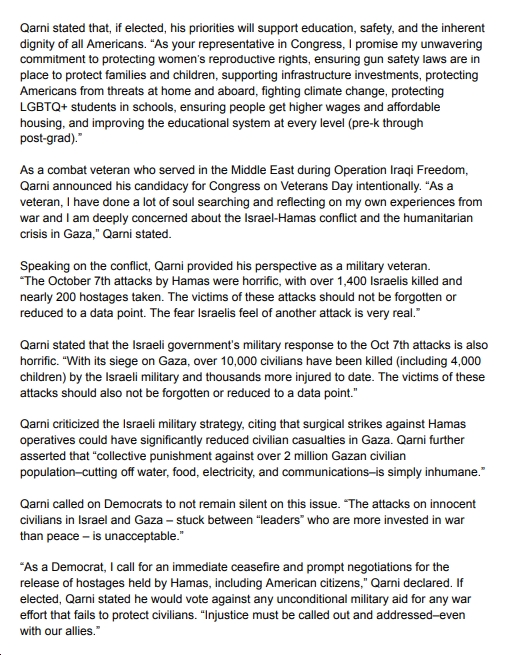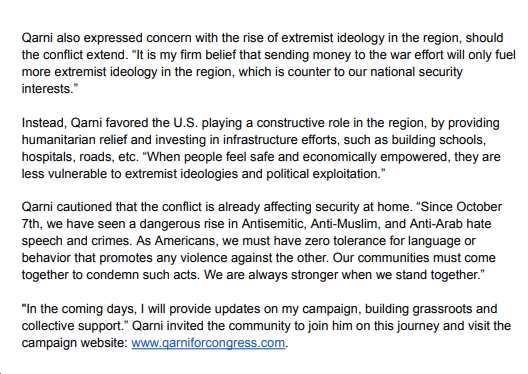 Blue Virginia: "First off, maybe can you tell Blue Virginia readers who aren't familiar with you a bit about your background – in the military, as a teacher, as Secretary of Education, etc – and why you decided to run for Congress at this time?
Qarni: "I'm really excited to announce my run for Virginia's 10th Congressional District, which covers seven localities all the way from Rappahannock to Loudoun and everything in between. My background — I have about 20 plus years of public service. My first public service was in the United States Marine Corps at the age of 18, right after high school I signed up for the Marines. I did eight years in the Marine Corps Reserve, a little bit of time in active duty when I was deployed…included serving in Iraq during the war in 2003. Then I went into teaching, I was a public school teacher in Prince William County for 10 years. And then after that I was very fortunate to be appointed by Governor Northam to be Secretary of Education for the Commonwealth of Virginia for four years, I served from 2018 to the end of 2021…and since then I have been doing a variety of things; one of the things I'm doing, I'm actually a professor at George Mason University. So that's my public service career."
Blue Virginia: "And then why did you decide to run for Congress at this time?"
Qarni: "First off, I just want to thank Congresswoman Wexton for her service. I was really devastated to hear her condition and my heart goes out to her, my thoughts are with her and her family. So running for office was really in the back of my mind, I had other things I was focused on. But when Congresswoman Wexton announced her retirement, it took a while kind of really reflect and think about it on where I was. There are multiple things that I'm really passionate about personally in advocating for a lot of things at the federal level with Congress that are specific to education policies. But in addition to that, there are other things that I'm very passionate about as well. I'm talking to a lot of constituents, I really stay engaged. I've been in this district for 20 years, and as Secretary of Education, I've traveled across every corner of the Commonwealth, including the seven localities that are represented in this in this district. So over the years there are multiple issues, ranging from education to healthcare to really looking at clean energy and climate change, to really looking at infrastructure needs, telework needs. So there are a number of issues that I'm engaged in and I feel like can really represent those needs and concerns of the constitutents of the district really well at the Congressional level."
Blue Virginia: "Overall, for people who don't really know you that well, how would you describe yourself on an ideological  spectrum – liberal, progressive, left, moderate, conservative whatever. And are there any members of Congress you view as role models?"
Qarni: "So I don't really like being handcuffed in a label, per se, because you know people are not monolithic…there's a lot of nuances…so I personally do not like labels.  I do see myself really…my core principles really align with our overall Democratic values, of what Democrats stand for. So my core values I'll talk about those. I truly believe that if we provide a high-quality of education in a holistic way that looks at the whole person and that's really inclusive and affirming, where students…from early childhood to graduate, feel welcome and they can learn and thrive, in my opinion that's the best way to uplift an individual and communities and really provide upward mobility. So how does that align with politics? I'll give you a few examples. Even before when I was Secretary of Education, when I was in Prince William as a teacher, this is before the "blue wave," I really laid the ground work – as Prince William changed…I was on the front lines…at the heart of really organizing these efforts…really advocating these core values… in front of the School Board and the Board of Supervisors when it came to issues like more resources for schools, because we have some schools that were really falling apart, as opposed to other schools that were not…I also was advocating for more…inclusive practices in our school divisions and the county. Also under somebody like Corey Stewart,  we had significant issues where there were ICE raids and immigrant populations were really harassed. So I was leading an effort from the front – I believe in leading from the front, I'm a Marine – really organizing immigrant communities to fight against discriminatory practices that were happening in Prince William. So that's what my core belief is, to really stand up for folks who don't have a voice and give them a voice. And that translated over into Secretary of Education – all the initiatives I worked on were transformative; I'm biased of course – I was the only classroom teacher to ever serve as Secretary of Education, right out of the classroom to the Cabinet, and in my opinion, I was the most transformative Secretary of Education ever. I mean, we had the largest amount of investments ever made, from early  childhood, K-12 to higher ed, and the policies really looked at providing systemic changes. So that's who I am. I'm empathetic, I listen, I'm very good at collaborating and bringing people together and thinking through good solutions. I'm very very creative and I'm willing to really lean in into tough issues where others might not really lean in. And I'm really good bringing about change."
Blue Virginia: "The second part of that question was are there any members of Congress you view as role models?"
Qarni: "I really like the way our two US senators – Senator Kaine and Senator Warner, I think that combination is probably the best combination in the country of two senators, I really really like them.  I'm very good friends with Anne Holton, who is Senator Kaine's better half as you know. Over the years, I've gotten to know Senator Kaine more. So those three individuals I really look up to. I really look up to my old boss, Governor Northam, I know he's not in Congress but I really look up to him. Also, of course,  I really admire Congresswoman Wexton for her impeccable service to her Virginia. And all of the four individuals, what I like about them is they're really good listeners, they sit down, they give an opportunity for constituents to really express their concerns. I have been in multiple meetings throughout the last decade with the two senators and they're just so good at listening and they show good empathy. You know, we might not agree on every single issue, but I really look up to how their good leadership is demonstrated and how they really engage their message…"
Blue Virginia: "So if you're elected to the US House, do you see yourself following in Representative Wexton's footsteps in terms of issues you'll focus on and policy positions, or would you chart a significantly different path? And if the latter, which areas specifically would you see yourself charting a different direction or or maybe emphasis or focus than Representative Wexton?"
Qarni:  "Congresswoman Wexton has had an impeccable career as a State Senator and as a Congresswoman. She leaned into numerous important issues, was really critical in playing a role as the IRA was being rolled out. She also brought in some good resources to support the Congressional district, especially in the agriculture space…She was good on education as well, good on a lot of the variety of issues, ranging from women, reproductive rights to LGBTQ plus rights, to the rights of immigrants and so forth. So I definitely seek to live up to those expectations. Another thing I'm bringing to the table is that I really think that this newly designed district is…a true microcosm of Virginia and a microcosm of America, and it has an opportunity to be a leading model for the nation. And this what I mean by that: it is a tech hub, it has a lot of good practices that are happening in  the agriculture space, it has a lot of diverse communities from all different diasporas…socioeconomically…the different sectors of jobs that exist, the types of job that exist. I've traveled all over the district, it has a huge opportunity to really pilot some  innovative practices. So what I'm bringing to the table is my ability to really communicate with the different, diverse constituencies based on the job sectors they're in, types of racial/ethnic diasporas that exist, types of different needs, regional needs. And I have the ability to bring them together to collaborate, think innovatively. I'm also a very global thinker…I do a lot of work making global connections. In my job as Secretary of Education, I worked with several companies globally, and we did a lot of creative things. I think I can really help bring those global connections. And the last thing I'll say is that I'm very very innovative and forward thinking, unlike some of the MAGA Republicans who really want to take us, regress us back to 1950s, I'm actually looking forward to the future, and I think about the 2050s…what are we leaving behind for future generations. I really think that I know that I can really lead this district and make it an exemplar for the whole nation."
Blue Virginia: "The district is about 54% Loudoun, 26% Prince William, 10% Fauquier, etc. Does it matter where the next  representative lives or is that not an issue particularly?"
Qarni: "I think the next representative has to have a good deep understanding of the district and the nuances. And I think this is what Congresswoman Wexton did really well…she was very visible…I often saw her engaging with constituents in Prince William, doing roundtables and so forth…I really admire that. And you know a person really has to know this district well. I've lived here for 20 years and really know the diverse needs. That's really really important. One of the things that I'm planning to do if I'm fortunate enough to get elected, I'm not going to…get another location to live closer to DC, I'm still going to remain in the district, spend as much time in the district, do regular roundtables and town halls and meet people for coffee and so forth. I want to set up across the district probably like three regional offices so they really cover the district and really have that constant engagement. That's really really important that an individual truly has deep ties to the district. Being here for 20 years, I've built relationships all over the district, especially as Secretary of Education, because I represented the whole state, I've had the good fortune to travel all over these seven localities and really get to know what are the unique characteristics of the different parts of the district, their needs. It's really essential that a person truly understands."
Blue Virginia: "What would you say the most important issues facing the country and even the planet right now are? The climate crisis? Threats to democracy? Economic inequality? Racial injustice? National security? Immigration? etc. Tell us what do you think are the top, the most urgent, pressing issues that we're facing at the moment."
Qarni: "That's a great question. What we have to really, one of the voices that really gets left out of conversation is our younger generation. So I engage the students a lot. I ask my students  at George Mason, I'm in constant touch with a lot of students, young students in middle school and high school and what their needs are. And what really weighs heavy on me is the sense of hopelessness in our young generation, because they're bogged down with so much…dealing with issues related to the climate crisis…they're concerned about that. We have a significant amount of inflation and debt, childcare costs are out of control, college debt is out of control. We have so much polarization in our nation and politics. Then we have multiple wars happening across the globe. Our young people are really bogged down with that, this weighs heavily on them. And we have to listen to them. So there are multiple things that our generation of leaders have to address in order to better position our future generations, because we really have not done a good job to protect and provide a better future for future generations. And we have to do a better job than multiple fronts on the four or five things I mentioned…We have to take a holistic approach and everything is connected; I truly believe that there's a cross systems approach, a holistic approach…and we have to really lean into multiple issues and address them with a sense of urgency."
Blue Virginia: "I guess I would just personally say that I agree all these issues are important, that you have to look at them holistically, I agree with all that. I just would put the threats to democracy and the climate crisis as existential-level threats; the other ones are extremely important as well, but those two are existential"
Qarni: "That's a fair point. I think the threat to democracy, if you want I can go a little bit deeper onto that…Let's talk about the Virginia elections…There was a lot of misinformation spread by Governor Youngkin during his campaign, and that had significant adverse impacts. I'm really really glad that folks finally woke up – misinformation and lies, eventually people figure out what the truth is. And we saw the results – Virginians woke up and they had a clear message that they're tired of all this toxic misinformation, especially targeted towards our children and our teachers. I do believe in the goodness of humanity, I really do, but it takes effort to battle these lies and misinformation. And we just have to stay resilient and keep fighting because we have to protect our our future."
Blue Virginia: "I mean, it's good…it's inspiring in a way that you still believe in the goodness of humanity given what's going on in the Middle East and Ukraine and Russia and the all the atrocities and horrors, but I guess you're a better man than I am."
Qarni: "I mean we have to…You've known me for a very long time, I'm not a status quo type, cookie-cutter person…I really leaned into many issues as Secretary of Education, whether it was really looking at our history curriculum and history standards because they were incomplete – that was not an easy issue, there was backlash, but I leaned into it, because it was the right thing to do. Whether it was really supporting undocumented residents with driver licenses and in-state tuition rates and financial aid – not an easy issue, but it's the right thing to do to create a more inclusive setting. Whether it was protecting our LGBTQ+ students – I received a lot of blowback from faith communities, but it was the right thing to do to really lean in to those issues.
So speaking of what's happening overseas right now in the Middle East, it might not be a popular opinion amongst elected officials, but if they talk to constituents and if they talk to people like me, I just think that we need to do things differently…and lean in and really see how can we protect innocent civilians from dying. Because what happened on October 7th was atrocious, it was barbaric, Israeli citizens are under constant thread of attack, it's heartbreaking. In my opinion, the response should have been more surgical and strategic; the way the response has been – every country has a right to defend itself and respond, but it has to be done in a humane way. To see children pulled out of rubble, it's heartbreaking, it's really heartbreaking. And we have to really challenge folks to ask the questions in Congress…right now, there's multiple issues [in Congress], they're also facing a threat of a shutdown under the Republican leadership, unfortunately, but this specific issue is in front of Congress right now, and we really need to think about this. If I was in the situation, I would be in favor of an unconditional ceasefire and that doesn't mean that you end the war against Hamas, it just means doing it in a more surgical, humane, way. But I think that people really need to reassess on how the operations have been carried out, because it's costing so much much innocent human life. And has the aim to dismantle Hamas and rescue hostages has been achieved? It has not. And how many more innocent lives are going to be lost if this goes on? So you know, it may not be a popular opinion, but you have to really, I do believe in the goodness of humanity, I think that people will make the right decision but we just can't wait too long."
Blue Virginia: "I just want to open it up, if there's anything else you want to share with Blue Virginia readers about yourself or your candidacy or anything else on your mind."
Qarni: "I just again thank you for the opportunity. As far as wrapping things up, I encourage people to follow the campaign closely, there's a lot of good people running, a lot of excellent Democrats running. This is going to be an excellent race, it's going to be the most-watched race in 2024 in Virginia. I really encourage people to tune in and listen to the candidates. We're going to discuss a lot of great ideas, there are going to be a lot of policy debates and so forth, and I'm very excited about the next five to seven months of the campaign."
Blue Virginia: "Where can people  find information about you?"
Qarni: My website is www.qarniforcongress.com, the website is live. Please review the issues, there's an email for me that you can email me directly…I read every single thing. If you want to talk about certain issues, if you have ideas, if you live in this district, I'm already doing coffees in small group, things across the district. So if you want to sit down and learn more and discuss ideas, please do."
Blue Virginia: "OK, that's great. Thanks for doing this."