Home
Authors
Posts by The Richmonder
The Richmonder Yesterday State Senator
Chap Petersen posted some thoughts on Facebook
about what he called "the latest scandal du jour in the VPAP clips." It was a rather nonchalant introduction to some surprising comments:
I've known Paul Reagan for fifteen years, as an official for Mark Warner, Jim Webb and now Terry McAuliffe. (Back in the 90′s, he also served on the Consumer Protection Commission, where I used to appear as an attorney). I regard him as one of the most honest and reputable people I've met in Virginia. Nothing he said or suggested with Senator Puckett has changed my opinion. I'll leave it at that.
Because, as we all know, people with long and distinguished careers in public service never wreck those careers and self-destruct by breaking the law. No, that
never
happens.
The next "thought" Senator Petersen rolled out was this:
The Puckett investigation is a road to nowhere and we're slowly getting there. While Phil's actions in resigning just before a key vote were wrong (in my humble opinion), that is a matter between him and his friends. It does not involve the U.S. Attorney. This is not "McDonnell Part Deux." There is nothing illegal about resigning from a public office to take a better-paid position, either with the private sector or with state government. If it was, then you could lock up a lot of people in River City right now.
It's true enough that people often leave good jobs for better jobs. Indeed, that used to be the American dream, to build a career by taking a series of increasingly challenging jobs, succeeding in them, and moving on to better compensated opportunities. That's not what Phil Puckett did. Phil Puckett tried to trade control of the Virginia State Senate for not one, but two six figure jobs with the state judiciary and the state tobacco commission--the first for his daughter and the second for himself. There is a strong possibility that this attempted exchange of influence might be a violation of federal public corruption laws. It stretches credulity to suggest that Petersen--by all accounts a talented attorney--does not understand that.
But Petersen did not stop there; he dug deeper: What if we've been looking at the Phil Puckett scandal backwards?
From the moment that Virginia State Senator Phil Puckett resigned on June 9, 2014, many commentators--myself among them--have raised the question of whether the GOP leadership in Virginia's General Assembly conspired to bribe Puckett with a judgeship for his daughter and a job for Puckett at the Tobacco Commission with a six-figure salary.
If that is how we understand the transaction between Puckett and the General Assembly Republicans, then we face a hurdle in prosecuting them: was Puckett's resignation an "official act"? In "Va. officials skeptical of U.S. interest in Phillip Puckett's resignation from state Senate" by Laura Vozzella, Matt Zapotosky, and Jenna Portnoy, these three Washington Post writers describe the obstacle prosecutors face in looking for an "official act." The official Twitter feed of the Democratic Party of Virginia
has just accused the Republican Party of Virginia of bribing a Democratic State Senator in order to block Medicaid expansion. These are very strong words: bribery is a crime. In fact, bribery is two crimes--when a bribe is offered or paid both the person offering the bribe and the person accepting the bribe are potentially guilty of bribery.
The principals in this case are State Delegate Terry Kilgore (R) and State Senator Phil Puckett (D). News reports are alleging that Kilgore arranged a cushy, highly-compensated job for Puckett at Virginia's Tobacco Commission in exchange for Puckett's agreeing to resign and tip control of Virginia's state senate to the Republican Party of Virginia's control. You can read more at these links: The official Twitter feed of the Democratic Party of Virginia
has just accused the Republican Party of Virginia of bribing a Democratic State Senator in order to block Medicaid expansion. These are very strong words: bribery is a crime. In fact, bribery is two crimes--when a bribe is offered or paid both the person offering the bribe and the person accepting the bribe are potentially guilty of bribery. On June 9, 2013, Aneesh Chopra stopped by the Richmond City Democratic Committee's 1st Annual Dem-A-Que and addressed the crowd. Chopra is a candidate for the Democratic nomination for Virginia's Lieutenant Governor. The Virginia Democratic Primary is June 11, 2013. Cross posted from The Richmonder
UPDATE: Ryan's staff has responded and TPM accepts their explanation and calls this story "debunked."
It should probably come as no surprise to anyone that someone like Paul Ryan would trade on inside information gained through his position as a congressman to line his pockets, but this particular instance is especially egregious. Ryan attended a closed meeting with congressional leaders, Bush's Treasury Secretary Henry Paulson, and Federal Reserve Chairman Ben Bernanke on September 18, 2008. The purpose of the meeting was to disclose the coming economic meltdown and beg Congress to pass legislation to help collapsing banks.
Instead of doing anything to help, Ryan left the meeting and on that very same day Paul Ryan sold shares of stock he owned in several troubled banks and reinvested the proceeds in Goldman Sachs, a bank that the meeting had disclosed was not in trouble. This is the guy Republicans want one heartbeat away from the presidency? He seems more than a little shady to me.
Have a look at Ryan's financial disclosure form for 2008--you can click on each page to enlarge them. The "Transactions" section begins on page 12--scroll through and look at all the trades Paul Ryan made on "9-18-08":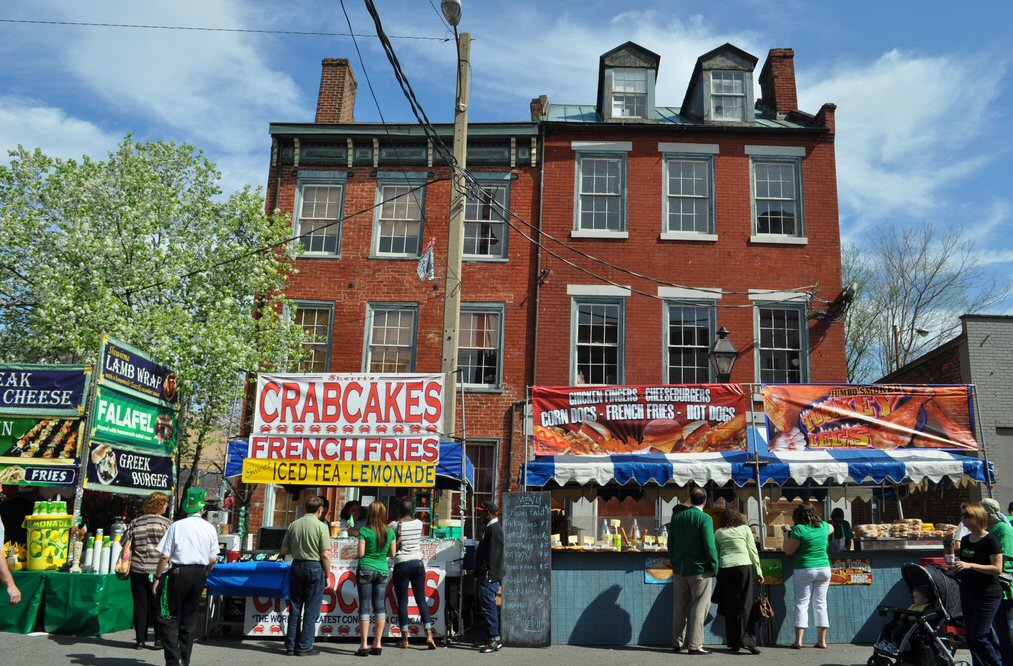 On March 17, 2012, a crowd of over 25,000 people took advantage of perfect early Spring weather to descend upon Shockoe Bottom in giant green t-shirt wearing hordes. Saturday was
Shamrock the Block
, a giant six hour long block party that kicks off the outdoor festival season in Richmond every year. Many of these folks were no doubt voters--and of those that were, no doubt many of them were undecided voters--people open to receiving information about issues and input about which political party they should support in this year's elections--which are critical to our nation's future. A scary scenario, no doubt. Who knows what a crowd of undecided voters could be capable of?
But the many local Democratic Committees across the great Commonwealth of Virginia who contribute tens of thousands of dollars to pay the mortgage on DPVA's building and the salaries of the folks who work in the building at 1710 E. Franklin Street can rest easy: the thousands of potential voters that flooded Richmond's 17th Street Farmer's Market and the 1700 block of Franklin Street were completely outwitted by the clever camouflage applied to DPVA headquarters. Where most Virginia Democratic Party members see an office building where remarkably little gets done, the casual passers by that filled the streets of Shockoe Bottom only saw a Crabcake Stand and a Gyro Booth. Thanks to this clever disguise, these undecided voters walked past DPVA without receiving the slightest inkling that there was even such a thing as a "Democratic Party of Virginia." The recent
dismissal of a lawsuit challenging the GOP-led redistricting
of Virginia's congressional seats has Democrats in Central Virginia scrambling to adjust their campaigns to the new boundaries.
In the 7th District, candidates who had been courting Democratic Committees in Page, Rappahannock, and Madison Counties are shifting their attention eastwards to parts of Spotsylvania and New Kent Counties as the first three counties named were dropped from the 7th CD and all or a portion of the other two were added. In terms of party affiliation and performance there seems to be little difference between the old and new 7th, but there are a few voters in the new 7th that don't know Eric Cantor except through his recent high profile obstructionism, and that could work to the benefit of the Democratic challenger.
The situation in the neighboring 5th Congressional District may soon become complicated because of some opportunistic forum shopping by Northern Virginia Democrat John Douglass. A retired brigadier general turned lobbyist, Douglass had been conducting a vigorous campaign in the 10th Congressional District to challenge Republican incumbent Frank Wolf. Then one of Douglass' homes was redistricted into the 5th Congressional District and Douglass now seems to be mulling a switch to the 5th. Douglass might be afraid of taking on a veteran incumbent like Frank Wolf, seeing the 5th's current incumbent, freshman Robert Hurt, as an easier target. If you've ever watched the Summer Olympics then you know what I'm talking about. A lithe young gymnast works her way through a dizzying routine of gravity defying moves. She aces each maneuver until she comes to the end of her routine and she must dismount from the bars or beam where she has performed. Her body arcs through the air with supreme grace, but something is just ever so slightly off. As she plants her feet on the padded mats there is a stumble, or worse, a sickening snap of bone and cartilage as an ankle gives way. Having aced her routine, the gymnast has blown her dismount.
That is the position Governor Bob McDonnell finds himself in tonight. McDonnell has been running from his thesis since September 2009, and for the most part, he has done so masterfully. He has played off his extremist views to please the extremists in his party, while steadfastly maintaining a moderate line so as not to offend mainstream Virginia voters. Tonight, that balancing act came to a sudden, jarring end, as McDonnell found himself in a place where he could not please both his extremist base and Virginia's main street.
The issue was trans-vaginal probing; a vicious punitive measure put forward by legislators from the Virginia Republican base seeking to punish and humiliate women seeking abortions for any reason. The law made no distinction between women who were victims of rape or incest or women who desperately wanted children but who had a problem pregnancy that threatened their own health. The proposed law was transparently intended to hassle women at a moment in time when they were exercising a constitutional right to control their own reproductive systems at a moment of tremendous personal--and therefore private--stress. Jeff Schapiro had a great video segment
last week that really got me to thinking about the Henrico County Commonwealth Attorney's race. The Republican political machine in Henrico County is working to put a candidate into an office that he is emphatically not qualified to hold.
Henrico Republicans have had their candidate for this race picked out for a long, long time. That candidate was Matt Geary, but Geary has run afoul of Eric Cantor's political machine. Cantor and other Henrico GOP members have tried to get Geary to give up his Republican nomination, but Geary has refused.
So the Republican machine in Henrico has decided to run Delegate Bill Janis as an independent (wink, wink) in the race. Jeff Schapiro hinted pretty strongly at Janis' lack of relevant experience for the position of Commonwealth's Attorney for Henrico. I think that it's time that we look at the requirements of the job of Commonwealth's Attorney and then ask if Bill Janis is really qualified for this job. So what are the duties of a Commonwealth's Attorney?