Home
Authors
Posts by Elaine in Roanoke
Elaine in Roanoke I knew the Republicans would make a strong effort to unseat State Sen. John Edwards of Roanoke this year, mainly because he and Del. Sam Rasoul are the only Democrats remaining in the General Assembly from southwest Virginia. That part of the state is so Republican now that Edwards' seat, in a district that still leans Democratic, was one of their best shots at unseating a Democratic incumbent. However, the greatest threat to Edwards now is coming from a completely unexpected source, Don Caldwell, commonwealth's attorney for Roanoke City. Don has always run as a Democrat and even chaired the city Democratic committee until a few years ago. Now, he has filed papers to run in November as an
independent
against Edwards and his Republican opponent, Nancy Dye.
Dye is well-funded and is certain to welcome Caldwell's entry into the race if he does go through with his plans to run. As Carter Turner, chair of the Roanoke County Democratic Committee said recently in the Roanoke Times, "I think John's got his hands full even if Don doesn't run. Dye's got literally some of the best people in the industry doing stuff for her. I think she's formidable."
All I can figure is that Caldwell, who has been commonwealth's attorney for more than 30 years as a Democratic office holder, was hoping that John Edwards would retire this year. When Edwards didn't, Caldwell decided to morph into an independent. He's bidding to become the spoiler in a three-way race, someone who is willing to turn his back on the party that supported him all those years.
Caldwell's justification to the Roanoke Times was that he wanted to "get away from the dogma of both parties and get back to serving the reasonable people on both sides." He didn't elaborate on exactly what Democratic "dogma" has driven him to become an independent after decades of being quite happy to run on that same dogma as a Democrat in a city that is a Democratic stronghold. Since about 40% of the district is the city of Roanoke, Caldwell could simply think he can somehow corral 33% plus 1 and win. The probable outcome of his independent candidacy, however, is that he might peel off just enough votes from Edwards to throw the election to Dye.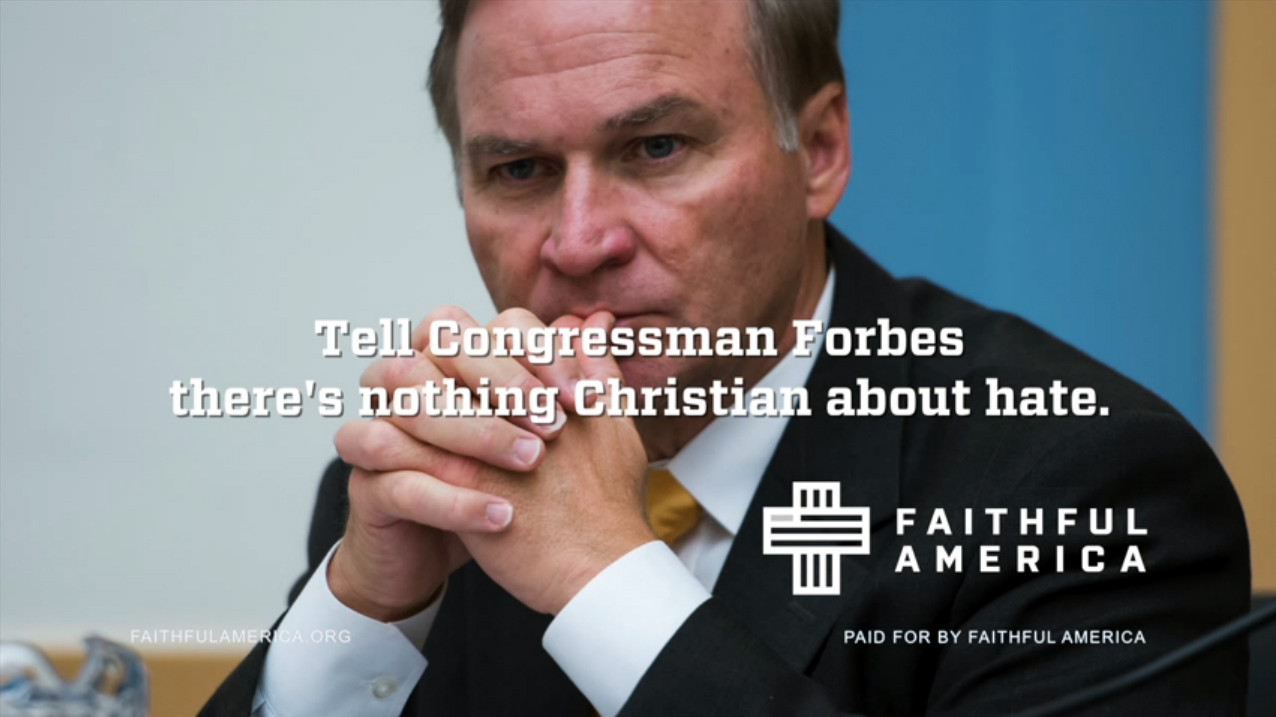 While
Jeb Bush
made his usual, mushy, try-to-please-everybody response yesterday in Atlanta when asked about a proposed Georgia law to allow businesses to discriminate against gays by claiming a religious belief, Rep. Randy Forbes (R-4th Virginia) clearly declared his support for such discrimination a few days ago in an op-ed appearing in the Washington Examiner, when he and another Representative, James Lankford of Oklahoma, straight out advocated for prejudice against gays. Bush hedged his support for blatant discrimination by saying that "couples in long-term committed relationships" deserve "respect," but then justified prejudice by stating that people had a right to discriminate because of their "faith." Not Forbes.
Forbes and Lankford used a bizarre, ridiculous reason for their support of bigotry, tying it to a business decision by Chipotle restaurants to refuse to buy and serve pork from suppliers using cruel factory farming of pigs. Because Chipotle could decide from whom to buy its food, Forbes argues that all businesses should have the right to discriminate against gays and lesbians because they say their "religion" requires it. Or, put another way, if one can "discriminate" against pork for humane reasons, then bigots should be able to discriminate against other people on the basis of who they love. Huh??
Without even going into the obvious unconstitutionality of such discrimination, my first question for the legally-challenged representative from the 4th District is this: Just how will businesses know a person is gay? In Nazi Germany it was easy because gays and lesbians were required to wear pink triangles. Is that the next step in a Forbes plan to let people justify their hatred through claims of a religious exemption?
It's past time for voters in the 4th District to find someone else to represent them, someone who won't be a national embarrassment. Randy Forbes does nothing for the citizens of his district, while doing far too much to show the world just how ridiculous he can be. Del. Sam Rasoul (D-Roanoke City), who was elected to fill the vacated seat of former Del. Onzlee Ware, authored a bill, HB 1297, to give localities the option to lower local taxes on machinery and tools for businesses producing or generating renewable energy or making equipment that will produce energy from renewable sources. The bill has passed both the House of Delegates and the State Senate and is being sent to Gov. McAuliffe for his signature.
"Every single Virginian benefits from a better environment and more energy independence," Rasoul told the Roanoke Free Press. "We must look at the big picture and do what's right for the environment and for future generations. Continuing to invest primarily in fossil fuels is both untenable and harmful to the planet, so we've got to start shifting our focus to clean and renewable forms of energy."
The bill was supported by the League of Conservation Voters and the Virginia Sierra Club and gives municipalities the option to lower the machinery and tools tax rate for businesses such as solar, wind, and other renewable energy sources.
Voting against lowering business tax rates to attract companies of the future were: Senate: Black, Chafin, Garrett, Martin, McWaters, Obenshain, Reeves, Smith, Stanley, Stuart. House: Adams, Bell, Richard P., Bell, Robert B., Berg, Cline, Gilbert, Landes, Morris, Peace, Poindexter, Webert. And I thought all GOPers never missed a chance to lower a business tax!
Sam Rasoul is a new breed of representative in Richmond, and I hope he is joined by more like him after November. He stays in touch with his constituents, he is always approachable, and he looks to the future, not the past. One of the first votes attempted by the enlarged Republican majority in the House of Representatives was barely defeated, as they attempted to pass
a bill
with provisions to weaken the anemic Dodd-Frank bill passed to rein in speculation by big banks and Wall Street after the financial crash of 2008. The House leadership tried to pass their bill through a suspension of the rules. That maneuver requires a 2/3rds vote of all members, and I suppose the GOPers thought there were enough Democrats beholden to Wall Street to get it passed. They were wrong, but two Virginia Democrats joined 33 of their colleagues and voted with the Republicans, Gerry Connolly (D-11) and Don Beyer (D-8). (By the way, a suspension of the rules would have meant the bill couldn't be amended or debated. "Democratic," huh?)
Why was this bill so lousy for the average American? For starters, it would have let banks keep collaterized loan obligations (CLOs) for two more years, in essence gutting the Volker rule that made it illegal for banks to gamble their depositors' money on risky securities trades. CLOs are similar to those pooled mortgages that proved worthless and helped destroy our economy. It's estimated that about 95 percent of those CLOs are held by banks with at least $50 billion in assets. (Can anyone say, "Too big to fail"?)
Lest we think this is the first try at undoing the regulation of giant banks following the crash of 2008-2009, most Americans don't realize that the omnibus budget bill passed in the last days of the previous Congress (when Democrats still controlled the Senate) allowed subsidized derivatives, the very things that formed the heart of the credit collapse in 2008. That trick allows big banks to keep borrowing from the Fed to finance such derivatives. This latest attempt was simply trying to put more nails in the coffin of financial reform and regulation.
GOPers even had a provision in their poison-to-the-consumer bill that would have enabled large corporation to stop releasing their annual reports in computer-friendly formats, thus making it more difficult for prospective investors to make informed judgments about whether to invest in them or not. Now to my main question: Why did Gerry Connolly (D-11) and Don Beyer (D-8) vote with the Republicans? I thoroughly enjoyed today's column in the
Roanoke Times
by that curmudgeon, columnist Dan Casey, whose writing is the best thing about the Times these days. Casey discussed something that should be reported by every media outlet in the state as part of the coverage of the gross embarrassment that is the Bob and Maureen McDonnell trial. Casey decided to tackle one simple question: Could another state office holder cause another corrupt mess like this one, while supposedly following the new 2014 Virginia ethics law? His answer, after reading the entire text of the new "ethics law," is a resounding, "Yes." As Casey stated, the new law has so many loopholes that a person could "drive trucks of Rolexes right through them."
Item by item, Casey shows how all the stuff that Bob and Maureen McDonnell got as the "quid" part of their quid pro quo would be perfectly legal under the empty law the General Assembly had the gall to pass in the last session. For example:
The $6,500 Rolex watch? While the new law forbids tangible gifts worth more than $250, the limitation applies only to lobbyists or businesspeople doing business with the state. Jonnie Williams was neither at the time. He just wanted McDonnell to use the influence Bob and Maureen were happy to peddle to promote his dubious product, a health supplement made from tobacco. There's another loophole in the law for unlimited gifts from "personal friends," so all Bob McDonnell would have had to do was to say that Williams was his buddy. (By the way, that was part of the defense at the trial. The catch there was the testimony of Williams that the whole relationship was strictly "business as usual.") Republican State Sen. Bill Stanley (20th) isn't going to get a free ride in next year's General Assembly elections.
Democrat Kim Adkins
, the mayor of Martinsville, has announced her candidacy. When I spoke to Adkins recently, she talked of the need to build a strong grassroots campaign in order to beat Stanley and the importance of starting her campaign early, noting that the district is quite large and diverse.
Adkins said, "I want to have time to introduce myself to people and to build relationships. That takes lots of time and effort." She also noted that she has had success in raising campaign funds so far, outraising Stanley in the last quarter. Adkins has also been endorsed by former Sen. Roscoe Reynolds.
Former president of the Martinsville-Henry County Chamber of Commerce and owner of a public relations and marketing company, Adkins was elected to the Martinsville City Council in 2010 and was named mayor by the council. She was re-elected mayor in 2013. She is a supporter of Medicaid expansion, since almost 16,000 people in the 20th District would qualify for medical insurance if the legislature passed Marketplace Virginia. "The state should be a partner in this, not the problem," Adkins said. "Our current senator, Bill Stanley, has been a part of the problem, and I want to change that."
Stanley authored the amendment to the state budget that denied Gov. Terry McAuliffe a chance to expand Medicaid without a vote of the General Assembly. That amendment passed the State Senate by 20-19, following the sudden, very questionable resignation of Democrat Phil Puckett, an act that threw control of the chamber to the GOP.
Adkins is married to Jeff Adkins, the basketball coach at Martinsville High School, and is the mother of two children. Several days ago, the three Republican congressman who "represent" the western half of the state made
news
when they appealed to the Postal Service not to close Roanoke's regional mail sorting station. It makes good sense not to close that station. The closure would cause 400 postal workers to lose their jobs. Mail destined for southwest Virginia would have to be shipped to Greensboro NC to be sorted and then trucked back to Virginia. However, perhaps those same Republicans should tell citizens exactly why the Postal Service is in such dire fiscal straits that it has to consider draconian measures that would otherwise make no sense.
Bob Goodlatte (R-6th) was a member of Congress in 2006 when both houses, which were under Republican control, passed the Postal Accountability and Enhancement Act (PAEA). Under that bill, the Postal Service is the only agency of the government that is required to pre-pay future health benefits to retirees and all future pension costs for the next 75 years, and they have to do that in 10 years! That bill totals $103.7 billion. That means they're not just paying for present employees who will retire in the future, but they are also being required to pay for possible future employees before they actually hire them. Plus, none of this money can be used for benefits for employees who are now retired. Oh, no. That additional money also has to be paid by the Postal Service now.
Not only is no government agency or entity required to meet such draconian requirements. No private company is, either. So, the questions I have are these: Who thought up this idea that is guaranteed to bankrupt the Postal Service? Why and how was this law passed? The answers are pretty bad. What a surprise awaited me today when I read in the
Augusta Free Press
that Marshall Pattie, assistant professor of management at JMU, is announcing his intention today to challenge Emmett Hanger for the Republican nomination in the 24th State Senate District. What amazed me so much? Well, for starters, Pattie was chair of the Augusta County Democratic Committee until 2011, when he resigned to run successfully as an independent in a three-way race for a seat on the Augusta County Board of Supervisors.
I distinctly remember when a much younger and less conflicted Marshall Pattie, just returned to Virginia after finishing his education, appeared before the 6th Congressional Democratic Committee to express his interest in running against Bob Goodlatte for Congress. Then, he seemed to have no problem with running as a Democrat. As I recall, he quickly lost interest when it was pointed out to him that, as an untenured instructor at JMU, his superiors would not look too kindly on his taking off from his teaching duties the amount of time required for a congressional run.
Pattie's "conversion" from activist Democratic leader in Augusta to independent county board member to full-fledged GOPer ready to challenge an incumbent first elected in 1996 must have heads spinning, to say nothing of the difficulty of explaining his "road to Damascus right-wing redemption" to the Republican voters of Augusta County and beyond. (However, Pattie certainly was massaging Republicans at the Staunton-Waynesboro-Augusta County party to "celebrate" the victory of Mitt Romney over President Obama...snark. The photo above shows Pattie glad-handing former Lt. Gov. Bill Bolling before the GOP tears began flowing as Romney and Allen went down in defeat.) (Note: It has been pointed out to me that the photo that accompanies this post was taken by Lynn Mitchell at the 2012 SWAC breakfast, where Bill Bolling was guest speaker, not at the time of the 2012 election.)
As far as I am concerned, I wish Emmett Hanger the very best of luck in his primary, not because I like Hanger or his political views, but because I have nothing but contempt for people like Marshall Pattie who have only one political stance: a desire for power befitting their overweening ego. (Note: The information below is simply a rumor I have heard. It hasn't been verified, but it's interesting, nonetheless.)
Many of us have been wondering just what the DPVA will look like and how it will be functioning as we approach the November 2014 elections for the House of Representatives and the re-election of Sen. Mark Warner, given the resignations of the Executive Director, the Political Director, and the Chair. As you know, Charniele Herring is resigning to run for the 8th District seat being vacated by Jim Moran. That leaves a vacancy that needs to be filled as soon as possible, so that the DPVA can hire staff, especially a new Executive Director.
I have heard that Del. Herring will continue to see that the Chair's duties are fulfilled, pending the election of a new Chair at the March Central Committee meeting. I also have heard that the selection of a new ED will be done by the incoming Chair with Steering Committee approval, which makes much more sense than Del. Herring selecting the ED.
Perhaps the best news I have gotten, if it is accurate, is that the election of the Chair is open at present, not a "done deal" as has been the practice so often in the past. So, if that is true, who would you like to see as the next Chair of the DPVA? One name occurred to me - Aneesh Chopra. Any other ideas? Today is the moment of truth, when we find out if Democrat Sam Rasoul holds on to the seat suddenly vacated by Onzlee Ware after the November election. According to the
Roanoke Times
, of the $121,000 raised by Republican Octavia Johnson, $105,000 came from Bill Howell's Dominion Leadership PAC. (Oddly, Johnson has reported spending only $73,000 of her Howell largesse.) Sam Rasoul has raised $108,000 from many donors and has spent down that war chest. Howell's PAC money has been used to fund multiple, mud-slinging mailings for Johnson, as well as robocalls to voters. One such mailing attacking Rasoul even used a photo of him taken by Valerie Garner, publisher of the Roanoke Free Press web newspaper, without asking her permission. Garner, a strong supporter of Sam Rasoul, is understandably very angry.
To me, the infusion of Howell money and desperate campaigning by Rep. Bob Goodlatte on behalf of Johnson are attempts to get bragging rights by picking up the last delegate seat in SW Virginia held by a Democrat. I don't think they actually sense a victory in the making, but with special election turnout, the investment seems worth it to them. Today is the moment of truth for Roanoke Democrats to see if they can get their voters to the polls on the coldest day so far this winter. If they do, Sam Rasoul is the next representative in the 11th District. If not, then a candidate who refused to debate or to state her positions on any issues - or to actually campaign for the office - will end up as just one more vote in the pocket of Bill Howell.
I'll head to a Rasoul victory party tonight and will report here any results I can get.