The following screenshot of a Facebook post by Rep. Morgan Griffith (R-VA09) epitomizes so much that's wrong with the hypocritical, hurt-their-own-people-and-then-pretend-it-never-happened Republicans. In Griffith's...
I live in a bubble. It's a lovely little bubble in Northern Virginia. Sure, I have problems--my kids' college is expensive, my Metro commute...
by Dan Sullivan The attacks on Medicaid expansion have begun and will intensify as the General Assembly session gets underway. We should wait, they argue, until Medicaid...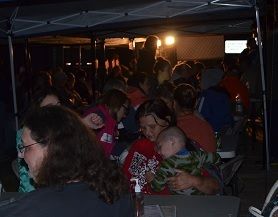 A week ago this morning I visited with a film crew from South Korea working just outside of Jonesville, Virginia. No, they weren't casting a movie. They were filming a video appeal to Samsung's worldwide employees for contributions to help Americans without access to health care. Thankful, Virginia Delegates?
The day prior, a German television news team was on set at this Remote Area Medical clinic capturing the essence of what American political arrogance delivers our least fortunate. So the young South Korean and I traded our stories. I knew a Korea he had never experienced, him being born after my first foray to outposts along a tense Demilitarized Zone. He knows an America that can't exist in his own nation where there is universal health care; an America you won't hear honestly debated by Virginia Republicans or their Presidential pretenders.
Incumbent Delegate Terry Kilgore (R-Scott), running for reelection unopposed with over a quarter million dollars in his campaign coffers, failed to drop by to thank his constituents' benefactors for delivering the health care that his Party's policies have denied them. Maybe he is saving the funds to pay for a flight to Inchon so he can meet the Samsung executives personally.
The sparsely used and essentially vacant Lee County Airport terminal had been transformed the Friday prior into a health facility; every nook and cranny was claimed. The expeditionary nature of the organization Stan Brock leads leverages volunteers to construct tents, unload and arrange equipment, and prepare for two days of service. Last year, players from the Lee High School football team provided the bulk of muscle required. But this year the Generals had a game on set up day; local churches rounded up some help. A group of students from James Madison University's (JMU) Department of Social Work, led by their mentor, Dr. Laura Hunt Trull, pitched in both days of the clinic. And there were the cats and dogs like me.
Though the clinic in Wise is Virginia's anchor, it is only one of four this year; even more in the future if Dr. Vicky Weiss has her way. This weekend's iteration drew attention for a drone demonstration but the primary purpose remained providing care to persons with limited access to health care.
The need is underlined by the flood of participants at every event. Here you see the very last open space in the parking area of the Wise County Fair Grounds being filled just as the gates opened yesterday for this weekend's clinic. The first arrival had been at around 2pm Wednesday, two days before. By 9pm Thursday there were some 800 staged with tickets in hand; at 4:30am Friday over 1,250. By noon the equivalent of about half the population of Wise had passed through the gates for care.
Remote Area Medical (RAM) was initiated by its founder, Stan Brock, to provide service to the world's inaccessible areas. Upon the realization that barriers to access are not just geographical, he began delivery of care to rural and underserved populations in the United States; eventually into urban centers. Now more than 90% of RAM operations are within the United States.
RAM of Virginia was launched in April 2014 on the steps of the state's Capitol Building to alleviate the growing need of affordable health care for thousands of underserved Virginians. Headed by Dr. Victoria Molnar Weiss, the affiliate hopes to expand its operations to host many mobile clinics throughout the state yearly.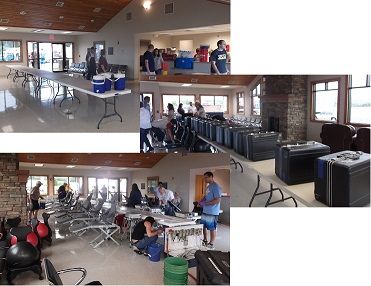 There's always a story behind the story and sometimes one belies the other.
Remote Area Medical (RAM)
is a godsend; make no mistake about it. But like any private sector organization, the transparency or accountability we demand from government is not always evident. Today's "conservatives" would never acknowledge that.
Watching and taking part in the transformation of a rural air terminal into expeditionary specialty clinics, dental and vision, is not an immersion in military precision. It almost can't be when much of the labor is borrowed. The effort resulting when organization is flattened results in stove-piping. The raw volunteers care about pitching in and recognize the limits of their ability to contribute to technical assembly of the equipment. There are enough seasoned volunteers that as long as the boxes and bags are lined up at their assigned places, they can readily and efficiently assemble and order materials; in their areas. The lack of organization and efficiency among the unguided volunteers is more than compensated for by their numbers and camaraderie. From pitching tents (probably the most organized effort), to setting up tables and chairs, to moving crates and boxes, the unbridled activity ends in mission accomplishment.
This is at the tactical delivery end. Strategically there is always another view that is masked by the appearance if not the reality of good intentions. My father had no time for the American Red Cross. After raging battles on isolated Pacific islands during World War II, the Red Cross sold donuts to the Marines and sailors ashore; the Salvation Army was there handing out goods gratis. Guess which organization he favored. My wife cannot turn down a request for a donation from Saint Jude's in Memphis despite having no clue who Danny Thomas was; it's those children. On the other hand, when I see anyone collecting donations to benefit our military service members or veterans, I challenge their credentials on the spot. I wasn't as discerning with RAM until I saw the DC-47 (a WWII DC-3 configuration) touch down in Lee County. After all, RAM had been endorsed via association by both of Virginia's United States Senators, our current Governor, and General Assembly members from both sides of the aisle.
Spending just moments with Dr. Joseph Smiddy is a cascade of chilling water for those claiming faith in the American health care system. What a lot of people proclaim as the best medical system in the world isn't delivering for many with the greatest need right here in Virginia.
"It's not just that they can't afford any sort of insurance that might be available to them under the Affordable Care Act. It's that this is a horribly underserved region in terms of medical resources." - Henry Schuster, 60 Minutes producer (at 3:17)
Organizers of an expeditionary Remote Area Medical (RAM) clinic just outside of Jonesville, Virginia expect something on the order of 600 patients today and tomorrow. This is the first of this kind of event in Lee County, set up in and around the airport that sits further west than Columbus, Ohio and Detroit, Michigan, far removed from Richmond. Sadly, this constitutes primary care for many residents. When I arrived yesterday as a volunteer, 22 hours before the first patient would be seen, there were already three carloads of people lined up to ensure they could get one of the specialty services. They know the routine.
Somehow Delegate Terry Kilgore (R-Gate City) avoids discerning scrutiny from his constituency. Even with all that tobacco money he is bringing home, many of those living in Virginia's poorest county rely upon the generosity of others for any health care at all. The county's only hospital closed about a year ago.
On September 30, 2013, the Lee Regional Medical Center closed its doors after serving the community for 70 years. With the loss of jobs and decreased access to medical care, the residents of Lee County have been deeply impacted by the hospital's closure. - Lee County Hospital Authority Tonight Senator Tim Kaine will join Stan Brock, the founder of
Remote Area Medical
, in the United States Capitol Visitor Center Orientation Center - North for a documentary film presentation. The event begins with a "light reception" at 6:00 PM; concludes with a Q & A session with both men.
Click the photograph to embiggen for details. This is an outstanding opportunity to learn about this amazing effort that began with an Appalachia focus but has expanded country-wide and will include a clinic in New York City this fall. This weekend there will be a clinic in Jonesville, Virginia. Note that there is a request for RSVP (Kate.M.Patterson@gmail.com). This is an outstanding opportunity to learn more about Brock's organization and hear our Senator's views about providing healthcare in America.
Stan Brock, co-star of Mutual of Omaha's Wild Kingdom, drew over 30 million viewers every week as he invited them on adventures around the world. Now Stan, as the founder and president of Remote Area Medical, invites you on a new adventure. Share in the mission to prevent pain and alleviate suffering by providing free quality healthcare to those in need.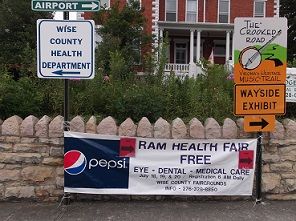 It is been called a field hospital, but really isn't. There is some minor surgery, mostly dental, but most care falls into more clinical than surgical. An impressive endeavor in any case and outclasses any medical or dental activity the U.S. military routinely provides overseas. That was striking.
Odd what catches one's attention. The nice tents and orderly processes were expected. What caught my eye was the condition of the Wise County Fairgrounds as the Remote Area Medical (RAM) effort came to an end. The clients left the grounds far tidier than I would have ever expected. In fact, quite clean. A sign of respect? Or just the nature of people in this part of Virginia. Everywhere you go people are friendlier and more open to strangers than in more urban areas.
At the close of this RAM I was told that the last count at mid-morning had been 2,700 and that the total was likely near last year's 3,000 treated. The numbers are misleading. At every RAM, people are turned away and there is no accurate count of those. If the capacity supported more, the numbers would have some meaning. What is clear is that demand is growing either from awareness or economic conditions.
What I didn't know is that Wise is just one of three clinics that RAM has organized in far Southwest Virginia this year. Next: Jonesville, Virginia; 13 - 14 September. Then: Grundy, Virginia; 4 - 5 October. What I didn't expect was the efficiency of the breakdown of the camp. I now want to take part in and watch the arrival and assembly. For those who want to volunteer, information is available at the RAM website. Note that you should register early as registration can close; it closed a month before the clinic in Wise.
Another thing I didn't realize: the State Fairgrounds at the center of Oklahoma City, The Seattle Center in, of course, Seattle, and the Manhattan Convention Center in New York City now qualify as "remote." New York City! Clinics will be held at those locations in August, October, and November respectively. What does this say about health care in the United States? I am not really sure other than something is amiss. I know, that's a lame attempt at a title. I struggle for something meaningful.
I am exhausted, drained, dehydrated, and sunburned. And exhilarated, satisfied that today I did some things good.
I arrived at the site a 5:30 AM. Some of the volunteers had already been there for more than an hour. We began seeing people in triage at 6 AM. We were still finishing up near 7 PM.
I will try to give a sense of the day, although I fear that as I could not find words for the title, my command of language is insufficient to fully explain. And I chose not to take pictures.
Please join me as I describe our first full day at the 2010 Remote Area Medical - Mission of Mercy free health and dental mission in Wise VA.