Check out the following press release from Gov. Northam's office, as well as video of his announcement a little while ago... Governor Northam Announces Amazon...
From the Democratic Party of Virginia: Ahead of Mike Pence's Virginia Beach Visit, A Refresher On How The Trump/Pence Administration Has Failed Hampton Roads  RICHMOND, VA...
By Josh Stanfield of Activate Virginia If you've been to the Chesapeake Democratic Committee's website anytime over the past two weeks, you've been greeted with...
You don't have to be that old to remember when fishing in Virginia meant searching for a body of water rod and reel in...
See below for video of today's "Ask the Governor" appearance by Gov. Northam on WTOP, as well as my comments/"live blog." Also note that...
Thank God for climate change deniers. They may eventually be the only buyers for shorefront real estate.
Sea level rise may not cause widespread flooding until later in this century or into the next one, but real estate deals involve long timelines: the useful life of a new house or a commercial building can be at least fifty years, while an infrastructure project might last a hundred years or more.
And of course, it's one thing to lose your house, and another to lose the ground beneath it. Sea level rise means low-lying real estate now comes with an expiration date.
So smart buyers-and landowners-have to consider not just today's flood maps, but also ones that haven't been drawn yet. If a rising sea will threaten property some decades from now, it will depreciate over time, like a car. At some point only chumps and climate deniers will buy.
Head-in-the-sand posturing still dominates the headlines, like Florida Governor Rick Scott's alleged ban on the use of the term "climate change," or the North Carolina legislature's silly (and costly) attempt to legislate sea level rise out of existence. Now the Federal Emergency Management Agency (FEMA) hopes to force states to get serious about climate change by requiring states to do a better job planning for natural disasters caused in part by global warming. FEMA's goal is to save money through better planning, but conservatives have attacked the requirement as politically motivated.
Meanwhile, however, many states and localities have already begun using sea level rise forecasting in their planning. The projections will help land use planners determine not just where to allow growth, but also where to defend existing development against the incursion of the sea, and where the wiser course is to retreat. And of course, the studies should inform the decisions of anyone thinking of buying property on the coast.
Two recent studies provide a picture of sea level rise in Virginia. The Virginia Institute of Marine Science (VIMS) issued its report in January 2013, titled Recurrent Flooding Study for Tidewater Virginia. Building on that study and others, on March 10 of this year the Sierra Club released Sea Level Rise: What Should Virginia Plan For?
Both studies agree on some pretty sobering numbers. By the end of this century, the sea level in Norfolk, Virginia, is projected to be 3.6-5 feet above the level in 1992. By that point, the sea will be rising more than half a foot per decade. The numbers are higher for Virginia than for many states, in part because the land around Hampton Roads is also sinking at a rate of about one foot per century.
Although Hampton Roads gets most of the media attention, sea level rise threatens the entire Virginia coastline and the tidal portions of rivers, including the Potomac River all the way up to Alexandria and Washington, D.C. A whole lot of people should be consulting topographic maps before they make their next real estate decision.
"We've now reached the point where mankind is controlling the climate of the planet," said senior NASA scientist Bruce Wielicki at the Langley Research Center in Hamtpon, Virginia. Wielicki's quote reads like a line from a science fiction movie, one that doesn't end well for the human race.
Wielicki's comment came in response to the recently released National Climate Assessment (NCA) report outlining, among other things, some of the negative consequences for Virginia, including: disease; more soaking rains; droughts; floods; stronger hurricanes; warmer temperatures and the risk for greater mental health related incidents. If you're not depressed by now, you should be.
The NCA report also stated unequivocally what many of us already suspected: the effects of climate change are NOT distant threats, they're here now and they're effecting us now.
A quick look at the Natural Resources Defense Council's "Extreme Weather Map 2012" shows in unmistakable detail the toll that climate change has taken on America. And of course, this could be just the beginning of a beautifully horrific narrative of extreme weather event after extreme weather event ravaging America.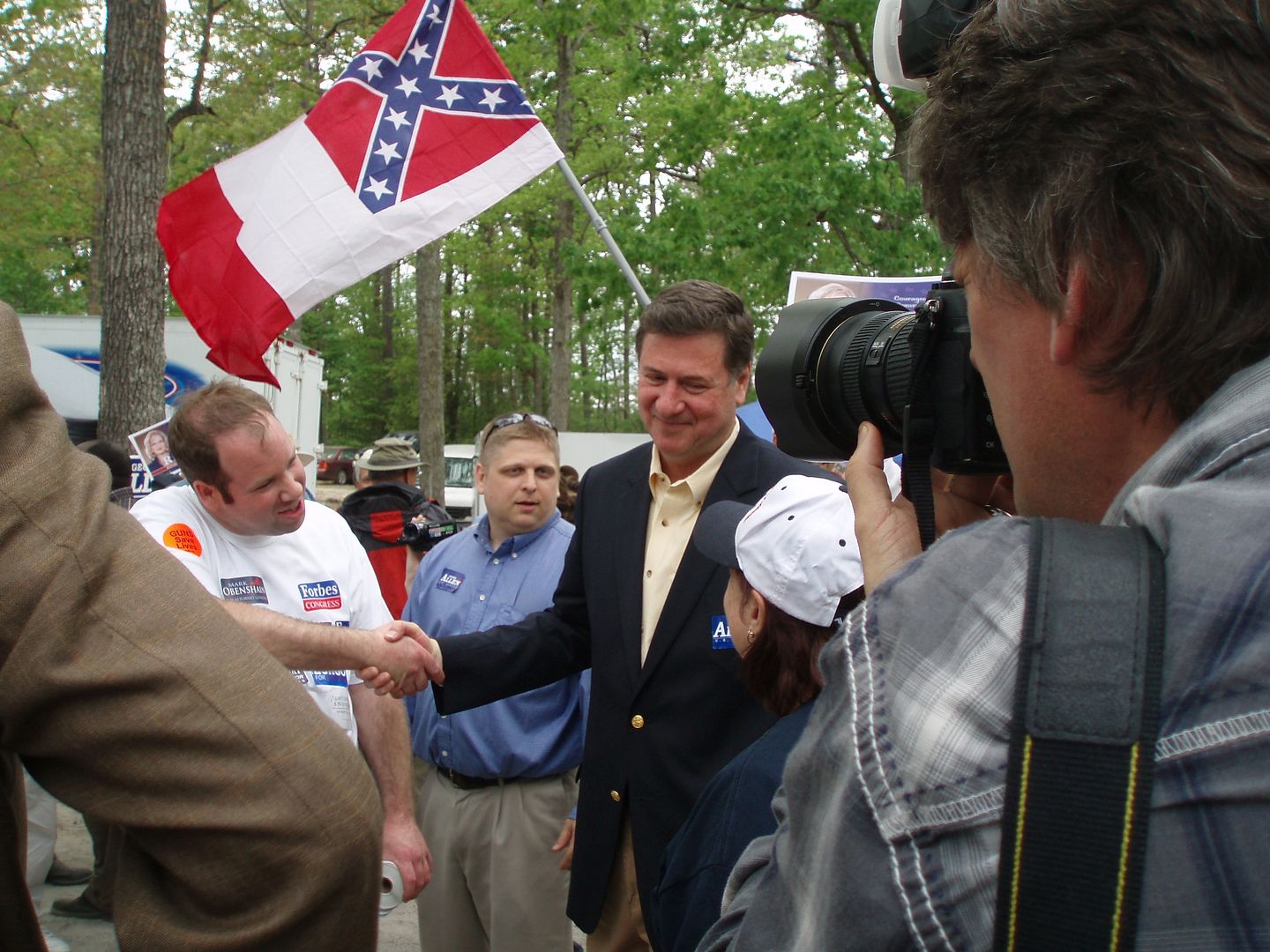 It's been six years since George Allen, then a Presidential pretender, has accepted an appearance on
WNIS
. On that occasion, Allen responded to a pointed question from morning show host
Tony Macrini
, "Tony, it's too early in the morning to answer that." Today, he will be on with Dave Parker.
Macrini: "Then maybe it's too early in the morning for you to be President."
Hampton Roads has become reliably Republican and is essential to an Allen victory. This may explain Allen's change of heart. The Norfolk station airs the Dave Parker show from 10 AM to noon weekdays and is broadcast live (though sometimes lagging) via the internet. Generally, the hosts on WNIS encourage their audiences to participate by calling in or submitting questions via E-mail. It will be interesting to see how Allen's handlers negotiate the interview.
Studio: (757) 627-7979
Dave Parker: dparker@wnis.com
Update: In Parker's intro, he announced that since he invited Allen on the show today, there would be no questions, Allen would be allowed to discuss his campaign, and that he (Parker) would give Kaine the same opportunity in the future.
Sea levels have already risen 8 inches since 1880 and thanks to global warming are forecast to rise
at least several more feet
in the lifetime of a child born today. A new study from Climate Central takes a look at what that means for people who live on
America's coasts
:
The studies look at people who live in homes within three feet of high tide, whereas old studies looked just at elevation above sea level, according to work published in the peer-reviewed journal Environmental Research and an accompanying report by Climate Central.

That's an important distinction because using high tide is more accurate for flooding impacts, said study co-author Jonathan Overpeck, a scientist at the University of Arizona's Institute of the Environment. And when the new way of looking at risk is factored in, the outlook looks worse, Overpeck said.

"It's shocking to see how large the impacts could be, particularly in southern Florida and Louisiana, but much of the coastal U.S. will share in the serious pain," Overpeck said.
And what about here in Virginia? I entered a very modest number - three feet of sea level rise, storm surge & tide - into the ClimateCentral.org model & here's what I got:
A
new report
takes a closer look at which cities will be hurt by global warming-fueled sea level rise. As Brad Plumer reports,
Virginia is in the climate crisis crosshairs
:
Things don't look good for India. But the United States doesn't get off easy, either. If you look at exposed assets rather than total population, then Miami, New York-Newark, New Orleans and Virginia Beach all climb higher on the list, with $7 trillion in assets vulnerable to severe coastal flooding by 2070. [...]

Take Miami. A three-foot sea-level rise, experts have noted, would likely put all of Miami Beach underwater and turn downtown Miami into an island, channeled off from the rest of Florida. Yet the state isn't doing all that much to prepare for this eventuality. Instead, it's racing to subsidize new developments along the coasts, through state-run insurance and funding for coastal protection. By contrast, cities such as London and Amsterdam are taking more prudent steps to guard against future flooding - and, as the OECD report notes, are likely to cope with sea-level rise better.

That's not an isolated case. In general, the United States has been slow in preparing for rising sea levels. In many cases, we're actively making things worse, as Steve Nash laid out in this excellent article in the New Republic. This is one area in particular where climate-change denial can do a lot of damage - it's awfully hard to prepare for a problem that no one can agree even exists.
So we're not doing climate mitigation, like cutting carbon pollution. And as an event just last month at NASA's Langley Center in Hampton pointed out,
we're not doing climate adaptation
, either, like coastal restoration & limiting development in areas just above sea level.
Basically, if you were consciously trying to leave the worst possible situation for the next generation, you'd be doing exactly what people like Gov. Bob McDonnell are doing now - deny the problem & delay solutions
. And note the 2070 date - we're no longer talking about forecast impacts on some future generation, but real changes happening within the lifetimes of the children in your family right now. Amazing that the same people who profess such a concern with our budgetary national debt have no qualms about leaving our kids stuck with a
multi-trillion-dollar climate liability
.