Sponsored Content By Amato Sanita, a criminal defense attorney in Bucks County, Pennsylvania. He practices in state and federal courts. Virginians will soon see some changes, as antiquated...
Here's a link to SB 41 ("Religious freedom; marriage solemnization, participation, and beliefs."). Unfortunately, this odious bill passed the Virginia House of Delegates (59-38)...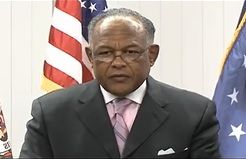 Or agree to resign as Chair either if the
federal appeals court overturns Judge Wright Allen
in Bostic v. Rainey (and/or the Harris case) or if the federal court ruling is appealed to the Supreme Court. In the unlikely case where the ruling is upheld and not appealed, stay on.
Citing an order by the U.S. Supreme Court to halt same-sex marriages in Utah as a federal court ruling allowing them is pending appeal, Brown said "the stay gives us hope that it will be overturned" and that "it is not all lost." - reported in the Richmond Times Dispatch
Come May, there is small doubt that the Democratic Party of Virginia (DPVA) will be called upon for a strong statement of support for same-sex rights. A Party Chair whose views are "evolving" won't carry that water. The Chair must be as dedicated to same-sex equity as those who have vowed to continue the fight against it.
Or, lie. Say you genuinely support marriage equality. You have to decide whether being a hypocrite or a liar is the greater sin; clearly you have to commit one. You do have some experience which will inform your choice. You didn't bat an eye when you spun a tale of success regarding the training camp blunder.
Your choice. But "evolving" isn't leading; it's following. The DPVA deserves a leader who can be honest about where the Party is, be certain where it should go, and be able to deliver tangible results.
Tuesday, 18 February, Cathy Lewis's
HearSay from the Headlines
segment will feature a live discussion about U.S. District Judge Arenda Wright Allen's ruling that the Virginia same-sex marriage ban is unconstitutional. Guests on the noontime show will include Norfolk plaintiffs Timothy Bostic and Tony London.
WHRV is available online and over the air in Hampton Roads at 89.5 FM. Listeners can join the discussion calling in live (locally) at 440-2665 or 1-800-940-2240. You may also post your questions on the HearSay Facebook page or email your questions in advance to HearSay@whrv.org. The litigants in Norfolk are same-sex couples, but in the end the discrimination will result in inequitable application of the law that places many opposite-sex couples at a financial disadvantage. Such will be the consequence of the twisted effort by Virginia homophobes to socially engineer human behavior by unconstitutional edict.
For all the whining about Attorney General Herring's position regarding defense of a patently unconstitutional scar on the Virginia Constitution, he never mitigated enforcement. Not one single same-sex couple has been issued a marriage license in Virginia while we wait for the law to be struck. The opinions of both his predecessors regarding the effects of the law remain in force; for now. But consider this. When the marriages of same-sex couples are inevitably recognized in Virginia, those couples will have an option that other married couples will not: filing their Virginia income tax returns with the most advantageous filing status.
Based upon an opinion by then Attorney General McDonnell and guidance from former Attorney General Ken Cuccinelli, the Virginia Department of Taxation does not allow same-sex married couples to file joint income tax returns even though they must use the status on their federal tax returns. Everyone else must. What was (and currently remains) an undue burden on same-sex couples (the requirement to construct fictional federal income tax returns to calculate Virginia income taxes) transforms to an advantage; consistent with federal policy after the Supreme Court DOMA decision, married same-sex couples will likely be allowed to choose the filing status that is to their advantage for the years when they were prohibited from using a married filing status.
So my advice to Virginia's married same-sex couples: if filing using a status other than married is to your tax advantage, file this year's return soon, before the stay on yesterday's ruling is removed; after that, you'll be like everyone else. Then for the three years prior to this, recalculate your Virginia tax returns to determine if you should file amendments, in the same way you should have with your federal returns last year. How the Department of Taxation will handle these amendments could be a bit more complicated, so stand by for guidance.
For other married couples, you just won't have equal treatment under the law. You might want to send the bill to Senators Marshall and Newman who spearheaded the amendment or those George Allen strategists who supported it in an underhanded effort to save his bacon.
Should all of us who oppose the Marshall-Newman amendment, which outlaws gay marriage in Virginia, be rooting for opponents of California's Prop 8 to appeal to the Supreme Court? According to
evangelical opponents of gay marriage
, yes we should!
Last week, the case for signing over California to the Prince of Darkness was made on American Family Radio by David Barton, a Christian activist who served as vice-chairman of the Texas Republican Party from 1998 to 2006. "Right now, the damage is limited to California only," Barton noted. But he feared that Supreme Court Justice Anthony Kennedy, the swing vote in an appeal, "will go for California, which means that all 31 states [that have banned gay marriage] will go down in flames."
Ah, flames...warm, toasty flames! Ha. Seriously, though, if Barton's right that "the odds are 999 out of 1000 that [the Supreme Court will] uphold the California decision [striking down Proposition 8]," then I'm all for it going to the Supreme Court. The question is, are those really the odds? That's what I'm not so sure about, but ultimately, it might be a risk worth taking to get rid of Marshall-Newman and its fellow "hate amendments" in states across America.