From Susan Platt's "It's Just Good Business," which argues that "supporting equality for women is just good business." Rachel Martin, owner and vintner of San...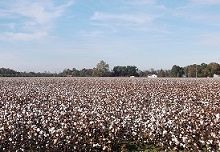 While Virginia exports of agricultural and forestry products approaching
$3 billion last year
is impressive, there is a downside. To a large extent, it is a function of geography and climate. Virginia has not positioned itself to take advantage of the bountiful harvest. Much more impressive would be sustainable jobs.
Bob McDonnell didn't make this happen under his watch. The convergence of conditions, largely out of human hands, did. And though you can claim that there is some correlation between this outcome and jobs, any additional employment is at the margin and highly susceptible to the vagaries of weather. So this is a moment when another man who told us he had a jobs plan, Governor McAuliffe, can step forward to show the world how to turn this advantage into something that can shield the state in the lean years.
As long as these products are shipped off to other places to be processed, ignoring the potential benefit resulting from jobs that are immune to weather, this portion of the economy will remain as vulnerable as any backwater that is content with shipping off raw materials for processing until they are exhausted. And then what?
It is the transformation of raw materials that creates wealth. In Virginia some of this does occur; sometimes due to force of circumstance. Hams keep and ship over long distances better than pigs, for instance. The grapes that we harvest are generally economical to grow because they reap a premium when transformed into wine. But we should not be satisfied when so much of the raw agricultural and forestry production in Virginia goes off to other lands where labor is rewarded for the potential that is unlocked there.
Production of end-products is not dependent upon Virginia agricultural conditions. If Virginia has a bad harvest as a result of drought or pestilence or whatever, there's always someplace else to find raw materials. If transformation of raw materials happens to be in Virginia, then the port continues to operate (and is potentially busier with the import of materials) and end product continues to be produced and sold. We are positioned to assist the sectors which are suffering misfortune to sustain them for the future good years.
So let's learn from this moment. We should all look forward to initiatives coming out of the McAuliffe administration that will leverage our great agricultural and forestry fortune. It certainly didn't happen under the other jobs governor.
Without gifts from the Governor or a phone call while he was in town, they're still here. McDonnell's European itinerary ignored business partners. Apparently his concept of trade is soybeans, timber, and wine in exchange for German autos. Potentially a long-term barter arrangement is in the cards; never industrial expansion.
Bent on turning Virginia into an agrarian backwater where oversimplified mantras can survive in the protective bubble of isolation, Governor McDonnell continues to push products for which there is plenty of demand and very little justification or opportunity for increased production. And even if the demand justifies expansion, the number of middle class jobs that could be created remains at the margin. Raw materials rather than manufactured goods seem to be the order of the day...skipping the entrepreneur and any hope of value added. See McAuliffe's efforts to turn raw timber into finished, high demand wood pellets.
The global warming-fueled heat wave that's
gripped much of America
this month may be good news for March picnics, but it's terrible for Virginia wine lovers.
Wine grape vines are already waking up
, posing a twofold threat - hotter temperatures can mean less flavorful wine, and a sudden frost could devastate the crop:
Workers at Tomahawk Mill Winery in Chatham are certainly concerned. They say they are usually working in the cold right now wearing two pairs of socks and gloves. But while it's nice to work in this weather, the grapes don't like it one bit.

Corky Medaglia, owner of Tomahawk Mill Winery, always says: "When God gives you lemons you make lemonade. And when God gives you grapes, you make wine."

But within his 17 years working the vineyards, he has never seen a winter like this one. "Sap is coming up because the temperatures are going up. And this guy thinks it's spring time," said Medaglia.
Meteorologists say there's a 50/50 chance of a surprise frost. And looking ahead, hotter summers are no kinder to wine grapes - when temperatures top 95 degrees, the vine's respiration system can shut down. (To be clear, the photo with this story is from 2007, not a photo of what the grapes look like right now.)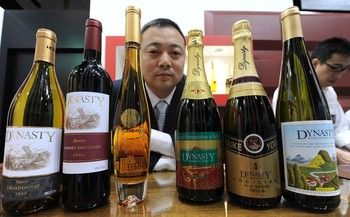 Even being
handed a smoking gun
, the McDonnell administration managed nothing more than to hedge a bet.
Jim Cheng
made a veiled effort to position the administration so it could claim participation and credit or maintain credible deniability for Waynesboro's overseas trade venture. Governor McDonnell's team just don't hunt.
"The secretary of trade [Jim Cheng] wants to hold a meeting after I get back to discuss future development of the foreign trade zone and what we're doing here." - Waynesboro councilman Mike Harris to The News Virginian
It isn't American economic development China is after, nor should it be. It's about business and national interests: concepts well beyond the scope of the Bob McDonnell team's skill set (see: ABC Privatization, VRS funding, and the soon to be nostalgic AAA bond rating). By the way, the hunt would have taken only a few keystrokes or a call to, heaven forbid, a scholar at the University of Virginia. Why didn't Cheng know that Hong Kong is positioned as a primary arbiter for wine imports to mainland China? That China is already a domestic wine producer and intends to become a major exporter (Great Wall Wine Company and others already export worldwide). That the Chinese domestic competition sells a mid-range wine for about $5.45 a bottle but export quality is fetching $30 to $45 per bottle in Hong Kong (all USD). That this may be an effort at import/export arbitrage; that we might leverage that margin to our advantage. We shouldn't give away the vineyard for a short term gain or potential near-term boom and the inevitable long-term disappointment. But Cheng was not so forthcoming.
"In terms of overall growth in demand for wine in China over the next 10 years, China will become both a massive producer and a massive importer of wine," says Don St Pierre, head of ASC, the Chinese wine importer and distributor acquired by Japanese drinks giant Suntory in 2009.
Wine has suffered the same trials as any number of other Chinese products. Excessive levels of ethanol and chemical additives have resulted in safety concerns and recalls. Virginia winery best practices may be the object of Chinese attention rather than the wines that are being produced in our region. Or it could be something entirely different. One thing is certain: China is not footing the bill for the Waynesboro councilman's journey without an anticipated return on investment. Another thing is certain: Governor McDonnell's team is out of its league. It can't even table the equivalent of a city councilman's initiative; nor, they have proven, should they. But they are happy to share anything Councilman Price may accomplish so long as there's credit to go around. They are proving how much they do love credit.