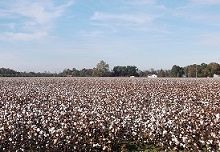 While Virginia exports of agricultural and forestry products approaching $3 billion last year is impressive, there is a downside. To a large extent, it is a function of geography and climate. Virginia has not positioned itself to take advantage of the bountiful harvest. Much more impressive would be sustainable jobs.
Bob McDonnell didn't make this happen under his watch. The convergence of conditions, largely out of human hands, did. And though you can claim that there is some correlation between this outcome and jobs, any additional employment is at the margin and highly susceptible to the vagaries of weather. So this is a moment when another man who told us he had a jobs plan, Governor McAuliffe, can step forward to show the world how to turn this advantage into something that can shield the state in the lean years.
As long as these products are shipped off to other places to be processed, ignoring the potential benefit resulting from jobs that are immune to weather, this portion of the economy will remain as vulnerable as any backwater that is content with shipping off raw materials for processing until they are exhausted. And then what?
It is the transformation of raw materials that creates wealth. In Virginia some of this does occur; sometimes due to force of circumstance. Hams keep and ship over long distances better than pigs, for instance. The grapes that we harvest are generally economical to grow because they reap a premium when transformed into wine. But we should not be satisfied when so much of the raw agricultural and forestry production in Virginia goes off to other lands where labor is rewarded for the potential that is unlocked there.
Production of end-products is not dependent upon Virginia agricultural conditions. If Virginia has a bad harvest as a result of drought or pestilence or whatever, there's always someplace else to find raw materials. If transformation of raw materials happens to be in Virginia, then the port continues to operate (and is potentially busier with the import of materials) and end product continues to be produced and sold. We are positioned to assist the sectors which are suffering misfortune to sustain them for the future good years.
So let's learn from this moment. We should all look forward to initiatives coming out of the McAuliffe administration that will leverage our great agricultural and forestry fortune. It certainly didn't happen under the other jobs governor.