 I hadn't heard smokefree advocate Brandon Bell's name since he was primaried out of office as part of a
Republican purge of moderates
in 2007. But today, Ben Tribbett reports he could be
mounting a political comeback
, considering a run for Virginia State Senate an independent:
Rumors are flying around today that Former State Senator Brandon Bell is about to become Brandon Bell, an Independent candidate to challenge incumbent GOP Senator Ralph Smith in the Senate seat based around Salem, Franklin and Roanoke.

This is a strong GOP seat, but with Botetourt taken out of the district in redistricting, it's one where Brandon Bell defeated Smith in the Republican primary four years ago (when Smith won by less than 100 votes to snatch the seat from Bell). Without a Democratic candidate running, and lots of friends on the Republican side, Bell has an excellent shot of pulling off the upset as an Independent candidate of the ultra-conservative Smith.
Given the popularity of Virginia's smoking ban in bars & restaurants (
59% of Americans
now want smoking banned in all public places), the support for clean air & public health that made Bell so unpopular in today's extremist Republican Party could make him a rock-solid centrist choice.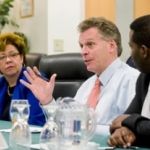 Terry McAuliffe is in perpetual motion. On a recent Saturday he swept the breadth of Virginia making four stops talking jobs, energy, and big ideas in general. If you could harness him, there'd be no energy crisis. He may never be Governor, but he's going to leave a mark.
You may or may not know, I actually ran for governor last year. I ran on a campaign of big ideas. I talked about what we should be doing: renewable energy standards, high speed rail, called to shut down every payday lending store...I am the only candidate in the history of the State of Virginia to refuse a check from Dominion Power...so I ran on big ideas and I said "if you don't like them, don't vote for me." And they didn't. - Terry McAuliffe
McAuliffe reminds his audiences that since his run for governor, among many issues, he has continued to talk about green projects; he gets laughs when he makes fun of his own affinity for chicken waste. He asks his audiences to consider why Virginia will not adopt a renewable standard and points out that Tennessee, Pennsylvania, and Maryland each recently announced thousands of jobs created in that growing sector. It is, he points out, not only a national security issue, these are also jobs of the future. If we are not creating the businesses of the future in Virginia, he concludes, there will be no reason for our children to stay here.