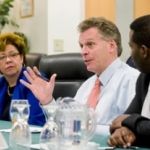 Terry McAuliffe is in perpetual motion. On a recent Saturday he swept the breadth of Virginia making four stops talking jobs, energy, and big ideas in general. If you could harness him, there'd be no energy crisis. He may never be Governor, but he's going to leave a mark.
You may or may not know, I actually ran for governor last year. I ran on a campaign of big ideas. I talked about what we should be doing: renewable energy standards, high speed rail, called to shut down every payday lending store…I am the only candidate in the history of the State of Virginia to refuse a check from Dominion Power…so I ran on big ideas and I said "if you don't like them, don't vote for me." And they didn't. – Terry McAuliffe
McAuliffe reminds his audiences that since his run for governor, among many issues, he has continued to talk about green projects; he gets laughs when he makes fun of his own affinity for chicken waste. He asks his audiences to consider why Virginia will not adopt a renewable standard and points out that Tennessee, Pennsylvania, and Maryland each recently announced thousands of jobs created in that growing sector. It is, he points out, not only a national security issue, these are also jobs of the future. If we are not creating the businesses of the future in Virginia, he concludes, there will be no reason for our children to stay here.
Talking to an audience near the shuttered International Paper plant in Franklin where 1,100 jobs were lost, he discusses a project he is working that would regain some 650 of those jobs in green power by essentially recycling the plant. It is part of McAuliffe's character, the wheeling and dealing. What you see is what you get and those whose only experience with a salesman is on a car lot can be put off. Governor McDonnell doesn't come across so aggressively; people are more comfortable with his kinder, gentler sales pitch. Of course, Governor McDonnell (or his loyal sidekick Bill Bolling, for that matter) has never closed a significant business deal. McAuliffe, on the other hand, makes International Paper nervous. This trait sets him apart from the milktoast Governor and more likely to leverage cooperation in a deal.
I recently went to see the Governor. I don't want to make today partisan, but…because it's important, it's 1,100 jobs…so I went in to explain to him…and no offense, it's not his business, so I wanted to explain biomass…even though he issues great press releases saying we are going to be the biomass capital of the world…there's nothing to it; this guy issues great press releases. But at the end of the meeting he says "Terry, what can I do for you?" Governor, because of my history with Dominion, you know…I can create the power but I got to put it on the grid, so I got to sell it down in North Carolina; I already have my power purchase agreement…He says "Terry, what? Why would you sell our power to North Carolina?" And I almost thought it was a joke…I looked at him, the Secretary of Commerce was there, I looked at Levar, and I said, Governor, we don't buy any green power here in Virginia. I have to sell it to North Carolina. They buy it, Maryland buys it, District of Columbia buys it, Delaware buys it, Ohio buys it, we don't buy it. "Oh!" he says…meeting's over.
Facts are a stumbling block for politicians bound to an impractical ideology. They are essential to the bottom line in business and to fulfilling fiduciary duty to investors. Investors can take you to court. Lame duck politicians are not accountable at all. They can claim a surplus while robbing the state retirement system, conduct a charade about liquor store privatization, or pretend to have discovered unspent treasure in transportation coffers. Who's even going to know? Apparently not the McDonnell constituency.
This (beyond the flash and sometimes carnival-like atmosphere) may be Terry McAuliffe's greatest barrier to elective office. He is genuine; the real deal. Virginians have gone complacent and willing to accept the seductively simple utterings of the mealy mouthed (and mean) so long as the lies conform to and assuage their fears and concerns.