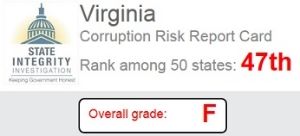 It isn't politicians alone. Commercial media never called out a horribly flawed Governor and Attorney General. Less than two dozen citizens showed up for a public forum on ethics. And the newspaper that hosted that event obscured references to specific instances of malfeasance. Truth is, it's always open season here.
Monday, the outgoing Lieutenant Governor issued a memorandum he penned proposing changes to existing ethics standards. Where was he when it was revealed that his fellow Republican statewide office-holders violated the very standards he proposes? Or anytime during his almost two decades in the Senate chamber? Wednesday members of the House of Delegates offered up what was termed a "sweeping bipartisan ethics reform agreement." The only thing it sweeps is the issue under the carpet. I am ashamed it's called bipartisan. And consistently the media has offered up little in the way of objective or substantive reporting on ethics violations.
Maybe the citizens of Virginia don't care that the state is rated one of the most vulnerable to corruption by the Center for Public Integrity. When the Richmond Times Dispatch held one if its Public Square events last October, it was sparsely attended. When it reported on the discussion, the transcript that publisher Tom Silvestri promised was delivered redacted, removing the most compelling discussion, much of which was about politicians the paper regularly supports.
A couple of things before I continue. No doubt Tom Silvestri would be a super game show host and is certainly an entertaining addition to any cocktail party guest list, but I wouldn't count on his paper or any Media General product for my news. Delegate Jimmie Massie (R-72nd) will come across in what follows as at best naïve and sometimes self-serving, but gives no cause to suspect his personal integrity. At least Delegate Massie puts himself out there and should be applauded for showing up and his openness during this discussion. But there are a number of things you might not know if you rely on the redacted transcript (or "highlights" to use the paper's term), you weren't among the twenty or so at the forum, or you can't find the full video online because the Times Dispatch has made that difficult to search by titling it Public Square 1008 on YouTube. This was Public Square 48.
Put away your preconceived notions of libertarians; most Sarvis voters have never picked up "Atlas Shrugged" in their life (and save yourself the trouble too, read something enjoyable!). As the dust settles on this Democratic sweep of the Commonwealth, let us take a look at Sarvis voters and what they actually mean.
Voter turnout was up because of Sarvis
2,000,819 Virginians turned out to vote in 2009, including 2,502 who wrote-in a candidate. Turnout was only 42% of active voters. Four years later, 2,240,178 Virginians voted, for turnout of 47%. But turnout with just the two-major party gubernatorial candidates was just 43%. Most of the increase in turnout came from the 145,967 Sarvis voters.
Most Sarvis voters wouldn't have voted otherwise.
Without Sarvis on the ballot, the race would have been 48% Terry McAuliffe, 46% Ken Cuccinelli, and 5% wouldn't have voted. Do the math and election day would have been McAuliffe 51%, Cuccinelli 49%. Two and a half times as many Sarvis voters would have gone to McAuliffe over Cuccinelli, but most wouldn't have voted at all.
Sarvis voters are overwhelmingly white and young.
Not only are Sarvis voters mostly white, a whopping 15% of the 18 to 29 cohort voted for Sarvis. It was also the cohort that McAuliffe improved the least over Creigh Deeds from 2009. What motivated so many younger votes to reject the two party system?
They are independent.
Helping to explain why they would vote for a third-party candidate or not vote at all, most Sarvis supporters affiliated themselves as independent voters, not members of either the Democratic or Republican Party.
For three years we have heard that Virginia is enjoying budget surpluses. All the while, a series of gimmicks have been employed that will unravel during the years to come; some immediate, some long term. Terry McAuliffe would be well advised to determine baselines that provide context for funding obligations.
Ken Cuccinelli was right when he claimed that taxes would increase during a McAuliffe administration; what he failed to point out was that they also had consistently increased during the current administration and would under his own. The difference will be that Governor McDonnell was allowed to borrow against the future and underfund capital requirements, in effect levying the tax on his successors and generations to come. Cuccinelli would have done much more of the same. Such maneuvers by the coming McAuliffe administration will not be met with the deafening silence afforded the current administration.
Maintaining the Illusion of Surpluses
The Virginia Retirement System (VRS) "loan" amortization, the legislatively mandated 20% annual contribution deficiency, and total unfunded pension obligations
Education infrastructure maintenance, capitalization and re-capitalization underfunding
Transportation infrastructure maintenance, capitalization and re-capitalization underfunding
Positive growth of revenue streams; particularly from areas such as agricultural production where weather and markets are beyond the influence of state government but have had a good run
Terry McAuliffe should conduct an audit early on so that the inevitable future claims of fiscal malfeasance can be placed in context when the bills come due. This one must be much more honest than the audit by McDonnell's team which made claims like turning up over $100 million that had been "mismanaged" by the Department of Transportation during the Kaine administration (conversely, McAuliffe should make certain that operating funds and reserves have not been drawn down). No, this audit should nail down underfunded and unfunded obligations that are currently, to a great extent, off the books. Some will come due during the next four years; some will continue to grow otherwise unacknowledged until they explode with consequences similar to the Detroit pension crisis.
Wow! Talk about a total collapse; Virginia Republicans should start transferring money to local dog catcher races to try to hold onto power after next week's election. The
latest Washington Post poll
shows a blue tsunami coming down on the GOP. I've stopped worrying if Herring will win, he should, and have started asking just how high this tidal wave will go.
In 2005, Senator Creigh Deeds lost the race for Attorney General to then Delegate Bob McDonnell by just over 300 votes. It set McDonnell up for his run for Governor four years later, forcing Bill Bolling to step aside. Just minor changes to the outcome on election day in 2005 would have almost certainly produced a Deeds vs. Bolling match-up in 2009. Deeds may well have lost, but who knows how things would have developed for Virginia ...
Today, we may be facing a very similar fork in the political road. Republicans are going all in for State Senator Mark Obenshain of Harrisonburg. Should he win, it will almost guarantee that the 2017 Governor's race will be between Obenshain and Northam. Ben Tribbett has already expressed concerns about Ralph Northam as the Gubernatorial nominee in four years. In my opinion, choices are good and Virginia Democrats would do well to keep their options open.
Furthermore, if Obenshain wins, he'll have four years building a record to run on in 2017. Cuccinelli lost the race for Governor by being too extreme during his time in the AG's office, waging a war against science at the University of Virginia and prioritizing defending bans on sex in court. We can hope that Obenshain is that stupid, but we should fear him finding un-offensive issues like human trafficking, drugs, and defending the elderly that hide his conservatism from the public eye in 2017.
Without Obenshain, the Republicans will be in disarray in 2017, as the growing discontent expressed from Republicans like Bill Bolling and Tom Davis will be aired out in the open by more members during any nomination fight. The party could do some soul searching and come up with a moderate nominee in 2017, but more likely an effort to run a moderate will result in a bloody, brutal primary (or convention).
We need Mark Herring to win. How could that happen?
I was planning on turning to the Attorney General's race next, but for a number of reasons I'm going to look at the House of Delegates first.
In 2001, Democrats broke back into the Governor's Mansion in Richmond after eight years with Mark Warner trouncing Mark Earley. Along the way, Warner helped Richmond Mayor Tim Kaine win as Lt. Governor, but he couldn't get Donald McEachin over the finish line against Jerry Kilgore. More importantly, the Warner-Kaine victory came despite a Republican landslide at the House of Delegates level, mainly due to the new Republican gerrymandering. As Democrats look to sweep at least the top two spots in Virginia on November 5, how are their chances in the House of Delegates looking?
Under the new Republican-drawn lines, Obama won only 45 House of Delegates districts, despite his statewide victory. Tim Kaine won an additional six and was close in several more. Although McAuliffe could poll as high as 52%, the internal polling indicates that there will be some variance compared to Obama's similar statewide victory in 2012. Let's look at this regionally.
We're counting down the days until the Election in Virginia and there's growing evidence that Democrats are sweeping the top two statewide slots. Republicans are shifting resources to give Obenshain a fighting chance at the Attorney General's race; the Republican State Leadership Committee has given Obenshain $500,000 in hopes he can salvage the GOP ticket and protect down-ballot Republicans.
In the House of Delegates, Democrats have released three internal polls showing our candidates well positioned to make gains. But there are also signs that the wave on election day may crash upon hostile shores down-ballot. All that, and MORE, to be discussed in this, the first of a multi-party diary analyzing what we know so far about the Virginia election.
First, the good news for Virginia Democrats. Terry McAullife's position in the latest NBC4/NBC News/Marist poll shows him expanding his lead against Ken Cuccinelli, up 46% to 38%, with Libertarian candidate Sarvis receiving 9% of the vote. That's up 3 percentage points from the pre-shutdown Marist poll.
It's only one poll of many, but it can't be good for the Virginia GOP that both McAullife and Sarvis are gaining in the polls while Cuccinelli is flat. The only "good news" in the last few weeks for Republicans may have been their ability to exclude Sarvis from the debates, limiting his exposure, but he's still polling in the high single digits.
Without Sarvis, the Marist poll has McAullife up 52% to 43%. That 52% may be a good approximation of McAullife's ceiling in these closing days of the campaign.
"McAuliffe leads Cuccinelli in Virginia governor's race!
That is the type of story I want to wake up to on a brisk autumn morning. But look beneath the headline-worthy results and there are some big concerns ahead for Virginia Democrats. There is just over a month remaining to avoid another 2005-style outcome, where the joy of sending Tim Kaine to follow in Mark Warner's footsteps was mixed with the agony of defeat for the rest of our statewide ticket and disappointment at the lack of coattails in the General Assembly. Like any good remake, the cast of characters in 2013 is different from the 2005 original, but the ending may be the same.
In 2005, Jerry Kilgore ran an offensive, dirty campaign against Tim Kaine. The tax increases passed by the Republican General Assembly divided Kilgore's party; his campaign was a bumbling effort to avoid attacking the turncoats that helped Mark Warner while also promising to roll back the historic revenue increase that provided for a significant investment in public education. Usually if you can't say anything nice, you're not supposed to say anything at all, but Kilgore instead found that his only message was to go negative against Tim Kaine. We all remember the October ad referencing Hitler and Tim Kaine's religious and moral objection to the death penalty.
Kilgore's fate was sealed, but only narrowly. Russ Potts, a moderate Republican exiled by his party's primitive proto-Tea Party wing, provided a vehicle of protest for moderate Republicans fed up with Kilgore. Polling as high as 4 to 5 percent in the month before the election, Potts received just over 2% of the vote. It might not sound like much, but it's the highest showing for a third party candidate for Governor of Virginia since William Story's 13.38% in 1965 as a Virginia Conservative (ignoring Henry Howell's 49.28% in 1973 when the Democrats did not run a candidate). A minor shift of other swing voters to Tim Kaine, based primarily in the suburban counties across the Commonwealth, made up the rest of the margin of victory over Kilgore.
In 2013, the Republican Party of Virginia has replaced the country bumpkin Kilgore with the Tea Party zealot Ken Cuccinelli. Faced with a signature legislative accomplishment, Cuccinelli turned hard right against Governor Bob McDonnell's transportation plan. This split could have provided an opening for Bill Bolling to run as an independent, a choice that Big Bill is probably regretting right now as he watches the no-name Sarvis polling in the double digits. Like Kilgore, Cuccinelli cannot run on any legislative accomplishments from Richmond, and now finds himself without a popular Governor to latch his campaign to. When you don't have anything positive to say about yourself, the only campaign tactic left is to attack your opponent and drag them through the mud.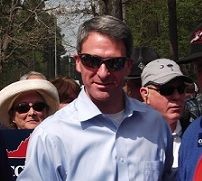 It is a harbinger of Virginia government under the intransigent leadership of a self-styled guardian of principle. Cuccinelli's office issued without public review an absurd policy guaranteeing notification of anyone mentioned in an Adult Protective Services abuse case. Those at the pointy end of the spear were forced to resist.
Last year I wrote about a regulatory change proposed by Cuccinelli's office that, under his concept of due process, required just about anyone mentioned in an elder abuse case be notified. There was broad and overwhelming objection to this policy change expressed during the Regulatory Town Hall Process comment period. A public hearing was set for April 17, 2013 (by coincidence, the day of Shad Planking). Instead the hearing was cancelled and, despite the fierce objections of social services professionals, the policy was placed in force. One size fits all in Ken's world. Except, no responsible professionals are willingly going to follow a narrow-minded dictate that places their clients' welfare in jeopardy.
Adult Protective Services (APS) professionals found a hole in the policy and, statewide, drove their cases through it. Notification was required when there was a finding. Simple enough. In cases of abuse where the victim was unwilling or unable to charge the perpetrator, the social service professional simply classified the allegations as unfounded. Done; except that for about three months while this policy was in full force, adult abuse findings were significantly underreported. In the face of strong behind the scenes opposition to the policy by the Department of Social Services, it has been amended, then effectively rescinded.
State Senator Mark Obenshain (R-26th), Republican candidate for Attorney General and self-styled champion of the elderly has privately indicated interest in the issue but would find himself at odds with the head of the statewide ticket if he publicly addressed it. So with leadership in lock-step, it is certain that the potential Republican administration under Cuccinelli would bully its way through "principled" blunder after blunder, forcing state employees to choose between what is right and what will preserve their jobs.
The APS professionals chose what was right and have prevailed for now. But no doubt it will not be so certain a result under a Governor Cuccinelli.
(Cross-posted at Daily Kos)
I'm still seeing a lot of ambivalence among progressives over Terry McAuliffe's candidacy for governor, in comments on blogs, newspaper articles and elsewhere. As too frequently happens, the Republicans have united their (lunatic) base, while ours continues to hem and haw.
So is Terry the perfect candidate? No, but Jesus decided not to run this year. Gandhi, King, Lincoln and FDR similarly declined. So I guess we better focus on the candidate we've got rather than the ones we don't.
Rather than just dismissing the guy outright, or saying you'll "hold your nose" and vote for him, it's important to understand the reasons why folks on the left should be actively and enthusiastically supporting Terry's candidacy without delay.
The first reason is obvious to all Virginia-watchers: We are up against the most dangerous Republican in America right now, Ken Cuccinelli, who takes pride in taking the most extreme stands in his party and pushing them like a vicious bully. Where others simply mouth the words to the slogans of climate change denial, Cuccinelli spent two years in a legal assault against climate scientist Michael Mann, costing the University of Virginia hundreds of thousands in legal bills. He coerced the state health board into regulating abortion clinics as hospitals, which could drive all the clinics out of the state. He sued the Obama administration the moment the Affordable Health Care Act was signed, and has sued EPA multiple times for daring to regulate fossil fuels. He still thinks sodomy laws are a good idea, and went to court to prove it.