Home
Tags
Mary Margaret Whipple
Tag: Mary Margaret Whipple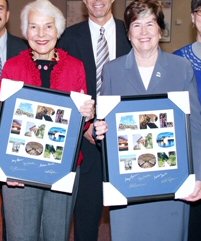 With the Arlington County Board Democratic caucus just 8 days away, things are definitely heating up with the two candidates widely assumed to be the frontrunners. First off,
Libby Garvey
has now been endorsed by recently retired State Senators Mary Margaret Whipple (D-31) and Patsy Ticer (D-30). These endorsements follow the endorsement of Garvey by incoming Senator Barbara Favola (D-31), whose departure from the Arlington County Board for the General Assembly in Richmond triggered this special election. The full endorsement statement by Whipple and Ticer of Garvey is on the "flip."
As far as I can tell, these endorsements help cement Garvey's position as an (increasingly) strong front runner for County Board. Why? Two reasons. First, I strongly doubt that Favola, Whipple, and Ticer would have all decided to endorse Garvey unless they were confident she's going to win. Second, Favola, Whipple, and Ticer are all very popular among the likely electorate -- hardcore, longtime Arlington Democrats who are overwhelmingly favorably inclined towards the endorsers.
Finally, Garvey already had major advantages in this race, as the only elected official running, as the candidate with by far the highest name ID, and as the candidate with the best organization and most resources (e.g., Garvey seems to have a full mail program, unlike the other candidates). Then, last Wednesday, Garvey had a strong performance in front of a couple hundred people at the Arlington County Democratic Committee debate. Now, with just 8 days to go, it's hard to see how anyone tops this combination, especially since - as we've seen in Iowa and New Hampshire recently - a multiple candidate field can be highly advantageous to the "establishment" candidate, as the others tend to split the "not-establishment-candidate" vote. That very well could happen in this case, with Garvey winning 40% or more of the vote next Thursday and Saturday. Stay tuned...
P.S. I'm well aware, as are many Arlington Democratic and progressive activists, that there are rumors flying around about another major candidate in this race. However, until I'm able to get a coherent story, confirmation of exactly what's going on, and preferably the source(s) of the allegations being thrown around (a potentially fascinating story in and of itself, possibly more interesting than the rumors themselves!), I'm not planning to write any further on this stuff. We'll see what other blogs and news outlets decide to do, as the information is being sent around to everyone and their uncle/aunt/cousin/neighbor/dog/cat/etc., apparently. Quietly through malfeasance or simply ignorance, your condominium equity may be eroding daily and there's simply no legal protection in Virginia. While the Governor reopens rest areas with money he "borrowed" from the Virginia Retirement System, your condominium association may be following the same model in unfunded replacement reserve obligations.
There are states with adequate condominium acts; Arizona and Florida come to mind. Virginia isn't one. If you live in or own a condominium, what may be your largest investment is vulnerable to one of the most egregious yet legal Ponzi schemes. Associations should fund a replacement reserve to provide the capital for substantial renovations required over the life of the property. Roofs, parking lots, pools and a variety of costly capital assets predictably deteriorate. Virginia requires an engineering study to project these future expenses. It suggests but it neither requires associations to adequately fund a replacement reserve nor sets a standard to measure adequacy. Quite typical of the consumer protection environment in this state: always beware.
After watching this, I'm very proud to say, "she's my state Senator!" :)
UPDATE #1: People for the American Way President Michael B. Keegan weighs in.

Governor McDonnell's choice to celebrate Confederate History while omitting any mention of slavery is an egregious rewriting of history. Declaring that slavery wasn't "significant" enough to merit inclusion in his statement is an insult to the Virginians whose past was shaped by the most abhorrent policies of the Confederacy. Issuing a declaration honoring the confederacy is disturbing enough; failing to acknowledge slavery while doing it is inexcusable.

Governor McDonnell has repeatedly shown himself to be far more radical than his Republican predecessors, and much more extreme than the moderate image he projected of himself during his campaign. This new attempt to ignore the worst parts of Virginia's complicated past is irresponsible and dangerous. By appeasing his supporters in the radical Right, he has turned his back on his duty to serve all Virginians. We cannot allow our elected officials to practice this kind of dangerous revisionism.
UPDATE #2
:
Jonathan Capehart reminds us
that Sheila Johnson is partly responsible for giving us Bob McDonnell as governor.
Somehow, I don't think Gov. Robert F. McDonnell's (R-Va.) proclamation honoring "Confederate History Month" as a way to promote tourism in the Commonwealth was what Johnson, the billionaire co-founder of Black Entertainment Television, had in mind when she endorsed him. Can't wait to see how her posh Salamander Resort and Spa in Middleburg does its part to help the flow of tourists "to understand the sacrifices of the Confederate leaders, soldiers and citizens during the period of the Civil War, and to recognize how our history has led to our present." I don't even want to think about what kind of jobs that would entail.
Also, while we're on this topic, thanks a LOT to Doug Wilder for his self-absorbed Hamlet routine, and ultimately his failure to endorsed Creigh Deeds over Bob McDonnell in the fall of 2009. How's that non-endorsement feeling now?
UDPATE #3: The Democratic Party of Virginia (finally, 5 days after the fact!) weighs in. See their statement after the "flip," and let us know what you think. Personally, I find this statement to be late in the game - McDonnell's proclamation was issued last Friday - and also not particularly passionate, but I'd be very interested to hear your opinion. Thanks.