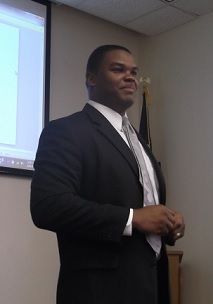 There is a refreshing candidate in Southwest Virginia ready to take on Ralph Smith for the 19th District state Senate seat.
Mike Hamlar
is a Roanoke native who excelled at athletics in high school, earning a football scholarship to Wake Forest. Returning home he's become an established high energy local entrepreneur.
Mike has three businesses. He is a third generation co-owner of Hamlar-Curtis Funeral Home which has been serving the community for 62 years. In 2009, Michael started Hamlar Enterprises, which is a business brokerage firm. The firm has engaged in multi-million dollar deals across the region, handling mergers, business acquisitions, business evaluations etc. In 2012, Michael and his wife, Katina, established Hamlar Properties, which is a property real estate firm that manages and oversees real estate transactions. Mike is also an adjunct professor at American National University in Salem, VA. He has been recognized by The Blue Ridge Journal as one of the "Top 20 leaders under 40."
At Wake Forest University Mike played football under Jim Caldwell and was on the Seattle Bowl championship team that defeated the University of Oregon. He is accustomed to winning and wants to take this race to the Republican incumbent, Ralph Smith.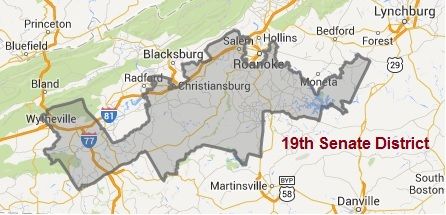 A family man with three young children, Mike is faith-driven and confident that he can win this race. That will be a task. Mike likes to say that if you look at the 19th district, it is as though his one-year-old drew it. It encompasses part of Roanoke County, all of Floyd County, all of Salem, part of Montgomery County, all of Wythe and Carroll Counties, and part of Bedford. From end to end it stretches about 120 miles from end to end, not the way the crow flies, but the way the SUV drives, and it takes at least three sweeps to hit every location in it. That is why he has started early. He plans kickoffs in every locality.
Recently appointed by Governor McAuliffe to the Secure Commonwealth Panel, Mike is involved in the community both in business and local civic organizations like the Kiwanis Club, so he is hardly starting from a standstill or without connections. And quite frankly it seems he is always in motion, with clear aims. Right now his goal is to become as well known throughout the district as he is in Roanoke. He is certainly well liked among local Democrats.
His priorities are education, Medicaid expansion (which he hopes is accomplished before he makes it to the Senate), and economic development. He points out that a program like Marketplace Virginia would create 30,000 jobs while providing necessary preventive healthcare. Not yet the official Democratic nominee, he is eager to gain that distinction so that he can focus solely on Republican Smith. All of us in southwest Virginia know about the musical chairs that Republicans are playing in their attempt control the State Senate. It all started when the Senate put Ralph Smith and Steve Newman in the same district, creating a new district east of Lynchburg. Smith vowed to run somewhere, so he rented a cabin in the district currently represented by Bill Stanley. To oblige him, Stanley rented a house in Democrat Roscoe Reynolds' district and is busy running for that seat. Now, a glitch in Smith's little plan is being exploited by his opponent, Independent Brandon Bell, who once was beaten in a primary by Smith when Bell was the GOP incumbent.
Bell has uncovered information that indicates that Smith may be trying to skirt the Virginia Constitution and the regulations of the State Board of Elections by simply pretending to live in Roanoke County. The board explicitly says that a person must have an "actual physical place of abode" and be "domiciled" there. To have a domicile for the purpose of running for office, "a person must live in a locality with the intent to remain there for an unlimited time."
When the Roanoke Times checked yesterday, Smith's rented cabin had all the blinds drawn, leaves in the driveway that were obviously undisturbed by vehicle traffic and a trash can at the curb containing only a September 28 copy of the Times. Bell drew the obvious conclusion. Smith spends little, if any, time there.
"I think it's fair to ask the questions as a campaign at this point and to have those answers come forward," Bell told the Times in an interview.
Brandon Bell is a moderate Republican much like the first post-Reconstruction Virginia GOP governor, Linwood Holton. He was driven out by the extreme wing of his party after he introduced legislation to make restaurants smoke-free. In that election Ralph Smith also played musical chairs, moving from Roanoke City to Botetourt County. It's now time for voters to tell Ralph to pack his carpetbag once more and go home to wherever he really lives. In my part of the Commonwealth, the
musical chairs
following redistricting are creating quite a bit of business for moving vans. My right-wing Republican senator, Ralph Smith, is packing his bags and moving to the district now represented by fellow right-wing Republican Bill Stanley, the 19th. Stanley, meanwhile, has reportedly decided to move his residence to the 20th senatorial district, where Democrat Roscoe Reynolds is the incumbent. Sadly for me, redistricting put both Smith and Jerry Falwell acolyte Steve Newman into my redrawn district, one that has become even more Republican. So, I get rid of one right-winger only to likely get another right-winger, one who believes he is doing "God's work."
Both Stanley and Smith may have some difficulty in winning election from the districts they have chosen for their new abodes. The new 20th district, which resembles some sort of "sleeping dragon" stretching from Galax in the west to South Boston and also taking in Martinsville and Danville, has become 7.1% more Democratic, according to VPAP. While that district does include more than 30% of Stanley's old district, he will be hard-pressed to overcome the incumbent protection engineered into the new district lines.
Smith might have an easier time in Stanley's old district, which VPAP calculates will be 2% more Republican than it already is. However, he is not well-known at all in that area, since his only other political forays have been one term as mayor of Roanoke City and his term in the state senate from an area north of Roanoke. The new 19th meanders from southwest of Lynchburg all the way to Wythville. The Republican gains comes from precincts in Salem, home to that champion of dirty coal and mountaintop removal, Rep. Morgan Griffith.
Another interesting political story playing out in my area involves that old House of Delegates fossil from Bedford, Lacey Putney, bless his heart. He may have been cozy with the Republicans for years, but they did him no favors in their redistricting plan. His new district, which lost reliably Republican parts of Bedford County, now includes Clifton Forge and Covington and stretches to the West Virginia border. According to VPAP, the district may still lean slightly Republican, but it gained 11.7% in Democratic strength.
So, population gains in northern Virginia are making strange new neighbors and odd political bedfellows out here in the hinterland.