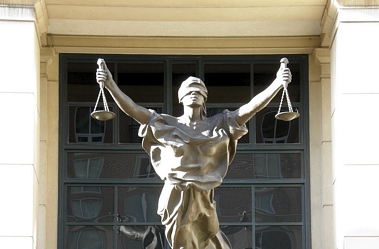 How much is 27 years wrongfully spent in prison worth? In Virginia, apparently those 27 years are worth a mere $1 million and some change.
The payment will come on the heels of legislation signed by Gov. Bob McDonnell that will award Thomas Haynesworth over $1 million after spending close to three decades in prison for sexual assaults he did not commit.
McDonnell, in his magnanimity, declared that Haynesworth's compensation was "morally right" because of the years he lost behind bars.
In case you're wondering, Haynesworth's compensation comes out to be a little over $37,000 a year ($1 million divided by 27). Do you think that $37, 000 a year is appropriate compensation? The state must be assuming that each former prisoner being compensated would be little more than a manager at McDonalds on the "outside." First it was minority and elderly voters, then women, and then the environment. Ok, maybe the environment has been on the GOP hit list for some time now. Oh yea, there are also those minorities...
But given the Richmond Times Dispatch's obvious sympathy with wannabe U.S. Senator George Allen's attacks aimed at the U.S. Environmental Protection Agency for releasing new carbon dioxide emissions limits for new coal-fired plants created to protect public health and mitigate further global warming, it stands to reason why anyone would want to retain coal as a source of energy in Virginia given its scientifically documented detrimental health and environment effects.
In the case of George Allen, the answer is clear. Allen is as much a tool of the fossil fuel industry as the shovel is the tool of a digger.
The motives of the Richmond Times are not so clear-cut, if for no other reason than the money that backs the newspaper is not as readily transparent as that which backs George Allen. But if we give writers for the Richmond Times the benefit of a doubt and assume that they are half-way intelligent, then their simplistic logical connections (more carbon regulations will necessarily result in the devastation of particular parts of Virginia's economy!) seem influenced by something other than a mere lack of intelligence. Whenever you hear a phrase like "sincerely apologize" or, in the case of Governor McDonnell's uranium-mining study, "extremely transparent," my spider-sense starts tingling with mistrust about what is being said. Of course, there may be absolutely no grounds to discount the "sincere apology" of a friend who forgot to pick you up at the airport on time, for example, but in the case of Gov. McDonnell and his administration, my lie detector is constantly on alert.
The sheer fact that "key" documents will be initially withheld from Virginians is itself a red flag that politics is playing a role in the uranium mining study group. Why else would Gov. McDonnell want to keep the documents out of the public eye until the final public report is released? Wouldn't he score political cookie points by keeping the meeting process entirely transparent? If so, what his restraining his decision to do so? Ken Cuccinelli's opinionated hammer came down forcefully the other day when he claimed that there's a "50-50" chance that Virginia's unnecessary voter identification bills will pass the muster of review by the U.S. Department of Justice. Given Kookinelli's recent track record, buyers of this conclusion beware.
Cuccinelli also thought that his crusade against Michael Mann and his climate science would succeed as well. The Virginia Supreme Court ruled otherwise.
But what the gun-slinging and crusading of Cuccinelli has revealed is a man whose conceit is unbounded, even by political standards.
Cuccinelli went on to claim that "This president [President Obama] and his administration are the biggest law breakers to run the federal government in our lifetimes." Did the George W. Bush administration already drop from Cuccinelli's memory? What an incredible statement!
There is your average political rhetoric and then there is Cuccinelli's political rhetoric. Ask me to define it, I couldn't; "I'll know it when I see it." It's the type of political bluster that takes every issue and violently pulls it into the far-right and warped world of Cuccinelli and his cult of adherents. It's a type of political demagoguery few politicians in our own jaded and partisan times have been able or willing to muster. Fellow (Blue) Virginians and bloggers, did you know that Dominion Virginia Power is the
largest non-party political contributor
to Virginia's candidates and committees? As such, Dominion has crafted energy policy in Virginia in its own image, an image that doesn't always reflect the interests of all Virginians under Dominion's umbrella. For instance, Dominion was awarded
$76 million
for meeting Virginia's weak renewable energy standard while literally generating ZERO wind and solar power in Virginia. There is clearly little benefit to rewarding Dominion to buy renewable energy from outside of the commonwealth when the renewable energy standard was constructed to create renewable energy
inside Virginia
.
On top of that, Dominion executives plan to keep on developing fossil fuel power plants and ignoring renewable energy. According to the company's 2011 Integrated Resource Plan, which looks 15 years into the future, they plan to still generate less than 3% renewable energy in 2026.
These are a few of the reasons why the Chesapeake Climate Action Network along with other environmental groups is holding a rally and a march outside of Dominion's HQ in Richmond on March 24 at 12PM. On March 24, supporters of clean energy will meet at Kanawha Plaza to march around Dominion VA Power's HQ and form a human chain. We will demand that Dominion invest in clean energy for VA's future now. There will also be world-renown and Virginia-based environmental speakers such as Phil Radford of Greenpeace USA and Mike Tidwell of the Chesapeake Climate Action Network (CCAN) who will discuss the need for clean energy in Virginia, the role of corporate money in politics, and how Virginia can become the example for clean energy use and construction. If you support clean energy, now is the time to come out and show it. This will be the biggest environmental rally in Virginia's history. I hope to see you all on March 24 and we can make history together! Unfortunately, in the world of politics, in order to win you have to drag yourself into the mud with your opponent. Former Virginia governor Tim Kaine appears to have done just that as the New Virginia PAC was created for the U.S. Senate hopeful Kaine just days after challenging George Allen to come clean with his Super PAC donors.
Kaine's New Virginia PAC was created by two former aides of U.S. Senator Mark Warner, Steve Bouchard and Harmony Knutson.
For all of the criticism that Kaine will receive for this move, what else was Kaine and his supporters supposed to do, allow George Allen to flood every medium with pro-Allen ads while Kaine floundered in the no-man's land of political integrity?
It brings up that old question: do the means justify the ends? If Kaine's Super PAC makes the difference between a Kaine victory and a Kaine loss, then yes, the means justify the ends. In the roundabout and vague language of Dominion VA Power, specifics are the only form of statements that can be trusted by this company. So when an employee of Dominion comments that Dominion "will continue evaluating transmission options to ensure the identification of the lowest cost alternative for bringing offshore wind electricity to consumers," it sounds like a vortex of time has opened up for Dominion to cozy up to wind energy whenever they feel the urge (the quotation came as a response to a recently released report by AAB Power Systems Consulting that evaluated the "offshore transmission options to support future projects").
The issue, then, isn't whether wind energy is going to be built and used in Virginia; it's a question of when. How many more years do Virginians have to wait for Dominion to find "the lowest cost alternative" before we begin to reap the noticeable benefits of offshore wind energy? Sure, the review process isn't a simple one, but enough is enough, it's time to start building wind energy for Virginia.
Some Virginians have worried about the higher initial costs of offshore wind energy, costs which the Department of Energy has estimated to amount to 24 cents per kilowatt hour. However, these costs do not take into account the health benefits that Virginians in particular will reap from an increasing reliance on offshore wind energy. If and when economists agree on a way to "cost" the health benefits from clean energy, the difference between the latter and fossil fuel energy costs will not seem so stark.
Virginians shouldn't have to plead with their utility service to pick up the pace on investing in renewable energy. But the reality is that we have to continually remind Dominion that the health and wallets of Virginians are more important than their bottom line. On March 24 at 12PM, I hope to see you all at Virginia's largest environmental protest outside of Dominion's HQ in Richmond. Our individual actions can make a difference, and we'll only know if we try. The CEO of the Richmond, VA based Dominion Resources Inc., Tom Farrell, noted that any national energy strategy must decrease the use of fossil fuels during his Keynote Speech at CERAWeek 2012.
It's a relief that Mr. Farrell recognizes America's crushing reliance on energy sources that are wreaking havoc on our lungs and our climate.
What Mr. Farrell is really saying is that he and his company want to be at the head of this energy revolution, controlling the market share along with the profits. At least, this is what Dominion's Robber Baron past would lead one to conclude. In another attempt to subvert the democratic process in Virginia, Gov. McDonnell is attempting to sidestep the recommendations of the National Academy of Sciences and the will of Virginians by rushing through the proposal on uranium mining and milling and shutting out stakeholders who have already accumulated expertise and information on this matter. The point of taking the decision to allow uranium mining and milling out of the hands of the legislature was to give the Uranium Working Group time to resolve some of the most serious concerns brought up by the possibility of mining and milling for uranium in Virginia.
Instead, the governor has taken the decision out of the hands of the legislature in order to circumvent the democratic process and a very uncertain future for this issue in Virginia's General Assembly.
Gov. McDonnell has continuously made two contradictory statements. The first is that his administration will pursue an "all of the above" strategy for energy, referring to any source of energy that can be extracted and used will be. Contrarily, McDonnell claims that if the energy source in question poses a known risk to human health, his administration will not pursue it.
The risks posed by uranium mining and milling are unmistakable, and even more so in a climate like Virginia's that has never witnessed uranium mining. Thus, any risk assessments undertaken must be magnified by the level of uncertainty that accompanies any assessment of a brand new situation for risk. Our old friends at Dominion VA Power, Appalachian Power, and Virginia's friendly power cooperatives were up to their old obstructionist antics again when one lobbyist from each of the three hulking dinosaurs effectively killed HB 129 (Electric Utilities; purchases from net metering sellers) until next session of the General Assembly. The main bone of contention/opposition on the part of Virginia's Goliath power distributors was the "deregulatory" nature of HB 129. Playing to the Senate Labor and Commerce committee's deepest fears, Dominion VA Power's veteran lobbyist opined that HB 129 would have opened another Pandora's Box of regulatory versus deregulatory struggles inside Virginia. Needless to say, had this primary argument not been made against allowing end users to use solar energy from energy suppliers not named Dominion VA Power, Appalachian Power, or one of Virginia's power cooperatives, some other clever argument would have been made to derail the effort.
The fact that Del. Terry Kilgore (R-Gate City), a Republican, introduced HB 129 in the House of Delegates shows how overwhelmingly commonsensical Virginia's need for more solar power in general is. Even Senator Frank Wagner spoke up during the Labor and Commerce hearing on HB 129 to urge Virginia to finally move faster and more substantively towards solar power. You even heard the phrase "in the public interest" (Sen. John Edwards) when talking about HB 129 and the need for more renewable power in Virginia. Wow!