by Lowell Here are a few national and Virginia news headlines, political and otherwise, for Sunday, March 7. The WHO needs to start over in...
by Lowell Here are a few national and Virginia news headlines, political and otherwise, for Friday, February 26. Honest question: have these people read the Bible?...
by Lowell Here are a few national and Virginia news headlines, political and otherwise, for Saturday, February 13. Warming and Warnings From the High Himalayas...
When Senators Chris Coons and Jeff Flake introduced a measure yesterday in the Senate to provide legal protection for the Mueller investigation, Senate Majority... The Koch brothers financed Americans for Prosperity, a libertarian foundation, released a new Television ad targeting U.S. Senate candidate Tim Kaine of Virginia. The 32 second ad attempts to paint Tim Kaine as a "deficit spender" and a tax hiking paragon in typical sound-bite fashion.
Aside from the usual rhetorical flourishes, a quick look at Americans for Prosperity's official website demonstrates the group's focus on reducing the size of government and lowering taxes.
According to AFP's Virginia director, Audrey Jackson, Tim Kaine "can't spend your way to prosperity or tax your way to economic freedom."
As usual, no evidence was given to substantiate these bogus claims.
As is often the case, however, what conservatives and economic libertarians take as gross spending of taxpayer money is the soundest way to stimulate our nation's economy so that more American's can experience economic freedom. In other words, "short-term stimulus with long-term discipline." The already infamous "super" PAC, American Crossroads, began running its two-week ads across Virginia this week attempting to tie Democratic Senate candidate Tim Kaine to the hip of President Obama's policies. The message that American Crossroads is attempting to perpetuate is that Mr. Kaine put the betterment of President Obama over the betterment of Virginians.
All told, Crossroads is doling out $1.6 million for the 30-second ad that fiendishly throws sound bites of Tim Kaine into a distorted mix of one aggregated falsehood.
Former Virginia governor Kaine did much to put Virginia in a healthy economic and social position while he was in the executive mansion of Virginia. Not only did Governor Kaine avoid poking around and restricting the rights of women, Gov. Kaine went on to conserve 400,000 acres of real property in the commonwealth from development while always working on growing Virginia's economy.
If American Crossroads would put half of the money it spends on ads attacking a man who has proven his commitment to the people of Virginia into helping Virginians out, it could help to make up for all of the bad policies that were pursued by George Allen during his time as governor in Virginia. The so-called Reclaiming Freedom Super PAC recently came out in favor of U.S. Senate hopeful, George Allen. Formed earlier in 2012, the PAC was put together by Republican "political operatives" seeking to take over the U.S. Senate for the GOP.
According to a release by Reclaiming Freedom, Allen's political record is touted and in particular his abolition of parole and welfare reforms, his support of the Bush tax cuts, and his continued support for a balanced budget amendment (a politically practical pipe dream but an apparent political must for conservative politicians on the national stage).
At the moment, Allen's latest Super PAC backer has no total expenditure data available to identify who the donors for the PAC are and whether or not it will draw from some of the same donors as other conservative PACs such as Crossroads GPS.
What's clear from the name of the PAC is that it conceives of its mission as "reclaiming freedom," a freedom which has apparently been lost under Democratic leadership. If this group and others like it mean the freedom of the wealthy to do as they please (i.e. to make risky investments that throw the U.S. economy onto the edge of financial collapse), then I would like to think they're absolutely right. Unfortunately, in the world of politics, in order to win you have to drag yourself into the mud with your opponent. Former Virginia governor Tim Kaine appears to have done just that as the New Virginia PAC was created for the U.S. Senate hopeful Kaine just days after challenging George Allen to come clean with his Super PAC donors.
Kaine's New Virginia PAC was created by two former aides of U.S. Senator Mark Warner, Steve Bouchard and Harmony Knutson.
For all of the criticism that Kaine will receive for this move, what else was Kaine and his supporters supposed to do, allow George Allen to flood every medium with pro-Allen ads while Kaine floundered in the no-man's land of political integrity?
It brings up that old question: do the means justify the ends? If Kaine's Super PAC makes the difference between a Kaine victory and a Kaine loss, then yes, the means justify the ends.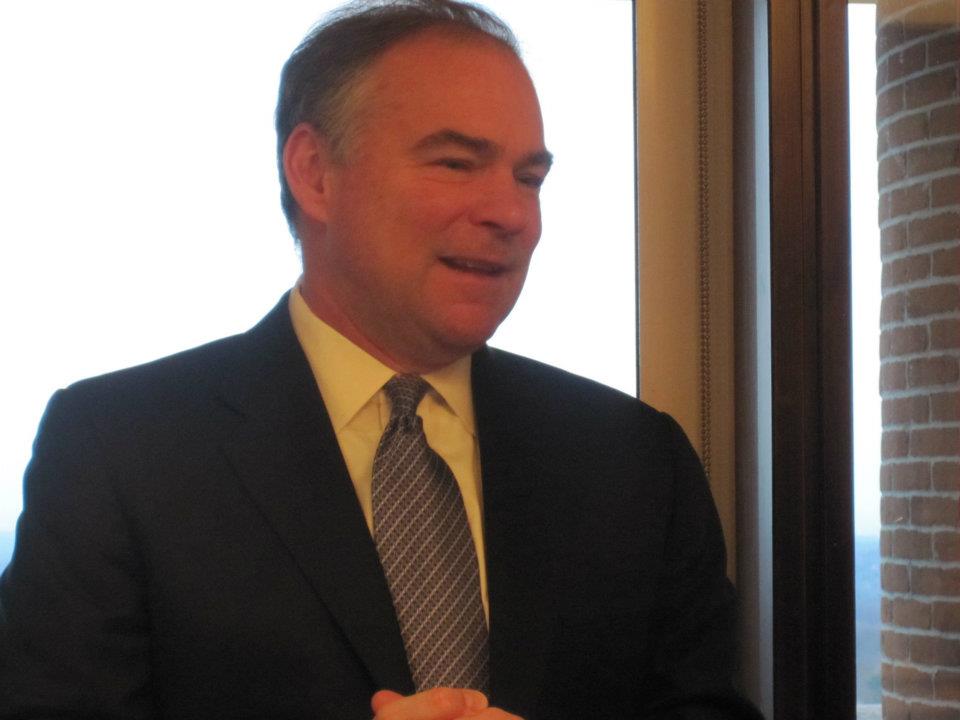 Former Governor Tim Kaine, now Candidate Kaine for Senate, spoke this morning at the January breakfast of the
Northern Virginia Democratic Business Council
(held at the Tower Club in Tysons Corner). Kaine called this the beginning of "the Sprint" to election day in November, providing the friendly audience with a sample of what will be the main themes of his campaign. With typically sunny Kaine optimism and gentility, certain key words emerged: "balance," "working together" to solve the country's problems, and focusing on encouraging "education and talent." These concepts emerged as guiding principles when tackling one topic after another, from deficit reduction to immigration to education. Democrats, he noted, are the party of business and of opportunity for all.
Kaine reminded the audience that in the 1950's, Virginia was 49th among the 50 states in percentage of children in school, yet today we rank 7th, thanks to finally following Thomas Jefferson's original notion of broad public education, and to building a powerful, balanced economy that attracts successful businesses and outside talent. "No state has moved as far as Virginia," according to Kaine, and in his view, Virginia can show America how to move forward.
In dealing as Governor with the state budget during a severe recession, Kaine pointed out that he never applied across-the-board cuts, but used surgical precision in selecting not only where and how to cut, but sometimes actually increasing funding to reflect priorities, focusing on encouraging talent and creating and favoring business development. Kaine will apply the same ability to make hard but principled decisions at the national level because, he noted wryly, "No one has ever cut their way to prosperity." By encouraging immigration of talented people, Kaine attracted new businesses to Virginia, even in the midst of a recession. At the recent Mason District (Fairfax County) Crab Feast, I observed, among the usual parade of politicians, two who stood out from the crowd.
Jim Webb and Tim Kaine demonstrated a level of class, earthiness and sincerity that we ought to expect from everyone we elect to public office. While Webb will be missed, his impending departure makes all the more critical that we replace him with someone real, like Kaine -- and not a dime store cowboy.
Webb spoke of his experiences on September 11th, when he happened to be in the Pentagon speaking with Corporal Jim Jones. Jones was called away by the news of a plane hitting the World Trade Center -- and Webb was driving away on Route 110 when he heard and felt the thud of the plane hitting the Pentagon.
The experiences of that day, and the irresponsible reaction of the Bush administration -- particularly the egregious, destructive War in Iraq -- led Webb to leave the Republican party, seek office as a Democrat, and become our Senator in '06. And Webb has used his office not for grandstanding or stuffed-shirt nonsense but to pursue serious, meaningful causes like the new GI Bill, reducing our massive prison population, and decreasing income inequality.