This piece has recently appeared in newspapers in my very red congressional district (VA-06). ********************* Two things preoccupy me these days: 1) the need for the...
Before getting to the present piece, a word about a previous posting, i.e. the latest entry in my series, "A Better Human Story," which... If you show up to vote with only your shiny new Virginia voter photo ID, you won't be allowed to vote
. Yep, that's right, despite the genius that is the Virginia General Assembly, a separate class of voters has been created; one that requires two forms of identification to vote.
I want to believe the Governor and the Attorney General can work this out and find the way to resolve it by issuing an executive order that requires the new photo IDs contain sufficient information to allow a voter to vote. As I discussed in an earlier post about this absolutely inane law, the code was crafted in an effort to suppress the vote through subtle intimidation. It isn't quite working out the way Republicans originally intended. The offending affirmation on the application for the ID appears to have been removed. But as of now, the new ID is insufficient to allow Virginia citizens their right to vote. They are also required to bring an item that shows they live at the address where they are registered. Of course, that is in the small print somewhere, someplace where it is not evident...until election day.
Though I am certain that appropriate scrutiny by federal authorities would invalidate such a requirement, that requirement is not stated in the code making this a fight that would probably carry on beyond this fall's elections. So despite my adamant opposition to this law, it is time to call upon Governor McAuliffe to make it less wrong. Issue an executive order that directs the new identification card contain sufficient information to allow one to vote. Operative word describing the identification card: "Voter;" NOT "photo."
Yes, this will increase the lifetime cost of the statute because some of these voters will move and will require a new ID. But that is the burden of poor legislation: a tax on our legislators' ignorance borne by us.
State Senator Mark Obenshain (R-26th) is proud to be on board with his former seatmate, Ken Cuccinelli. Carrying on a tradition of pursuing a personal social agenda rather than the people's business is his objective. Something old, something new, something borrowed could make Virginia's next Attorney General blue.
Politicians take license with the truth. They all do. Generally they pick an audience that is receptive and unwitting. Take George Romney's son and the 47% remark. So it really is as much a comment about Obenshain's disregard for the truth as it is a revelation about whom he appeals that he warmed up Virginia Beach Republicans with an adaptation of story told years ago by Paul Trible about his 5 ½ year old daughter. Obenshain's embellished version cast his own then 5 year old daughter, but moved the punch line venue to a children's sermon at his church. Nothing like "crafting" a story to embed the common experience of religious affiliation with your audience. Let them assume whatever they will.
"You're my friends. I share that embarrassing moment with you with the knowledge that you will keep that to yourselves and not share it any further." - Mark Obenshain.
Obenshain effectively reads and connects with a receptive (nee gullible) crowd. He told this audience that he recognized some of them from his visits to the local Victory office. He knew, he said, that all of them did everything they possibly could to make sure they won that election back in the fall. But election day came and the morning after it felt like they'd gotten a kick in the gut. He rallied them by telling them that they'd all made a choice to get back in the saddle afterwards instead of packing it in. That, he claimed, was evidence they were ready to continue the fight across Virginia.
"I had to think about what I had been engaged in the past couple of years and the wisdom and the importance of it. And it did not take me long to figure out that running for Attorney General in Virginia is more important now than it ever has been."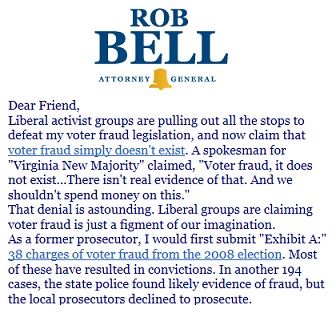 Delegate Rob Bell (R-58th) is touting his voter ID bill by perpetrating a fraud. The fraud is either his intellectual capacity or his argument supporting the bill.
Bell's "Exhibit A:"
a report that 38 persons were charged with voter fraud in 2008. Guess what.
None of them misrepresented their identity.
This is the kind of fellow Democrats dream of running as the Republican candidate for Virginia Attorney General. But then again, his Republican opponent, Senator Mark Obenshain (R-26th) is probably more familiar with voter fraud, hailing from the seat of Republican voter fraud shenanigans: Harrisonburg. Unlike Bell, maybe Obenshain read the entire RTD article and has refrained from using it as the rationale for his own bill (SB 1256).

"None of the cases appeared to involve someone who misrepresented his or her identity at the polls to vote." - Richmond Times Dispatch
How is it that Rob Bell's bill (
HB 1787
), or Obenshain's for that matter, will solve any real voter fraud issues? It really doesn't matter and they don't care. Bell's bill won't go into force until 2014. If it is so important, why the delay? Doesn't matter, that isn't his objective. He simply wants to pander to the Republican delegate demographic that Ken Cuccinelli's subterfuge has delivered to their convention this year.
By the way, both of the bills require the state of Virginia to provide the form of required ID. Obenshain's places a photograph on the voter's registration card. How's that for a subtle way to suppress the vote?
Someone pulled aside or asked for something you don't have? If you are at your normal polling place and have one of the
forms of identification listed here
, not to worry. But first time voters require a different standard. Know what you need so you don't have to vote provisionally.
Don't go righteous if you hear a photo ID being suggested as a form of ID. Understand that each voter is an individual case and a photo ID satisfies a special situation. There is no evidence the people working inside the polls, the election officials, are a source of voter suppression.
Remember that the voter registration card is everything you need. Don't cast a provisional ballot. (But if you must, make certain you validate your vote by this Friday.) Some odd situations: If you requested an absentee ballot and didn't vote absentee, you'll have to go through a drill. But you can vote. If you didn't change your registration after a move, you can still vote in your old precinct if you voted there last general election. In either case, vote. Across the country and here in Virginia, conservative politicians have been pushing ALEC-backed voter ID bills to combat a nonexistent voter impersonation problem. But it turns out they may have been the real election fraud problem the whole time.
CBS 6 WTVR is reporting, "The Republican Party of Virginia has terminated its relationship with Strategic Allied Consulting over allegations of potential voter registration fraud in Florida." RPV had paid the firm over $500,000 to register voters. The same firm has been fired this week by the Republican National Committee and the Republican Party of Florida over these allegations.
CBS 6 talked to Chesterfield Registrar Larry Haake who investigated Strategic Allied Consulting after receiving reports that the firm was inappropriately asking people who they were voting for before offering them a voter registration form.
Strategic Allied Consulting says its office address is in Glen Allen, Virginia, but CBS 6 visited the office location and the people there said they'd never heard of the firm. Yesterday Governor McDonnell provided an update on his SB 1 (voter ID) position. He said that he is "very disappointed with the General Assembly on that score" and that he has not made any final decision yet, waiting for "input from the lawyers" and the Board of Elections.
"I submitted an amendment that would have, I think, fixed some of the concerns to make sure you simply do a signature check between the provisional ballot being cast and the voter registration file to see if the signatures match. If not, you know you have a potential fraud by that voter. I'm concerned that we have very good free honest elections in Virginia. But at the same time we don't want to burden voters and say they have to come back after the fact and so forth." - Governor McDonnell
In response to a caller on a Norfolk radio station program, the Governor said he had amended about 100 bills and that the General Assembly accepted about 88% of them. He said there are still about two weeks left in the process of reviewing those not accepted including the voter ID bill. The Kaplan Post says it's:
a test of principle versus partisanship
. It's really: choosing between riding with Romney or getting kicked to the curb. Virginia Republican legislators didn't give suppression enough thought. They could have suppressed the vote and still allowed McDonnell the veep seat.
These new restrictions fall most heavily on young, minority, elderly, and low-income voters, as well as on voters with disabilities. This wave of changes may sharply tilt the political terrain for the 2012 election and beyond. - Brennan Center for Justice
Requiring voters to show government-issued photo identification is a hardship on as many as 10% of the electorate. But that may not be as effective as more surreptitious methods. Limiting early voting is one. Another is making registration much more difficult. But Virginia Republicans chose the lightning rod.