Good news, and from an unlikely source...the super-conservative Virginia Supreme Court, believe it or not! See below for the complete ruling...
Bye bye! The @AlbemarleCounty livestream has a pretty good image of what's happening: pic.twitter.com/A74420uLRa — Allison Wrabel (@craftypanda) September 12, 2020
From AG Mark Herring's office; on and on this goes! Good afternoon—We have a decision from Judge Marchant on AG Herring's motion to dismiss the Taylor case, the...
History - the good kind! - being made in Richmond! Thomas "Stonewall" Jackson monument removal in #RVA https://t.co/F9DntlqMM9 — Eduardo Acevedo (@edace2936) July 1, 2020 News release...
Not surprisingly, in the aftermath of controversial votes, there are those who continue to fight for what they believe in. That appears to be...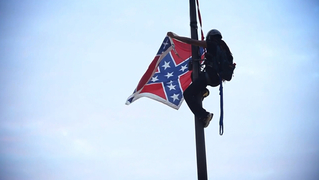 If you've been following Congress this week you'll know about the back and forth fight over moving to end the sale of Confederate flag items at National Parks, and to end the decoration of graves with the flag during Confederate Memorial.
Politico reports
:
The battle was joined Tuesday night, when Democrats offered a series of amendments to prohibit Confederate flags from being displayed at federal cemeteries, and to stop the U.S. Park Service from doing business with enterprises that sell the flags. These flags are typically displayed alongside the centuries-old tombstones of deceased confederate soldiers.

"This House now has an opportunity to add its voice to end the promotion of the cruel, racist legacy of the Confederacy," California Rep. Jared Huffman said in a floor speech before his initial amendment was adopted Tuesday.

The measures passed by voice vote.

But quickly, Southern Republicans approached GOP leadership and said they would vote against the Interior spending bill if that language was included. The amendment was offered Wednesday night after whole and partial congressional delegations from Mississippi, Georgia, Texas, Alabama and Virginia, among possibly others, related their concerns to GOP leaders.
So far, only one Mississippi Congressman has been vocal in indicating that he was opposed to the move to end decoration national cemeteries with the Confederate flag. But reports are that large numbers of Southern Republicans, as many as 100 in total, were ready to revolt against the move.
What members of the Virginia delegation are working behind the scenes to defend the Confederate flag?
Shad Planking was a disappointment yesterday for any of a number of reasons. Leading up to the event, the sponsors failed to stem years of cumulative attendee alienation. Responding to criticism of extremism among participants, the Ruritans alienated the other half. Ken Cuccinelli's keynote was as flat as the shad.
What was clear was that the bluster of Tea Party insurgents and in-your-face Confederate flag-waving misfits in recent years put off a large portion of the politically motivated who came for a more civil kind of camaraderie. The Ruritan Club's charitable efforts to raise money for local causes was wounded by this turn of events. Make no mistake, this was a self-inflicted wound.

Ruritan officials took issue with Mo Elleithee's assessment that the event has outlived its relevance, claiming it will live on another 65 years. Apparently the fact that the proceeds go to charity is supposed to excuse the inhospitable behavior that has been tolerated too long.
As anyone who has attended regularly knows, when the dinner bell rings there is always a rush to get in line for the featured meal. But a crowd that was less than 60% of last year's was underwhelming. As a measure of success, the meal became a no wait, all you can eat event, there was so much remaining to be consumed.