Home
Tags
Atlantic Coast Pipeline
Tag: Atlantic Coast Pipeline Anti-pipeline grassroots groups Free Nelson and Friends of Nelson, and the Sierra Club held a rally Friday at the Bell Tower protesting the proposed Atlantic Coast Pipeline. They were also there to seek support for a bill Senators Emmett Hanger (R-Mt. Solon) and Creigh Deeds (D-Milboro) are cosponsoring which would repeal what has been dubbed the Wagner Bill. The Wagner bill purportedly gives natural gas companies the right to trespass on private property without landowner permission to survey and do other testing needed as they choose the best possible route for a pipeline.
About 60 landowners and residents of Nelson County made the trek to Richmond to share their frustration with the bullying and abusive tactics used by Dominion in its attempts to pressure landowners into allowing it to survey. Approximately 70% of landowners in Nelson have steadfastly refused to allow surveyors onto their properties. Dominion retaliated with letters threatening lawsuits, and in December began filing those suits, making its actions public on Christmas Eve. Since December, they continue to file suits in dribs and drabs, with the latest 6 suits being filed January 21, one of which is against John Ed and Ruth Purvis, seventh generation farmers. (See earlier post.)
The protesters recognized Hanger and Deeds for their efforts to protect their property rights, as well as Richard "Dickie" Bell for legislation he introduced requiring public service corporations to meet the Freedom of Information statute should they use eminent domain while completing a project. Sharon Ponton, a Free Nelson organizer, spoke about her frustration with elected officials within the Democratic Party, making specific reference to Governor Terry McAuliffe's first energy policy action as being to "stand at a podium beside Dominion and call a 42" fracked gas pipeline a game changer" after running as a green renewable energy candidate. She continued by asking if the Governor thought an African American community known as Union Hill whose ancestors had received their land from their previous slaveholders after emancipation would think it was a game changer when the pipeline destroyed their community". The crowd bellowed, "No'" in response. She gave other examples of private property being desecrated and each time the crowd answered empathetically no. At the end of a country lane in Nelson County, Virgiinia, you will find one of Dominion's sacrifice zones. Approaching the home , built in 1904, there are acre upon acre of fertile rolling pasture; in the background, you see only steep mountain slopes. The views are commonplace in this area, but are breathtaking still. The 400-acre property is owned by John Ed Purvis and his wife, Ruth. John Ed has lived in Nelson his entire life on this farm with the exception of the four years he spent in the Air Force. His wife Ruth grew up in Nelson too...in the Tyro and Roseland areas of Nelson County. He and Ruth married in 1954 and will celebrate their 61st anniversary in February. They have four children, and they both worked outside the home, while farming the land, and raising their family.
John Ed is the seventh generation of his family to own and farm this land. He has traced his ancestry back to 1739 when 3 Purvis brothers arrived in America from England. One of those brothers, George Purvis, settled in Nelson County in 1768, the beginning of the line which begat John Ed Purvis. The Purvis' have had a good life here. John Ed and Ruth are good neighbors and friends. John Ed has been known to show up on one of his big tractors at a neighbor's home after a big snowfall, plow the drive, and leave quietly acknowledging his neighbor's thank you with a smile and a slight wave of his hand. He served on the Nelson County School Board for 18 years. Ruth spent 20 years as a secretary in various positions including a stint in a Veterans Affairs office while John Ed was serving our country, and later in the Nelson County Circuit Court Clerk's office.
John Ed and Ruth, just as their ancestors were, have been good stewards of the land, raising cattle, growing hay and harvesting timber. One day last May, John Ed and Ruth received a certified letter from Dominion Resources telling them a pipeline was coming through. Dominion needed to survey the Purvis farm because it wanted to construct its 42" natural gas pipeline on their family farm. John Ed and Ruth were surprised like other Nelsonians and were even more surprised when they learned about a law the Virginia General Assembly passed. "This law they passed in Richmond in 2004 alllowing survey without permission isn't right. It has gotten everybody riled up," he stated. He continued, "Eminent domain is for building schools and roads--things that benefit the community." The couple is keenly aware they and other landowners, nor the community will receive any benefit from Dominion's attempted land grab to build its pipeline. After we reported here on Blue Virginia this week Dominion had sued Sheriff David Brooks and his cancer stricken wife, Sherri, Charlottesville's Channel 19 interviewed the Brooks and the piece aired Thursday night. Oddly, on Friday Dominion sent out a statement to some media outlets saying they had given their attorneys, McGuire Woods, incorrect maps. The firm used the incorrect maps as the basis to file lawsuits against Virginia landowners who have refused to allow Dominion onto their properties to survey for the proposed Atlantic Coast Pipeline. A total of 59 lawsuits were filed in Nelson County as of January 9th.
Free Nelson, a grassroots anti-pipeline group in Nelson, had run two human interest posts on its Facebook page early last week, one on the Brooks being sued, and a second about another landowner, Pearl Miles, who had also been sued by Dominion. Free Nelson learned during the Dominion Open House Wednesday night, landowner Pearl Miles had been told by Dominion her property was no longer in the proposed path of the pipeline. They also told Mrs. Miles the suit against her was being withdrawn and she would be receiving a confirmation letter from Dominion outlining those facts. She was not told she was sued in error.
A statement released Friday by Jim Norvelle, Dominion's Communication Director announces:
"We have identified 14 landowners in Nelson County whose properties were on the original proposed route, but were removed by a reroute that occurred in October. However, the maps were not updated in a timely fashion. We are working to understand how that happened so it won't happen again. The reroute has removed the Brooks's property from consideration; their property is no longer on the proposed route. Obviously, we are also dropping the lawsuit against them.

The incorrect maps were used in preparing the lawsuits. We are removing the 14 landowners, including the Brookses, from the list of lawsuits and apologizing to them for our mistake. While the lawsuits had been filed with the Nelson County Circuit Court clerk, they had not yet been served. Nevertheless, we are notifying them that their properties have been removed from the proposed route."
The day after Dominion sued an additional 39 landowners to include Nelson's Sheriff David Brooks, it hosted one of its dog and pony shows in Nelson County. Hundreds of landowners and citizens schooled Dominion on what it means to live in and be a part of a community.
Standing shoulder-to-shoulder, attendees broke out in song, singing the chorus from Robin and Linda Williams anti-pipeline song, "We Don't Want Your Pipeline." Later during the event, in support of an African American community which will be devastated if the ACP is ever built and whose ancestors were given land by their slaveholders after emancipation, citizens and landowners stood arm-in-arm belting out a revised version of the old hymn, "We Shall Overcome."
Dominion's tax projections given to the media and local governments were questioned. How Dominion would deal with the landslide propensity of Nelson's thin soils on steep slopes; water quality protection; fire protection; and many other concerns were shared. Because of a natural gas pipeline explosion in Mississippi early Wednesday morning, many residents were quick to question Dominion's safety record. The canned responses from Dominion were mostly unsatisfactory to landowners and community members alike. Dominion filed lawsuits against 47 Augusta and Nelson County landowners in attempt to seek what it believes is its right to survey private property without landowner permission in December. Dominion made those suits public on Christmas Eve, assumingly in an attempt to ruin folks holidays
Today, Dominion's second round of lawsuits came to light. Included among the 39 additional suits filed in Nelson County is one for Nelson's Sheriff David Brooks and his wife, Sherri. The Brooks responded with this statement:
"It is disappointing that our government has sold our property rights to the highest bidder. We will continue to protect our land and we are not intimidated by Dominion's strong arm tactics."
Dominion's suit brought against the Brooks is especially devastating for the couple as Sherri Is fighting cancer with strength and determination.
Dominion seems equally determined to ignore the wishes of the people in the path of its proposed pipeline, displaying the depth of their disdain for the circumstances in which the Brooks and others face in their daily lives. Greed, profit, and a business plan calling for the continued use of fossil fuels against all odds has seemingly become Dominion's mantra! Dominion Transmission
has begun
its last-ditch effort to get landowners to agree to survey by having an attorney send letters to 226 landowners along the proposed route of the Atlantic Coast Pipeline.
The letter says things like it's to the benefit of the landowners to agree to survey so owners can direct surveyors to sensitive areas of their property. But it also makes clear landowner requests cannot be guaranteed.
It also talks about how allowing survey helps Dominion gather the necessary information for the federal government. In the end, the letter says Dominion has done everything it is legally required to do and that Dominion is just sending this one last request before it gets a court order to trespass on private property. The letter says nothing about the pending lawsuit challenging the constitutionality of VAcode section 56-49.01.
In the Richmond Times Dispatch article Dominion states 73% of 2,500 landowners have agreed to survey. 73% equals 1,825 landowners. Why has Dominion only mailed 226 letters? What happened to the other 449 landowners. Of the 226 letters 189 are to Virginians. 90 of whom are in Nelson, 46 in Augusta. One would think Dominion would realize its proposed ACP isn't wanted in these areas and might look elsewhere! They prefer to bully and threaten our citizens.
Our General Assembly and other elected officials have allowed Dominion to have its way for far too long. Dominion has become much too into itself. They're in for a fight they aren't used to waging. The opposition is organized and growing. Perhaps regular citizens can show our elected officials how its done...how to fight for what's right and to stop new fossil fuel infrastructure that will certainly contribute to climate change.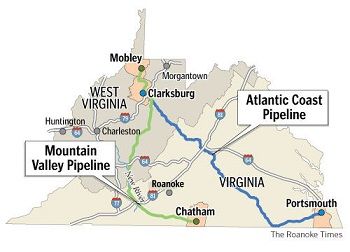 At an E-Coalition event last weekend one discussion centered on Environmental Injustice and addressed what are sometimes referred to as "sacrifice zones." In 1994, then President Bill Clinton signed
Executive Order No.12898 aimed at environmental justice in low-income and minority populations
. Do the proposed natural gas pipelines violate that order?
From a Daily Kos article last February entitled, Racist Sacrifice Zones With XL Pipeline Are Grounds Alone for Rejecting Permit:

For years, low-income and minority areas have been targeted to benefit corporations. Many corporations have a history and pattern of locating energy and other projects in or near minority, Indian or low-income communities.

They force the burdens of projects designed (they say) to benefit society primarily on these targeted communities, which can thus create "sacrifice zones."

The projects devastate the lives of the people in these zones by harming their culture, health, lives, lands, natural resources, wildlife, homes and/or quality of life. These people are marginalized by commodifying them. They are harmed in the name of the "greater good" of the dominant culture for the provision of energy and disposal of waste.

Beneficiaries of these zones are the corporations operating the projects for huge profits and the dominant culture society, who are provided energy to run their air conditioners or cars without suffering the extreme harms forced on the targeted community in the sacrifice zone.
The
US Census Bureau's color-coded Percent in Poverty map
helps illustrate that both the proposed Mountain Valley and Atlantic Coast Pipelines have been placed in rural areas, many of which are stricken with high poverty rates, populated by low income families, and/or consist of minority communities. The contrast along the path of the proposed pipelines is telling: Note: After consternation regarding the use of the absolutely oxymoronic right-wing figure of speech "crazy environmentalist" in the letter below, the word crazy was removed and the text changed. However, comments that had already been posted lost their context following the changes, so I have restored the original. Here's the bottom line: anyone who isn't an environmentalist is the crazy. If you believe human behavior does not invite disaster then dip your toes in
"Collapse: how societies choose to fail or succeed"
by Jared Diamond or
"The sixth extinction: an unnatural history"
by Elizabeth Kolbert. - Dan Sullivan
Here is the 6th is our series, "We're Rural, Not Stupid." In this letter, our contributor, Johnny Ponton, writes about Dominion's legal goodwill contributions to our elected officials. He hopes by contributing to this continuing series, our elected officials will begin to hear their constituents' concerns and do the job they were elected to do...represent the people.

Johnny Ponton has lived in Nelson County all his life, with the exception of time he spent in North Carolina while attending college and during his service to our country in the military in the 1960's. He served on the Nelson County Board of Supervisors in the 1990's. He's now retired, and builds tables in his woodworking shop in Lovingston.
Here's Johnny's letter: Here is the 5th in the series, "We're Rural, Not Stupid." The photo included in this post [below the fold] of the mudslides in Nelson was included in this
Washington Post article.
The photo is part of a collection owned by Nelsonian, Dick Whitehead. Mr. Whitehead's father, Bill Whitehead, was the sheriff in Nelson County in 1969 when the flood occurred.
Tamra Marshall lives in Nellysford, Virginia. Her family has a long history in the hills of Nelson County. Her Grandpa Jack Marshall worked with the Citizen Conservation Corps building the [Blue Ridge] Parkway, as locals refer to it, and many of the local roads during lean times. Tamra has strong opinions about Dominion's proposed Atlantic Coast Pipeline relating to the unmarked graves of those Nelsonian's who lost their lives and were never found in the aftermath of Hurricane Camille.
Here is Tamra's story: This is the third in our series of letters from Nelsonians relating their concerns about Dominion's Atlantic Coast pipeline.
Marion Kanour is an involved and active member of the Nelson community. She was born and raised in Norfolk, served in the US Marine Corps for 4 years as an Aviation Supply Officer and has been an ordained Episcopal Priest for 21 years. Marion currently serves as the Priest of Grace Episcopal Church, Massie's Mill, Nelson, VA. She has a knack for seeing needs in our community and setting about to fill those needs. As well as supporting many community groups (i.e, the renovation of a local baseball field), she has played an integral role in the creation of Nelson's Domestic Violence Task Force, as well as being the organizer of one of Nelson's anti-pipeline groups, Free Nelson. She and her wife, Barbara Heyl, live in the Greenfield area of Nelson County.
Here's Marion's poignant letter: