Home
Tags
Linda Perriello
Tag: Linda Perriello
by Chris Ambrose The deceptively named "Fair Maps" people have taken their vicious and dishonest campaign to a new level.  These folks have been waging...
by Linda Perriello, in response to this story on the fatally flawed redistricting amendment on Virginians' ballots, in which Perriello is quoted that Amendment...
See below for a public post from Linda Perriello's Facebook page, regarding the fatally flawed redistricting amendment. Note that Perriello was a board member...
See below for video and a transcript of the superb Linda Perriello's speech at last Saturday's Women's March in Roanoke. For all the other...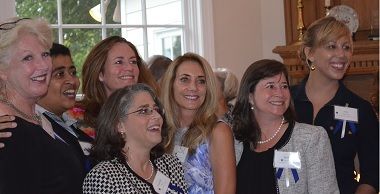 Dorothy left the Governor holding their children's backpacks on the evening before Richmond schools began classes, joining Delegate Dave Toscano (D-57th) at Linda Perriello's home and bringing attention to important initiatives and the women running for the Virginia House who support them. Chaos in the mansion?
Delegate Toscano introduced this Virginia First Lady who continues in the footsteps of her Democratic predecessors in the impressive tradition of competent leadership. The Perriello home was crammed with enthusiastic advocates of effective legislation and good government. Linda Perriello's grandchildren pitched in with the hosting even officially welcoming the First Lady with a bouquet as Linda circulated as best she could in a house almost bursting at the seams. There was also at least one caped Wonder Woman apprentice making an appearance.
Here is the thing about DMac: she takes every opportunity to pursue her personally held and informed rather than politically motivated agenda; one that includes improving the lives of every Virginian. Her rifts are not made of red meat mantras that rile and anger a constituency demanding to be pandered. She genuinely strives to guide her audience to consider solutions for 21st century challenges rather than harkening back to an era that no longer exists and trying to wish away contemporary problems that demand innovative approaches.
Toscano's introduction emphasized her efforts to ensure that every child in Virginia gets a nutritious meal each and every day. And he reminded us that Dorothy has been at the lead in the effort to make Virginia the most veteran friendly state in the Union ever since her husband's first run at elected office in 2009.